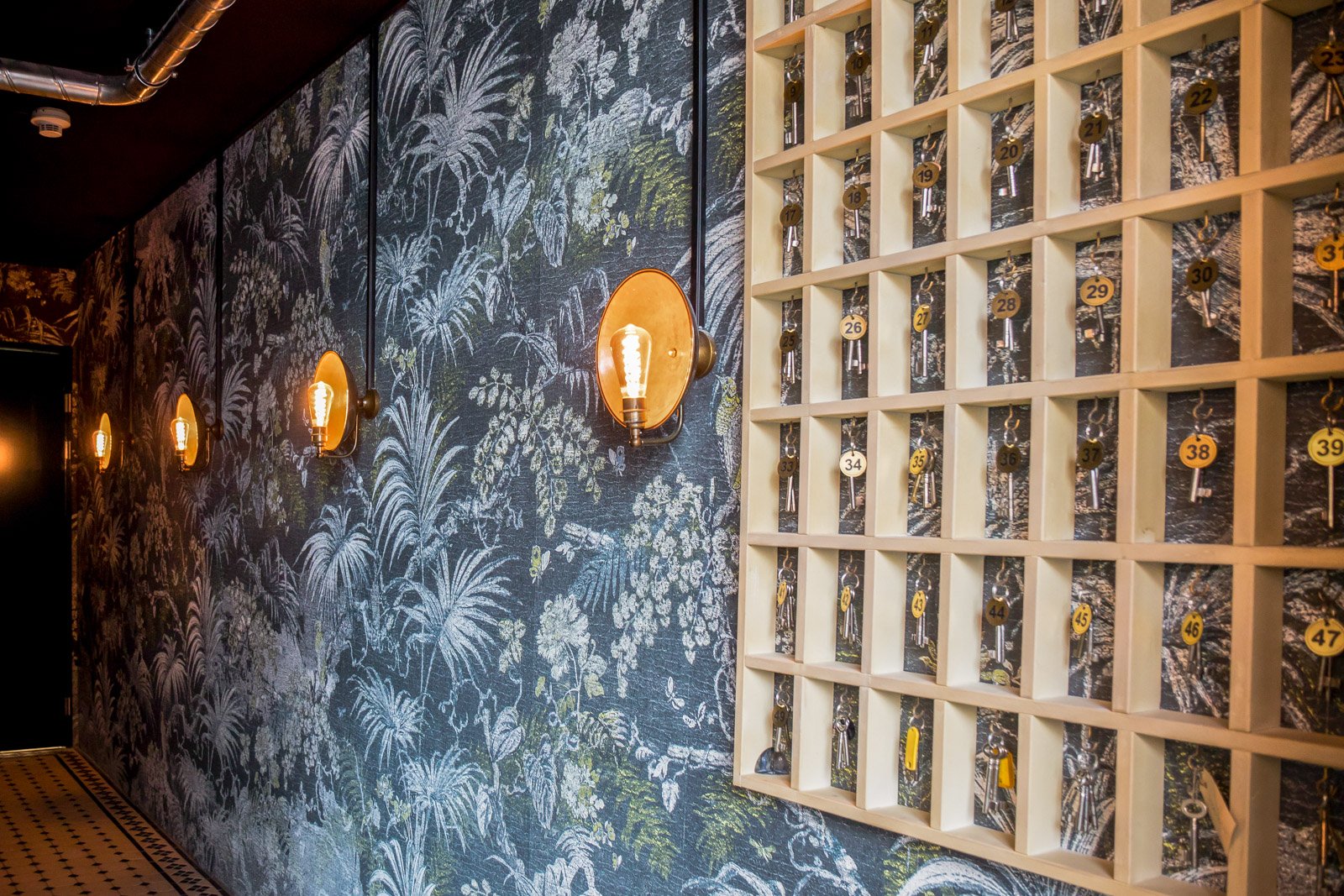 A Guide to Entry and Hallway Lighting
Hallways, foyers and home entries are often overlooked when thinking of interior styling for your home. The hallway acts as the brain of the house, connecting rooms together as well as welcoming guests. This is often your guests' first impression of your home, so you want it to complement the rest of your interior efforts.
Your entry has multiple functions; it is the pathway between rooms, your final look back when you leave your home and it also welcomes you after a long day. With the right lighting you can transform your hallway into a welcoming and homily haven.
Hallways come in all shapes and sizes so finding the right lighting solution for your space is important. You should avoid the 'one size fits all' advice.
'Cairo' contemporary wall light in a private residence, Cork by Flamingo Interior Design. Photo credit: Naomi Kamat.
Wall Lighting
Wall lights and sconces are most favourable in smaller entries and hallways. If there isn't enough space for a console table or perhaps the ceiling is too low from which to suspend pendant lighting, wall lights offer a great solution to bring light into this area.
Entry wall lights act as a lighting guide illuminating narrow and dark hallways. Wall lighting is a great approach to brighten specific zones, particularly task orientated actions such as a coat rack or side table.
The wall lighting game has advanced over the last number of years and now these lights fixtures can double up as art and decorative pieces due to innovative creative design.
Our top tip for wall sconces is to take note of the dimensions of the fixtures and the width of your own hallway to ensure the lights don't jut out or protrude too much. Even dispersal of wall lights can help achieve balanced light projection.
'Cairo' contemporary wall light in a private residence, York by Design Emporium LTD.
Pendant Lighting
If your ceiling height allows, pendant lighting can offer a great decorative addition to your hallway.
Pendants vary is size and come in an array of shapes and styles. If your hallway space is on the narrow size, it is best to opt for tall and slim fixtures. If you're fortunate to have a wider area to work with, you have the luxury of experimenting with a variety of styles.
Clear glass pendants can help project the natural flow of light throughout your entry space, tricking the mind into thinking the area is larger than it actually is. Natural daylight is the most favourable source of lighting that helps bring the outside in.
An alternative styling option is to stagger pendants at different heights, adding a fun stylish flair to your hallway.
Head height should be carefully considered here and you should always allow for at least 7ft from the base of the light fixture to the floor.
Learn more about pendant and chandelier drop heights in this helpful guide.
'Paris' pendant featured in hallway image render.
Chandeliers
If you're fortunate enough to have the space and head height for a chandelier, this can provide a glamorous entry to your home. The boldness of a single central light is all you need to make a remarkable hallway.
Choosing the right chandelier isn't a simple task and we would advice you take time to carefully prepare and determine what space you have to work with.
It's important to know the measurements of your foyer. Take note of the floor to ceiling height as well as the width between walls. This will help determine what style and size of chandelier is best for your space. Remember the clearway of 7ft from the base of the fixture to the floor is most important to avoid nasty head clashes!
Follow this quick and simple sizing guide to help determine the diameter of a suitable chandelier for your home entry.
If your foyer dimensions are 12ft by 14ft, add 12 + 14. The sum - 26 - is the diameter of the chandelier that you should get in inches. This strategy can be applied to your own measurements.
The following design guidelines can help draw a pathway in choosing the right chandelier for your home.
In a two-story entrance with windows, designers recommend positioning the chandelier vertically in the centre of the window space. This serves as a welcoming illumination for guests.
A large, two-story foyer is well lit and showcased through a chandelier that has two or three tiers. As well a providing much needed lighting, this can showcase architectural lighting design, bringing the wow factor to your entry!
If you have a small foyer entrance with low ceilings, you can use a flush ceiling fixture. Small spaces may be overshadowed with a hanging chandelier.
'Nagano' sputnik chandelier by Kingston Lafferty Design. Photo credit: Barbara Corsico.
Flush Ceiling Lighting
Flush light fixtures are ideal for hallways that have low ceilings. They're simple and keep your hallway looking uncluttered and clean.
Flush lighting can be used to fully illuminate your entry or you could use it as a statement piece to complement artwork or other décor.
A row of flush hallway ceiling lights can add a subtle and understated finish, maximising the light within a space as well as create the illusion of extra height.
To help achieve your dream hallway interior, take note of these final take away points;To help achieve your dream hallway interior, take note of these final take away points;
Bring light to the end of your hallway by adding a light fixture, this can be in the form of a wall, table of floor light. This will help draw the eye along the length of the hallway and avoid the eery presence of a narrow and dingy space.
If you opt for wall sconces, place them high on the wall to draw the eye up as well as to open up the space.
Stand at both ends of the hall and take note of any dark spots. Ensuring the light stays consistent and doesn't dip in brightness between light fixtures. This is a quick trick to help identify areas that need to be brightened, allowing you to create a more inviting space.
'Yerevan' globe ceiling light by Friedmann and Versace. Photo credit: Hervé Golzua.
Hallways can prove difficult to bring light into. They're often cramped and dimly projected. Some minor tweaks can help illuminate this space more favourably. A welcoming hallway can set the tone for the rest of your home.
Happy lighting!
Enjoy these useful lighting support guides