Conditions of Trading with Mullan Lighting Design and Manufacturing Ltd. (referred to hereunder as "The Company").
All offers and quotations are subject to written confirmation by the Company and no employee has the authority to bind the Company in advance of such confirmation. Price Lists are based upon prices ruling at the time of quotation but the Company reserves the right to invoice at prices ruling at the time of dispatch where this is later than the date of the quotation. Quotations are made exclusive of V.A.T. packing and delivery charges unless otherwise stated, and on a strict net price basis. The Company reserves the right to refuse the Customer's acceptance of a quotation unless such a quotation is stated to be open for a specific period and is not withdrawn within such period.
Catalogue, price lists, and other advertising matter are only an indication of the type of goods offered and no particulars therein shall be pending on the Company. All prices quoted therein are subject to alteration or withdrawal from time to time without notice. The stated list of prices and percentages substitutes any other published or advertised before. Each stated price corresponds to a single piece excluding bulbs. All goods will be supplied as specified subject to availability of materials. Where specified materials are not available the Company reserves the right without further notice to substitute other materials. All descriptive specifications and drawings, all particulars of weight and dimensions and all forwarding specifications issued by the Company are approximate only.
Any time or date for delivery given by the Company is an estimate only. Where a period is named for delivery, the Company will use its best endeavour to effect delivery by the day specified but shall not be liable in any way for delay in delivery arising from any cause whatsoever. Refusal by the Customer to accept delivery will constitute a breach of contract. If by reason of instruction or lack of instructions from the Customer delivery in accordance with the contract is delayed for 14 days after the Customer has been notified that the goods are ready for dispatch, the Company shall arrange for storage and the goods shall be deemed to be invoiced and delivered. The Customer shall be liable for a reasonable charge for storage. The Company shall have option to reclaim such goods two months after notification without prejudice to any rights to claim completion, damages or settlement under the contract.
Every reasonable attempt shall be made by the Company to maintain the specifications laid down by the Company in its literature relating to specific products (including drawings etc.) and to meet the requirement specified by the Customers order or drawing. However, the Company shall not be responsible for any loss or damage arising from failure, nor will any liability be accepted for the consequences of any deviation from specification not notified to the Company in writing within 10 days of the receipt by the Customer of a sample or of the first delivery of the goods, which ever shall be sooner.
The Company does NOT grant the Customer permission to use images or diagrams supplied by the Company of their Goods on internet auction website like eBay etc.
In the event of any dispute arising out of these Term & Conditions of Trading being settled by arbitration then the provision of the Arbitration Act 2010 shall be deemed to prevail. Any agreement incorporating the Terms & Conditions of Trading shall be governed by and be read and construed in accordance with Irish Law.
The Company is entitled to make an additional charge for any work required in advance of an agreed timetable and for any agreed shortening of the contract period. The Company reserves the right to amend these Terms & Conditions at any given time and without prior notice.
The Customer's acceptance of any quotation or order confirmation confirms their agreement to comply with all the Terms & Conditions as set out above.
The price doesn't include transportation values and fees. If the client chooses to transport the product(s) by their own method or mean, The Company will be free of any responsibility for any damage incurred during transportation. If transportation is requested from The Company, it will be charged in addition to the product(s).
Product Terms
The Product
If you are dissatisfied with any of the products we deliver, please contact us within 24hrs of receiving them. All our products are made to order. The Company is free to commit any design improvements without notification. Images in the catalogue or on the website may vary from the final product. We work daily to enhance the quality of our products aesthetics, usability and reliability.
Colour variation
Differential patination and natural occurring variation in the components can cause slight differential colour and shades in individual components. Therefore, the company cannot guarantee that each piece will be an exact colour match. Generally, this is considered to be an enhancement of the product. All products with Antiqued finish will change in tone naturally with time to suit their environment.
Please note that the appearance of our antique brass colour can vary based on the light conditions under which the product is viewed. For example, if an antique brass product is viewed outdoors it may appear to have a green tinge. However, if the same product is viewed indoors under a warm white light it may appear to have more of a red hue (as depicted in the product photography on our website). This is due to the properties within the patina which reflect warm light and white light differently. This results in varying appearances in different environments.
We have photographed all of our items under warm white light as this will be their most likely installed environment.
Please see below examples of acceptable variation in colour for antiqued products.
Please see below examples of not acceptable variation in colour for Antiqued products
With regard to all glass shades, there is a quality requirement met by our supplier before goods are released to us. As these shades are all handmade, there may be some visible marking and inconsistencies that are deemed acceptable.
Below is a table of concerns that may occur in handmade glass and the bounds of what is deemed acceptable or unacceptable.
| | |
| --- | --- |
| Air bubbles | Acceptable if less than 4mm in diameter and no more than four present per 10 cm2 area |
| Lack of symmetry, oval shape | Acceptable if the overall symmetry and balance of light fixture is not adversely affected |
| Neck not level | Acceptable if angle of glass around neck is less than 5° |
| Chips on the edges | Acceptable around the neck to any depth and around other edges up to a depth of 2mm |
| Scratches and cracks | Acceptable where weakness has not been introduced to the glass and when not noticeable from a distance of up to 1 metre |
| Smudges and trails | Acceptable when not noticeable from a distance up to 1 metre |
| Thickness of walls | Acceptable if thickness varies less than 4mm |
Below are some examples of issues around glass quality that are deemed acceptable;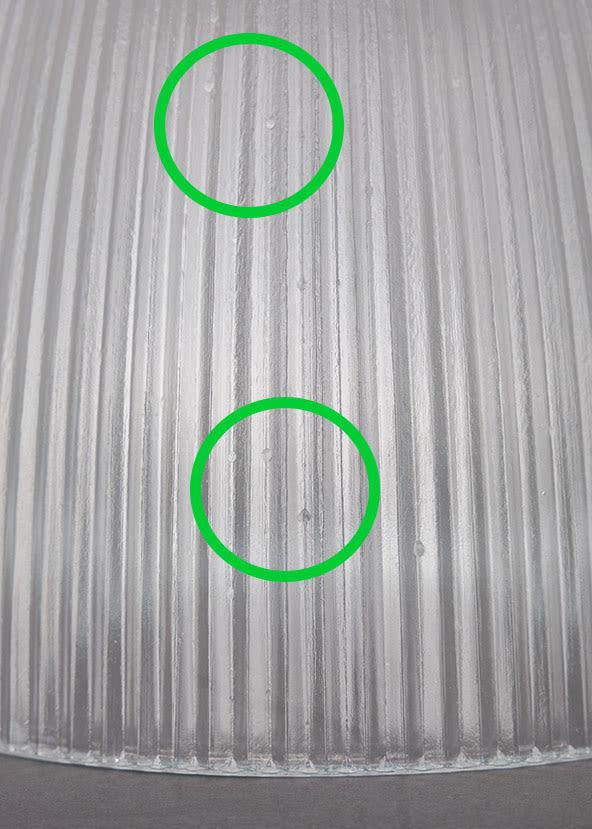 Example of acceptable bubbles in glass.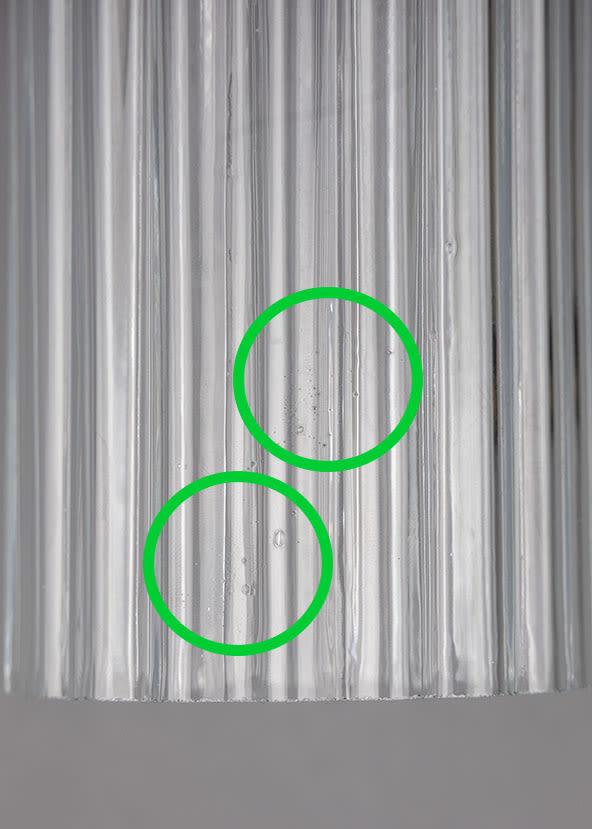 Example of acceptable bubbles in glass.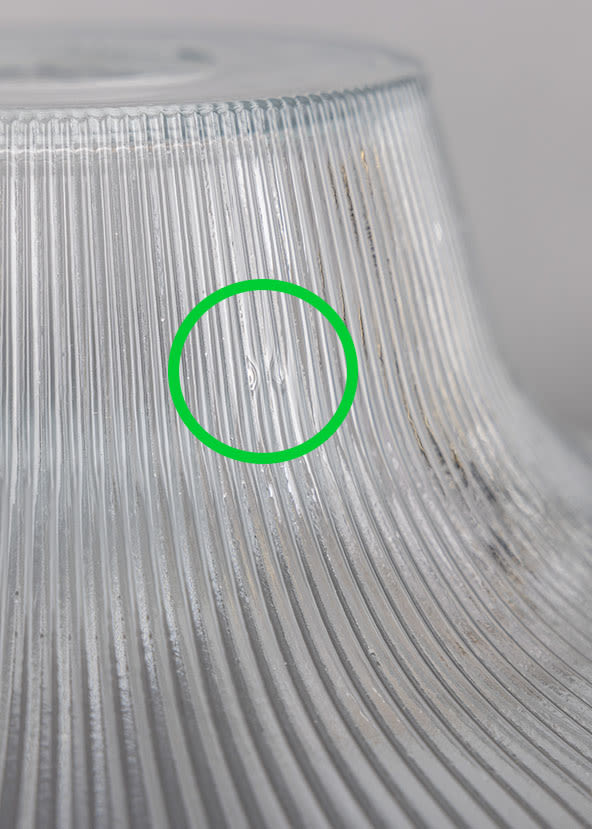 Example of acceptable bubbles in glass.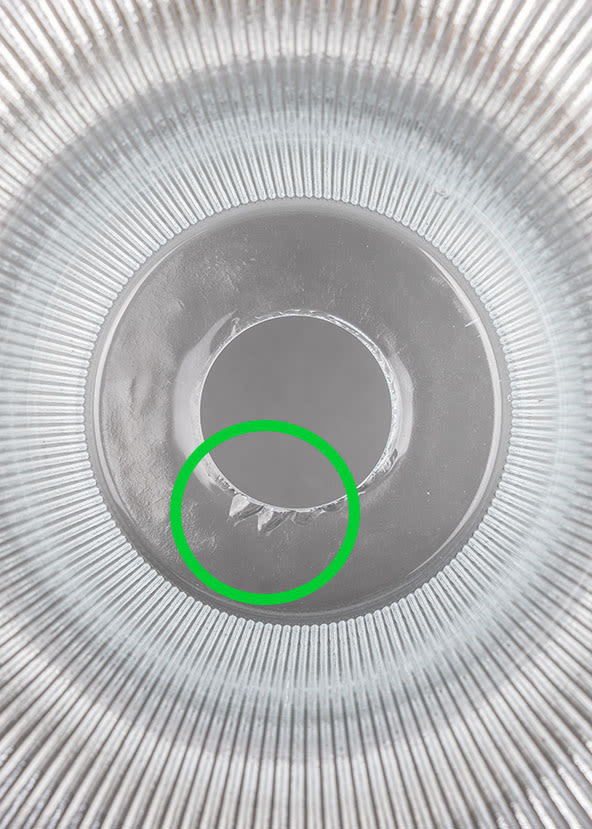 Example of acceptable chips on the edge of glass.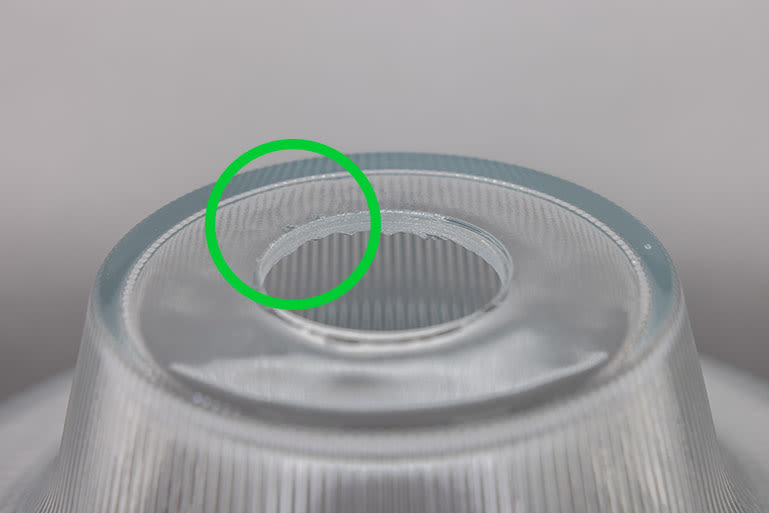 Example of acceptable chips on the edge of glass.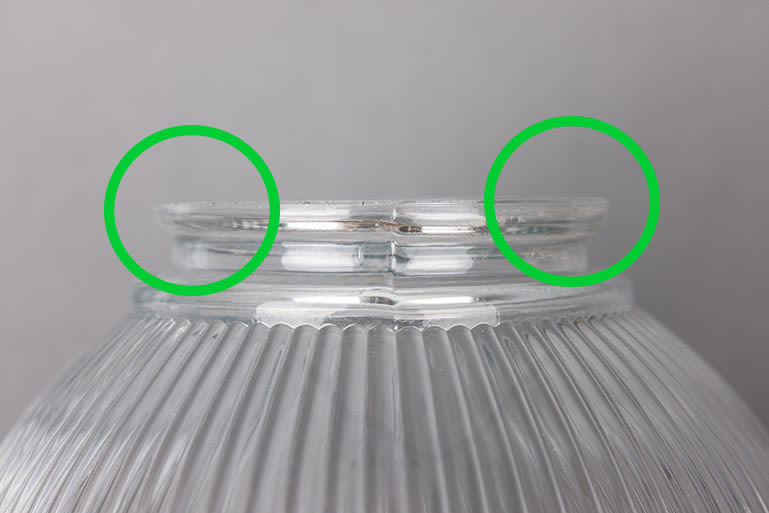 Example of acceptable glass neck that isn't completely level.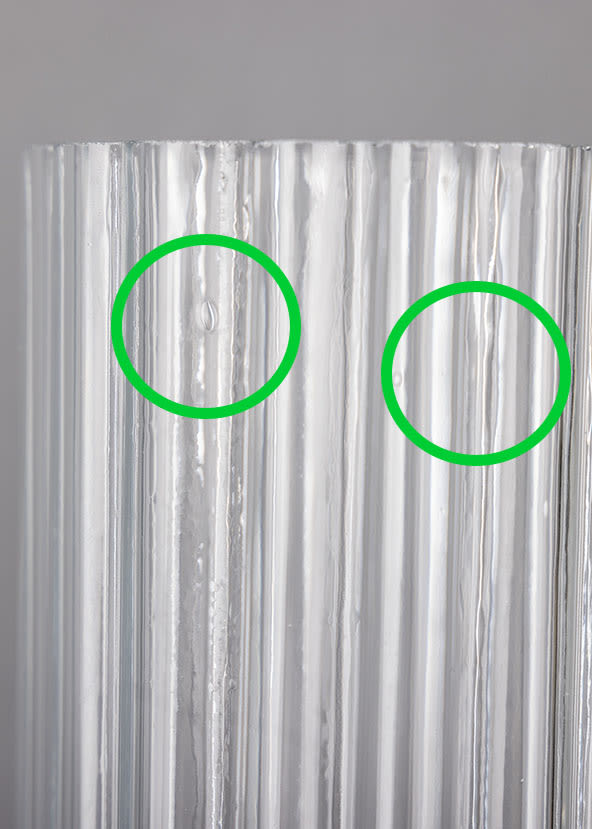 Example of acceptable smudges and trails on glass.
Additional Terms for Bespoke Products
The below terms and conditions for bespoke orders are in addition to our standard terms and conditions.
Unless otherwise agreed, Mullan Lighting (referred to as The Company hereafter) requires a deposit of 50% from existing credit account customers or payment in full from proforma customers to begin the final stages of design and manufacture of a bespoke order.
Deposits for bespoke orders are non-refundable.
After receipt of payment, The Company agrees to deliver a drawing, sketch or a photograph of a raw working sample to be signed-off by the Customer before production commences.
If requested by the Customer, The Company can produce a drawing prior to any deposit being paid. However, the cost of this will be quoted separately and is required to be paid prior to any drawings being created. This cost will be deducted from the final invoice if the order is confirmed.
If requested by the Customer, The Company can manufacture a raw working sample of a bespoke product in most cases. Please note that;

A working sample is priced separately from a bespoke order. The price of this sample may vary based on design and development time and project size.
Lead time for a working sample is agreed on a product-by-product basis.
A working sample cannot be returned or refunded.

Bespoke products will be manufactured by The Company to the specification and information provided by the Customer. The Company is not be responsible for any third-party claim in the event of any design rights being infringed.
Additional charges may be incurred by the Customer in the event of any design or quantity revisions that occur after final approval has been received by the Company.
The lead times on bespoke orders is normally six to eight weeks from the date of the order confirmation. This is subject to receipt of payment and may vary depending on design and development time and order complexity.
Mullan Lighting provides tailor-made packaging for each bespoke product to minimise the risk of potential damage during transit.
Any orders not collected or dispatched within one month of the agreed dispatch date will be charged a storage fee of 5%.
All bespoke quotations are valid for 90 days.
All goods remain the property of Mullan Lighting until paid in full.
Bespoke or customised products cannot be returned or refunded.
Delivery
Delivery time is normally 2-3 weeks. However we can respond to more urgent turnaround times if necessary. Please contact us if you require a quicker turnaround time. Due to the nature of bespoke manufacturing, expected turnaround times cannot be guaranteed, however we endeavour to achieve these times if at all possible.
Please inform us of any breakages or missing items within 24 hours of receiving your delivery. All breakages on delivery must be notified to the delivery driver on receipt of goods.
Returns
As all products are made to order, we charge a minimum 30% return fee. All customised orders cannot be returned as they have been personalised for your order and cannot be used for future orders. It is expected that the goods will be returned in the same condition they are received by you. You are liable for all postage costs and breakages incurred during the return delivery. Products must be returned within 30 days of receipt of goods. If purchased through a reseller of The Company, goods must be returned directly to that reseller.
Please complete our returns form before returning any items.
Cancellation
Orders maybe cancelled within 72 hours of the order being placed unless the goods have already been despatched. Please contact the office for confirmation of the status of your order. The amount will be refunded using the same method the order was placed
Extent of liability
All goods sold on this site are carefully checked and tested. Under no circumstances whatsoever shall the liability of any parties involved in the supply of products via this site exceed the invoice value of any goods supplied.
Use
Please make sure instructions are read carefully before use and the correct bulb is used.
Website Terms
Website
While every effort has been made to ensure the accuracy of the content appearing on this website, The Company cannot accept responsibility for any errors or omissions or admissions appearing in such content.
Links
Hypertext or other links to this website are prohibited without the consent of The Company. If you wish to provide a link to this website, you should notify us by e-mail to [email protected] and give details of the URL(s) of the page(s) with links to our website and the URL(s) of the page(s) to which you wish to link on our website.
Disclaimer
This website is available without any representations or warranties of any kind, either express of implied. The Company make no representations, warranties or undertakings about any of the materials or any content of or information on any other website referred to or accessed by hypertext link or otherwise through this website ("third party site"). The Company do not endorse or approve the content of any third party site, nor will The Company have any liability in connection with any third party site.
Furthermore, The Company disclaims all responsibility and liability of any description including liability for negligence, incidental or consequential damages and or loss (to include loss of profits, loss of use or loss of data) suffered by any person acting or refraining from acting as a result of or in connection with material on this website to include any reliance placed by such person on such material, or the viewing, use or performance of this website or its contents, whether with the required authority or otherwise.
In relation to photographs in the website projects sector, The Company wherever possible have tried not to include products and light fittings not supplied by The Company. Due to the nature of these projects any admissions are purely unintended.
The Company reserves the right to revise, amend, alter or delete the information provided on this website at any time, but shall not be responsible for or liable in respect of any such revisions, amendments, alterations or deletions.
This website shall be governed, interpreted and construed in accordance with the law for the time being in force in the Republic of Ireland, whose courts shall have exclusive jurisdiction over any disputes or actions arising on this website.
Additional terms for Internet retailers
Prospective Internet retailers (referred to as The Retailer hereafter) must have written permission from Mullan Lighting (referred to as The Company hereafter) before uploading The Company's products to their website. Permission is granted on a domain-by-domain basis. For example, if a retailer owns domainA.com and domainB.com, explicit permission must be sought to display products from The Company on each domain. In most cases permission will be granted to allow The Retailer sell The Company's products on a single domain only.
The Retailer may not present itself as the 'official' or 'exclusive' online retailer for The Company. This applies to claims made on The Retailer's website and any online advertising, social marketing, search marketing, or any other form of marketing undertaken by The Retailer.
The Retailer must identify the 'Mullan Lighting' brand on all product listed on its website. The brand name may only be represented as 'Mullan Lighting'. No other version, spelling or abbreviation of that name is deemed acceptable. Retailers can request to sell The Company's products as white label goods. The Company must approve this in writing before The Retailer can display The Company's products as unbranded or under an alternative brand name of its choosing. Alternative brand names must be approved by The Company beforehand and must not cause confusion or association with the Mullan Lighting brand.
Although not required, it is suggested that the recommended retail price (RRP) be indicated on The Retailer's website at all times, regardless of any promotional pricing in place at any given time.
The Retailer is not permitted to copy product descriptions verbatim from The Company's website. The Retailer is instead encouraged to write its own product descriptions in-keeping with its own brand style and tone.
The Retailer has permission to use images from The Company's official product image library only. These images include "cut-out" and lifestyle images. Images may not be taken directly from The Company's website as copyright for the majority of these images does not permit publishing on properties other than The Company's website. The Retailer may produce its own product photography.
The Retailer does not have permission to sell products from The Company on third-party websites like Amazon and eBay, or on any price comparison website or online selling platform not directly owned by The Retailer.
The Company reserves the right to ask for products to be removed from The Retailer's website if The Company's terms are breached.
The Company reserves the right to withhold supply of product if The Company's terms are breached.
Goods may not be returned by The Retailer unless they are faulty. The Retailer must inform The Company of a potential return of goods within 10 days of receipt of order. The Retailer must also include images that clearly depict how the goods received are faulty. Returns must be authorised by The Company prior to sending of the return order. Goods not authorised by The Company prior to receipt will not be accepted. Claims for defective or damaged products can only be made by completing The Company's returns form and including this printed form with the returned goods.
Goods damaged on arrival to The Retailer must be reported to delivery driver on receipt of goods. The Company must be informed of breakages or missing items within 24 hours of receipt of delivery.
THIS LEGAL DOCUMENT IS SUBJECT TO CHANGE WITHOUT NOTICE.