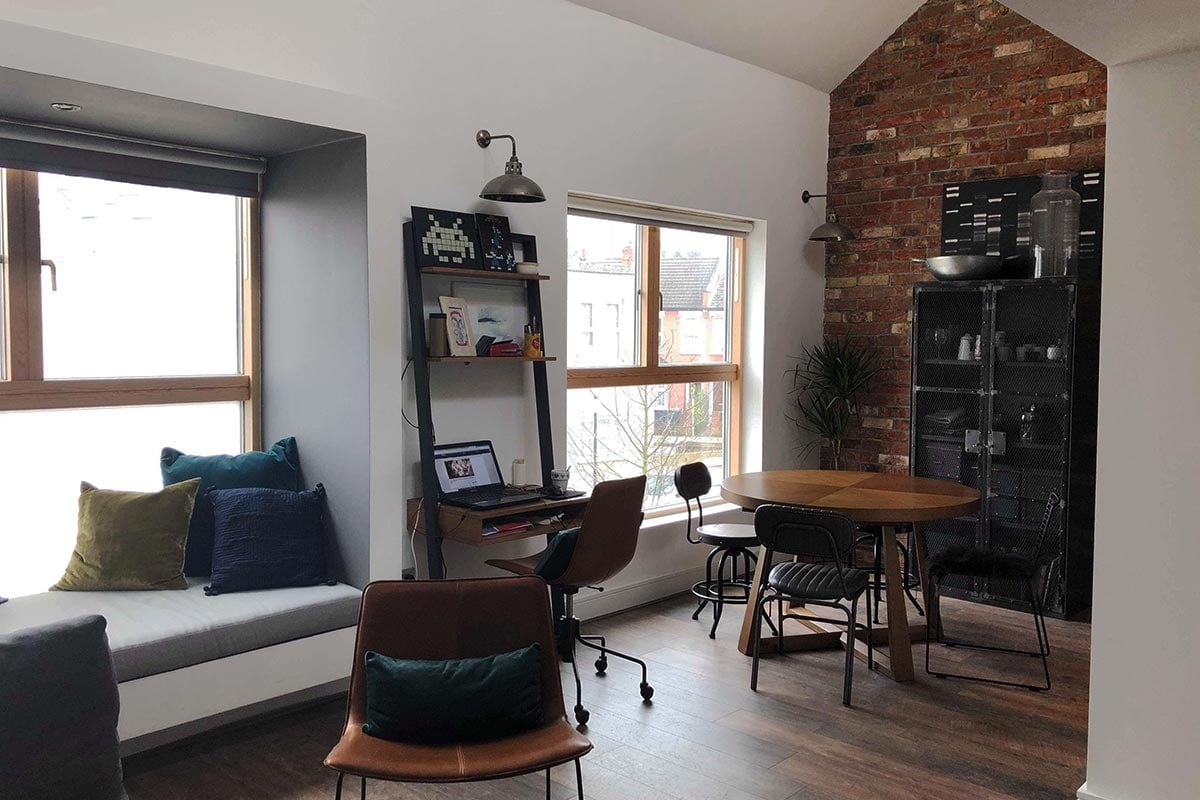 7 Tips for Lighting a Small Apartment
Lighting design has the power to influence the mood and feeling of a space. A small apartment can often feel claustrophobic and cluttered when paired with the wrong interior, colour palette and lighting.
If you want to make your small apartment feel welcoming, more spacious and comfortable, then lighting design is of the utmost importance. Small-space decorating can be a challenge.
We have gathered these seven tips lighting tips for your small apartment.
Take Advantage of Natural Light
Like any small space, natural light is quite limited. Therefore, it is vital to capitalise on every bit of natural light possible.
Natural light will make any room in a small apartment feel more spacious and less confined by eliminating shadows that can make an area feel more enclosed. To enhance any natural light, try placing a mirror across from windows.
This will maximise the effect of natural light by reflecting it and amplifying it around your space. If natural light is minimal then consider the use of track lighting.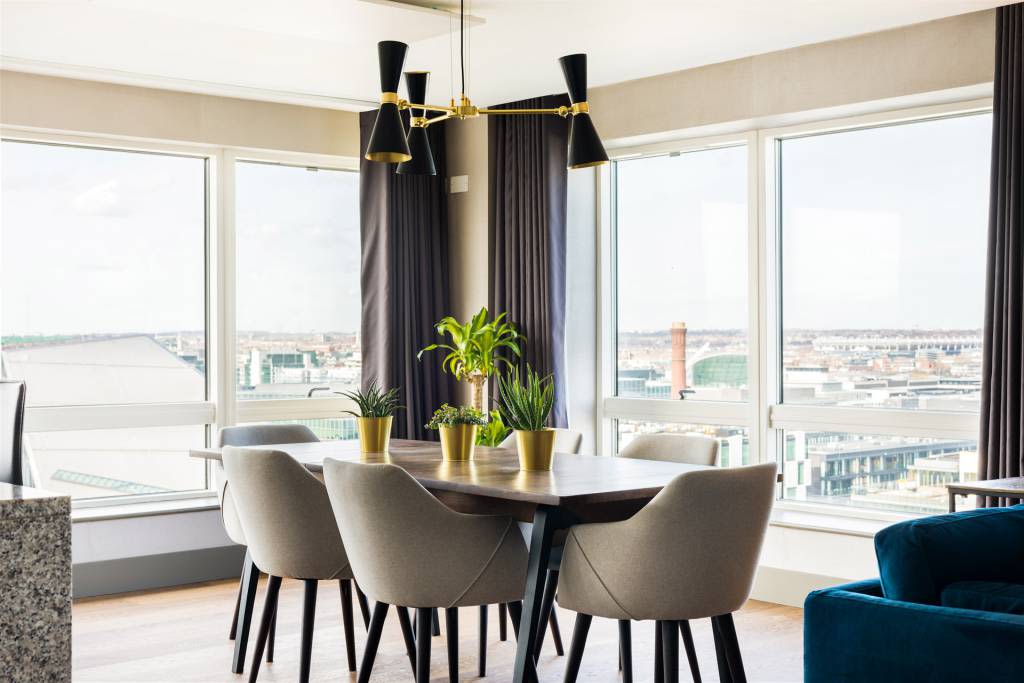 'Cairo' contemporary chandelier in a private residence by Think Contemporary . Photo credit: ALEX URDANETA.
Consider Using Track Lighting
If you have a small apartment, you will want to make use of the space and not have it cluttered with lamps and more lamps. Track lighting is increasing in popularity and, when done right, can look artful and elegant.
The advantage of track lighting is that it only requires one installation, taking up less visual space making it a great option for when you need lots of light in a small, compact space. Using strategic track lighting can help you direct light where it is needed, from brightening a shadowed corner to bouncing off ceilings and walls without overwhelming the space.
Often, people are discouraged by this type of lighting due to the track being deemed as unsightly. To overcome this try suspending pendant lights from the track to draw attention away from the track itself and onto the pendant instead.
Track lighting combined with recessed lighting will ensure that every corner of a space is sufficiently lit, helping open up your small space.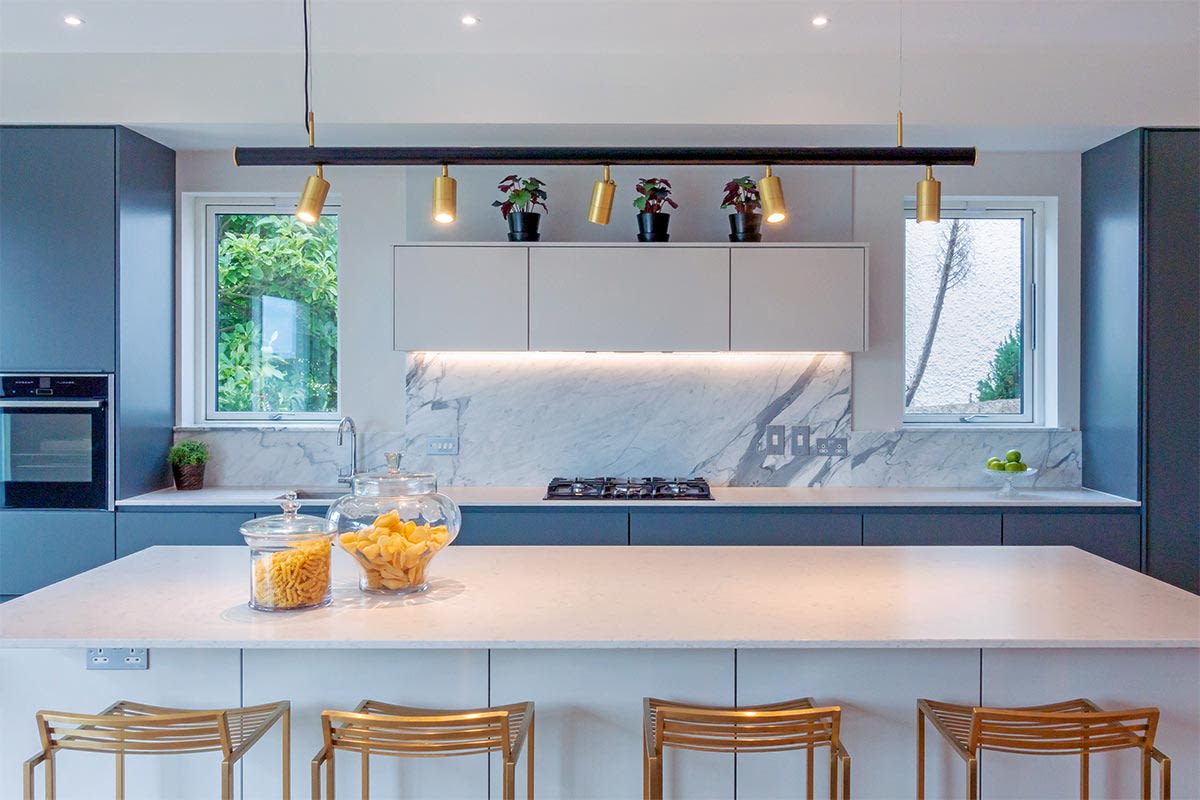 'Watson' linear chandelier in a private residence by Parliament Property. Photo credit: Tomasz Juszczak.
Add Recessed Spot Lights
Recessed lighting features can often be known as the unsung heroes of small space lighting design.
This fixture is installed into the ceiling, offering a clean, streamlined look with the desirable amount of light. The beauty of recessed lighting is that they open up spaces and illuminate dark corners without taking up any additional space, making your apartment feel spacious and bigger.
Our Lefksia brass recessed spotlight is designed to expertly accentuate individual areas, allowing a space to appear bigger.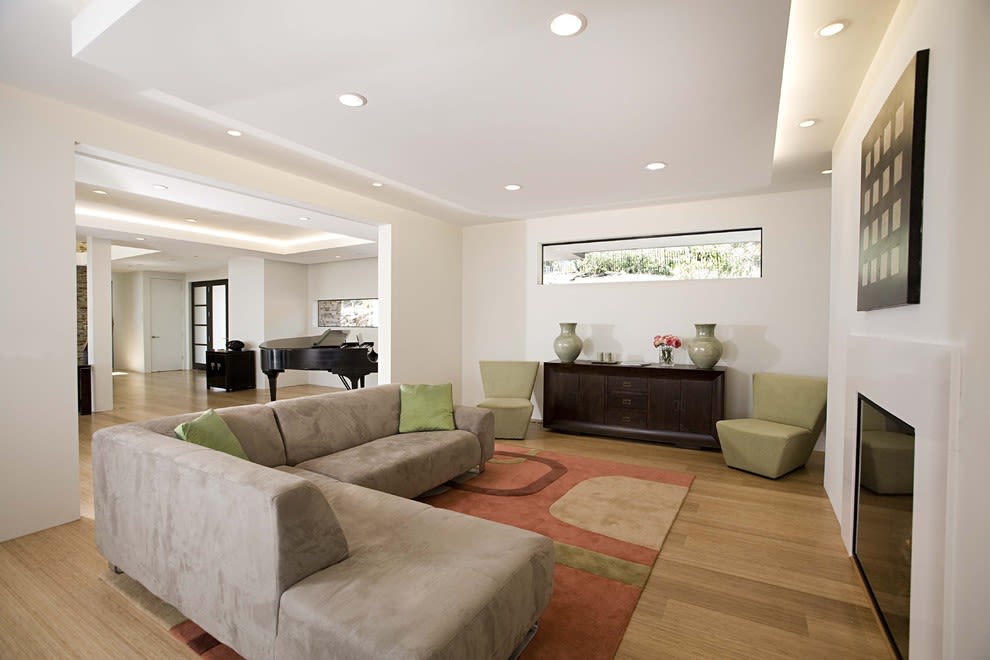 Recessed spotlights open up the space in this apartment
Mix, Match and Contrast Light Fixtures
Nobody wants their apartment to look boring and dull, and a uniform lighting design will ensure that a boring presence is felt in a small space.
Instead, a key tip is to utilise wall and floor lamps to spread the light around, opening up the space to maximise the apartment's potential. Wall lights are the perfect method to enhance brightness as they have the ability to scatter more light around the room, without directing light on the ceiling or the floor.
Another advantage of using a friendly wall light is that they can illuminate recesses and dark corners that can enclose a space. Floor lamps can sometimes make a room feel cluttered. However, when incorporated into a space correctly they can be used as a statement piece whilst offering a practical solution to brightening the area.
A tall floor lamp with adjustable parts can direct light where needed, filling an empty space. The position of floor lamps is extremely important to showcase the room.
Floor lamps can add value to dark corners and the space as they will draw a person's eye across the room, giving a better reflection and impression of the space.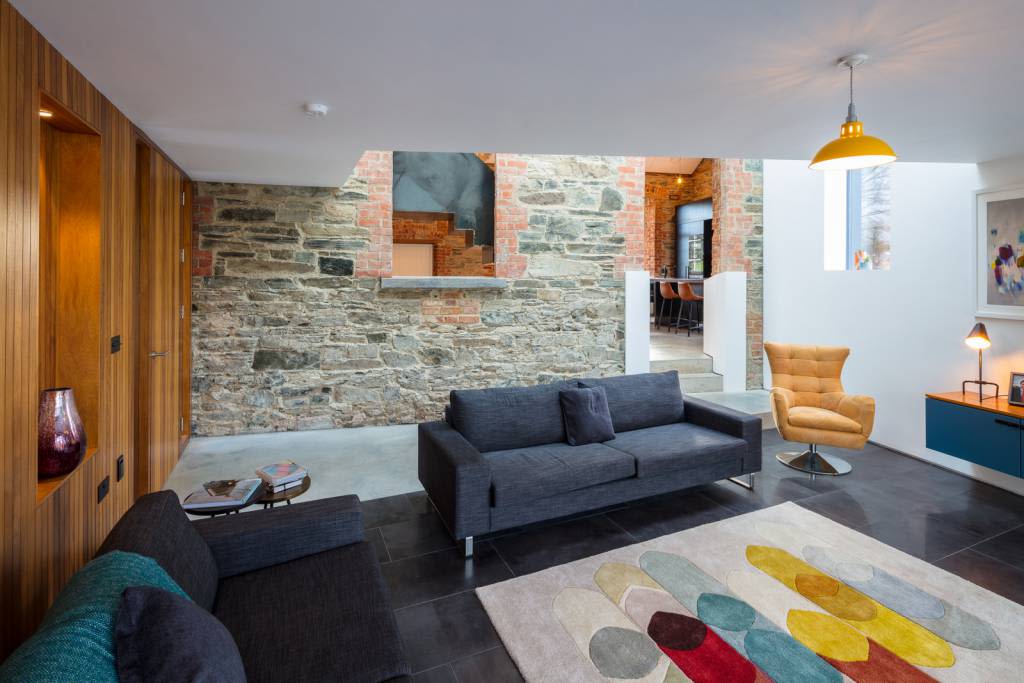 'Osson' factory pendant light in a private residence by Craft Studio Architecture .
Illuminate Objects
A simple trick to make a small space appear bigger is to focus light on an object such as paintings, plants, book shelves etc. By doing this, the light will give the illusion of fading walls, making the room appear larger.
Our Dublin and Elle picture lights give a spectacular illumination for artwork.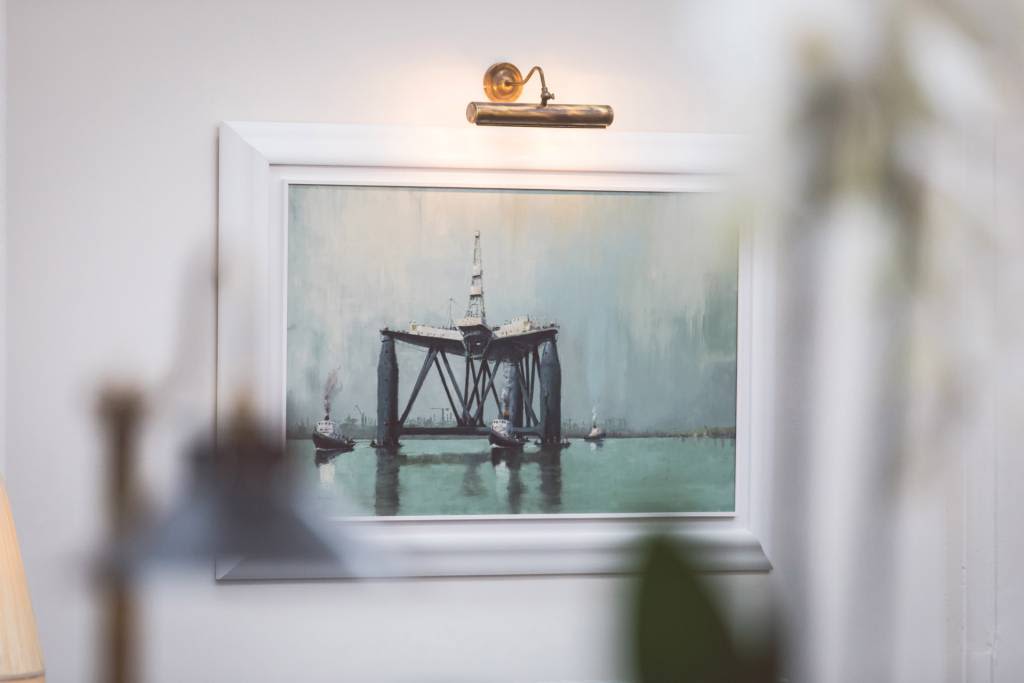 Our Elle picture wall light in the Titanic Hotel Belfast by ADI Studio. Photo Credit:Christopher Heaney
Draw the Eye Upwards
If your apartment has high ceilings but lacks in square footage, consider using hanging pendants like our Gentry Opal pendants from your ceiling in order to create a vertical path for people to follow.
The key to this is to emphasise the height of the apartment rather than the width, thus making your apartment appear bigger.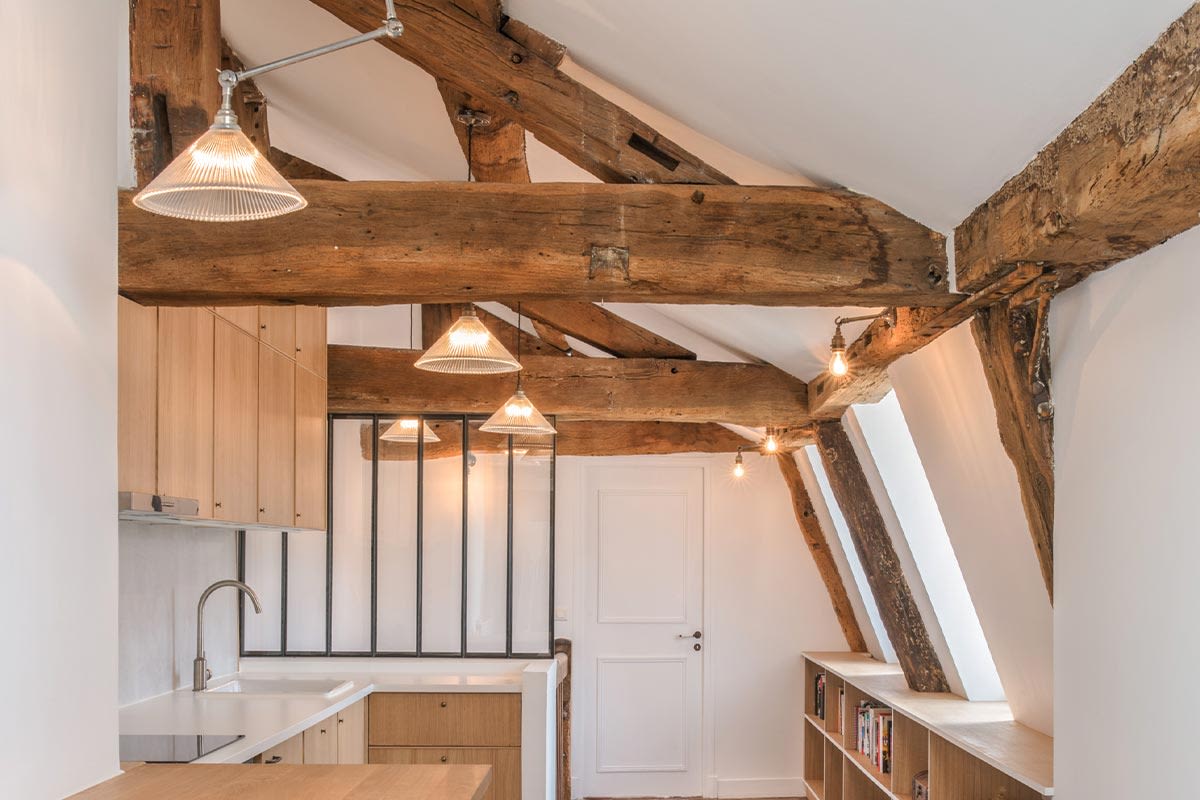 Rebell Coolie factory adjustable picture light in a private residence by Atelier És. Photograhy: Yosuke Kojima
Find the Right Shade of Light Bulb
A well-lit apartment will create an illusion of a bigger space. This includes finding the right light bulb that will efficiently light your space and set the tone and mood for the desired ambience in an apartment.
If overhead lighting isn't providing sufficient light, try replacing light bulbs to brighter alternatives. Light bulbs with cooler colour temperature can positively affect the feeling of the space. This can be complemented by adding a dimmer to the lighting.
Adding a dimmer will allow you to control the mood in an apartment and create layers of light. Try our E27 10W dimmable LED bulb.
You might also enjoy