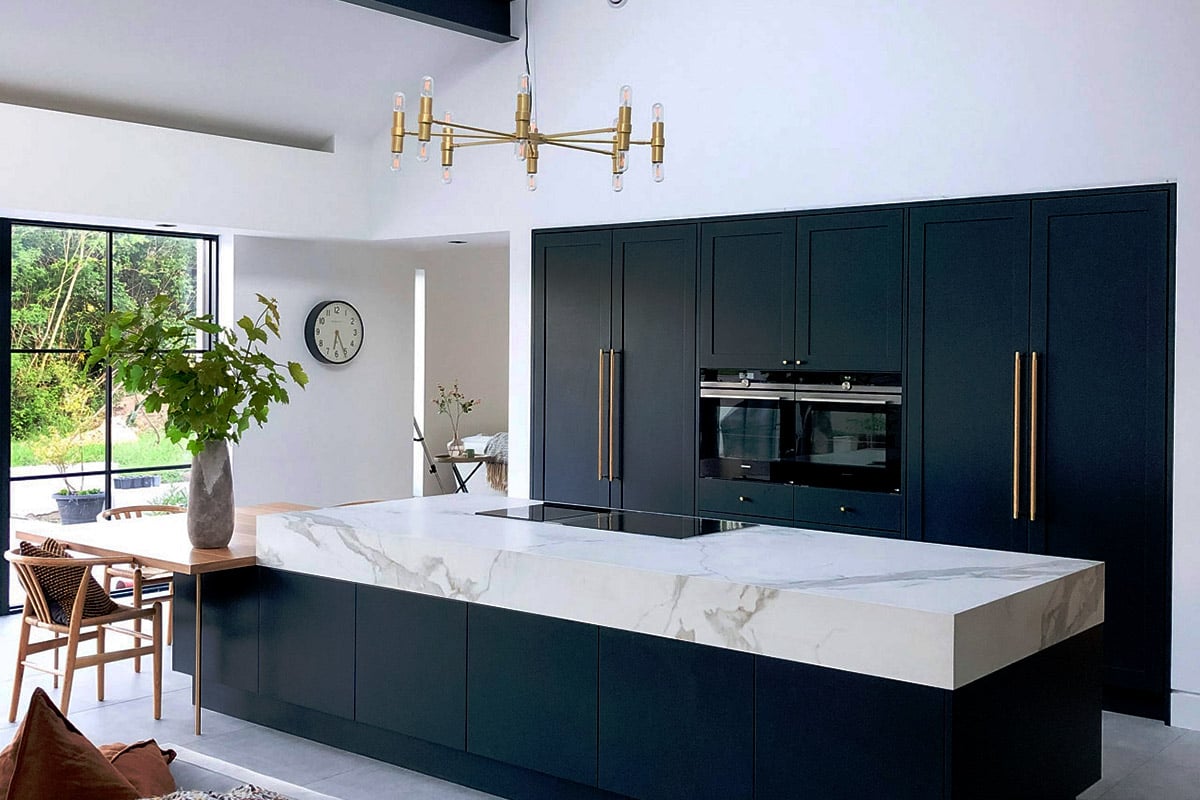 Kitchen Island Lighting: What You Need to Know
September 17, 2020 By Alanna McCarey
Bringing light into your kitchen is an important task and should be thoroughly thought-out. The kitchen often acts as the heart of the home where families gather to prepare and enjoy meals, where you spend hours cleaning dishes and most importantly, put the kettle on for a warm cup of tea!
Choosing the right lighting for your kitchen island will set the tone and atmosphere of your working space. Below we share our thoughts on what you need to know about kitchen island lighting.
How many pendants should I hang above my kitchen island?
This largely depends on the size of your kitchen island and what style of pendant you would like to place above the space.
A commonly used technique is to use an odd number of light fittings as this allows for a balanced distribution of light and weight. The common following of the rule of three generally creates a seamless proportion.
However, the number of pendants will depend on the look you're trying to achieve. Are two larger pendants more appealing to you than three smaller ones?
If opting to hang multiple pendants, the required spacing will rely on the diameter of the fixture. Allowing for space between each pendant is important and a general rule of thumb is to place a gap that reflects the diameter of the pendant between each fixture.
'Lyx' clear glass pendants light in a private residence, London by Vitruvius & Company Limited. Photo credit: Vitruvius & Company.
What size should a kitchen island pendant be?
Ideally the size of the pendants you choose to hang above your kitchen island should reflect on the amount of light exposure required to light the area.
Considering the ceiling height, island length and pendant measurements should all be acknowledged when choosing the right fixture for your interior.
Generally speaking, for higher ceilings and longer islands, you can select pendants of greater width and height. In reverse, lower ceilings and shorter islands suit narrower and less tall light fixtures.
There are no rules to enforce when selecting lighting for your kitchen island and you should always place your style preference first. After all, you will be the person using the space on a daily basis!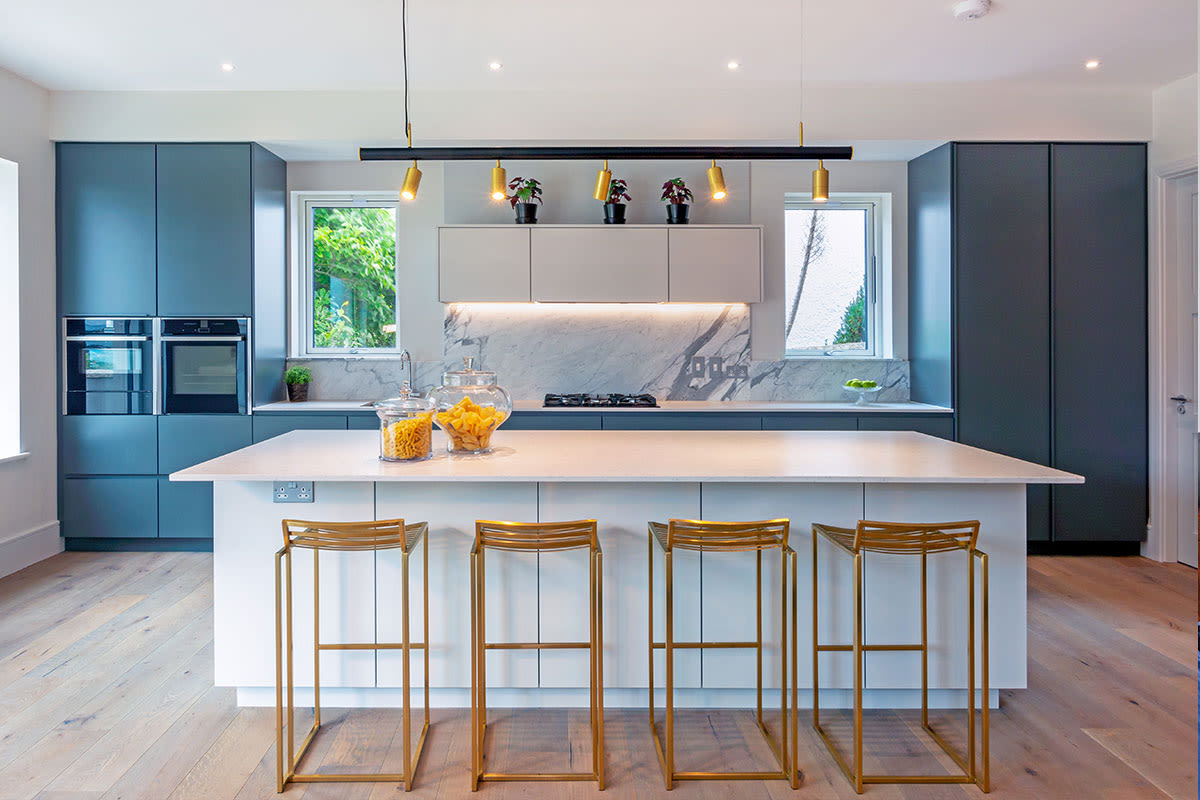 Bespoke linear chandelier light in a showhouse, Dalkey by Parliament Property Ltd. Photo credit: Tomasz Juszczak.
What height should I leave between the countertop and pendant?
We recently published a pendant and chandelier hanging guide that supports readers in hanging their fixtures.
On average a pendant should hang between 75/90cm or 30" above the island countertop.
If the countertop includes a stove or sink, be mindful of heat and water projection that might come from these appliances. If in doubt, reduce the drop height of the pendants by a further 4-6".
'Lainio' pendant lights in a private residence by Conbu Interior Design. Photo credit: De Urbanic.
Should I choose pendant lights or a chandelier?
On a practicality level, chandeliers generally only require one wire connection whilst pendants may require several outlets, depending on the number of pendants needed. In saying that, it is possible to hang multiple pendants from a single ceiling rose.
To answer this question wholeheartedly, the purpose of the light will need to be identified.
Chandeliers are often used for ambient light or as the sole light source. Pendants more commonly act as accent and task lighting, projecting light downwards onto the island surface.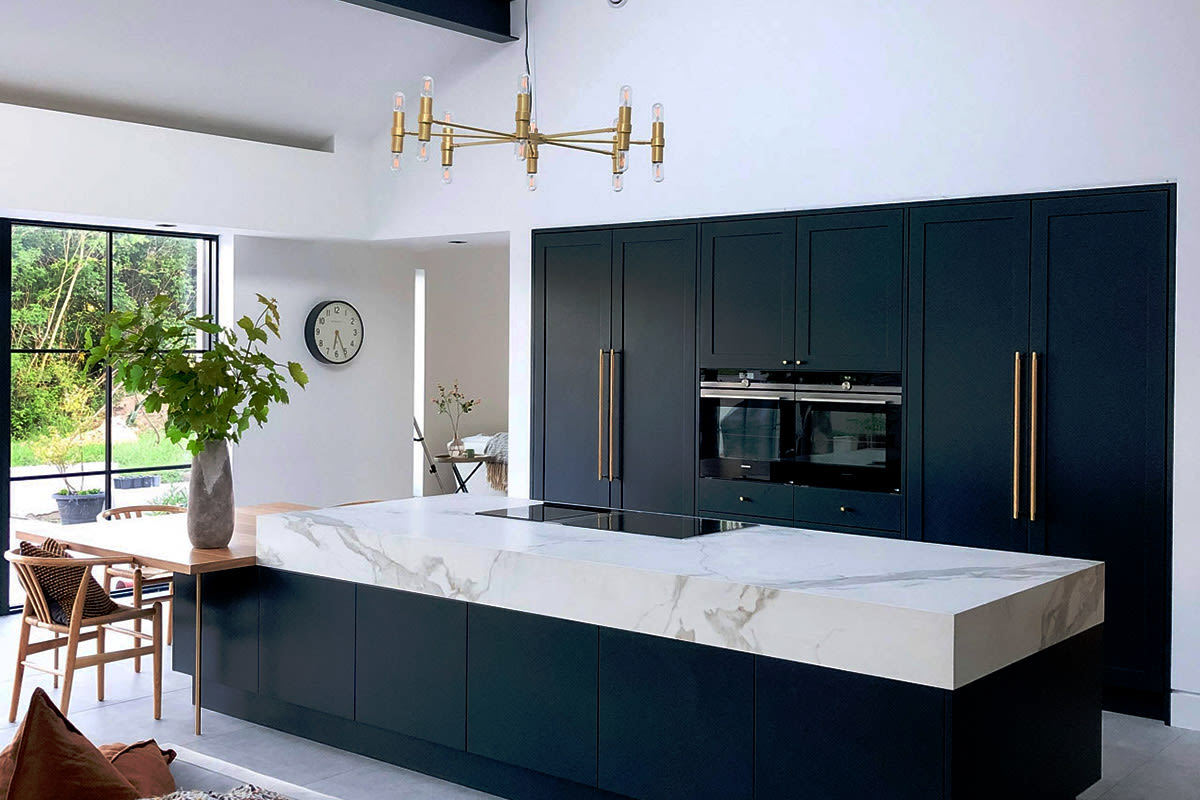 'Kendu' chandelier in a private residence by Ashen & Cloud. Photo credit: Ashen & Cloud.
How to choose a pendant light for your kitchen island?
Now, more than ever, we are blessed (or cursed!) with a wide selection of pendant lights. Pendants are available in a range of styles that complement a mixture of interiors and kitchen design concepts.
Whether you want to include a unique, edgy fixture or opt for a more subtle finish, these timeless lighting styles are fitting solutions to dressing your kitchen island.
Glass Pendants
Glass pendant lights vary in size, shape and glass type. A glass enclosure allows for the natural flow of light throughout the kitchen area. Glass fixtures offer a timeless and elegant feel to a space.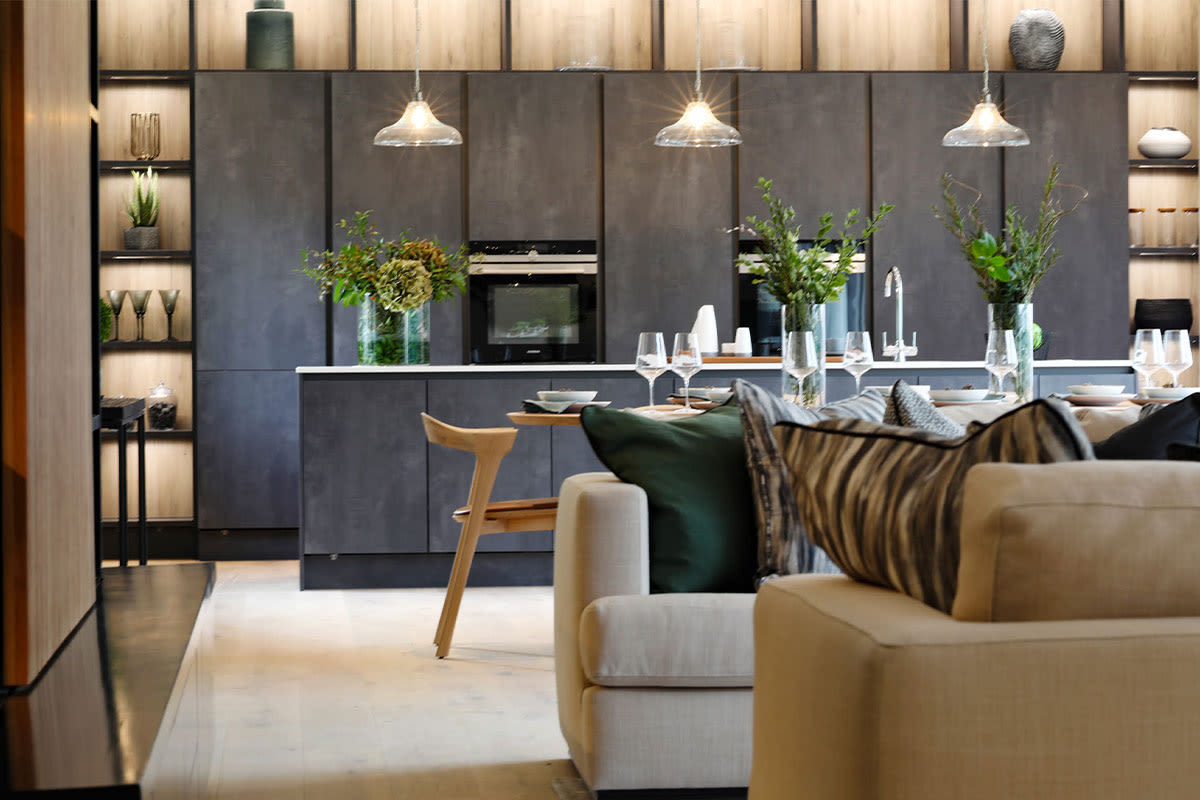 'Clifton' pendants in a private residence by Pollard Design. Photo credit: Ailbhe O' Donnell.
Dome/Cone Pendants
Dome shaped pendant fixtures are a common option for kitchen island lighting. This is mainly due to the large range of colour finishes and styles available. The dome shape is a typically traditional style, however, they are frequently being used throughout contemporary kitchens.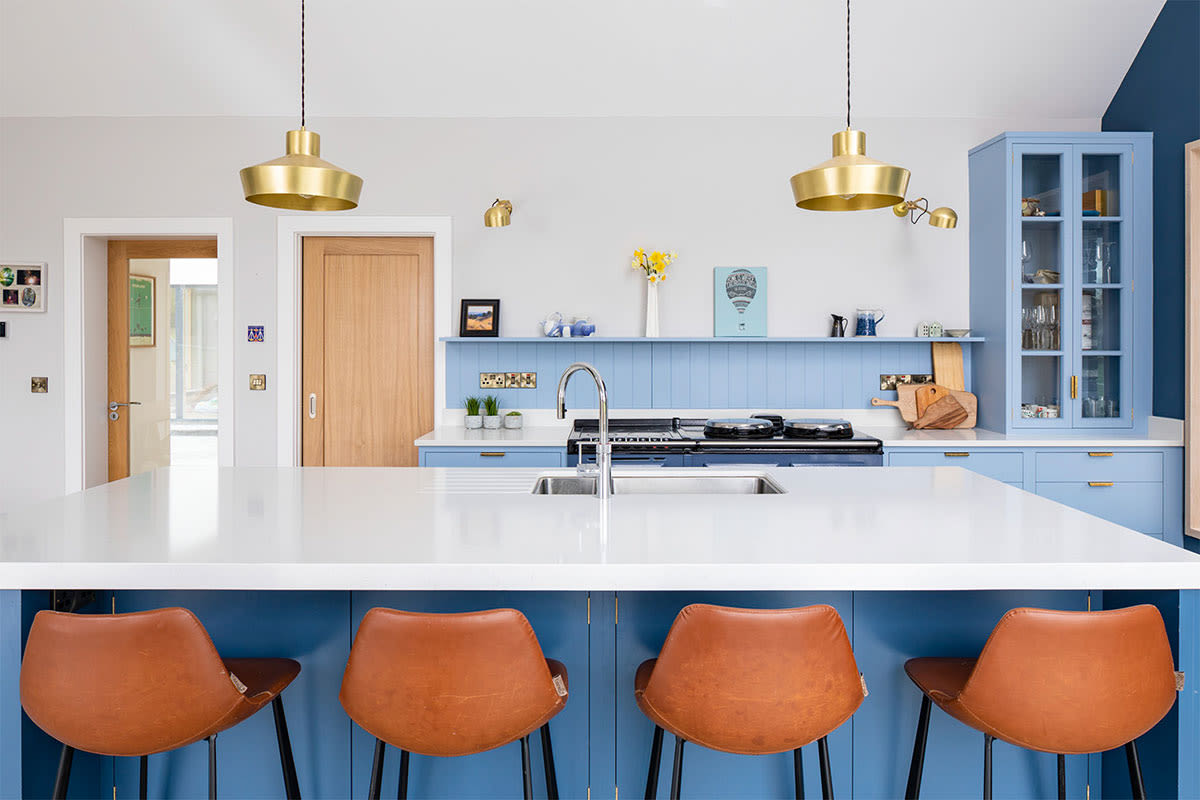 'Elegance' pendants in a private residence by Rhatigan and Hick. Photo credit: BML Media.
Globe Pendants
Globe light fixtures are growing in popularity in recent trends. The fresh, elegant globe fittings complement all interior settings with glass types ranging from clear, opal, frosted and smoked.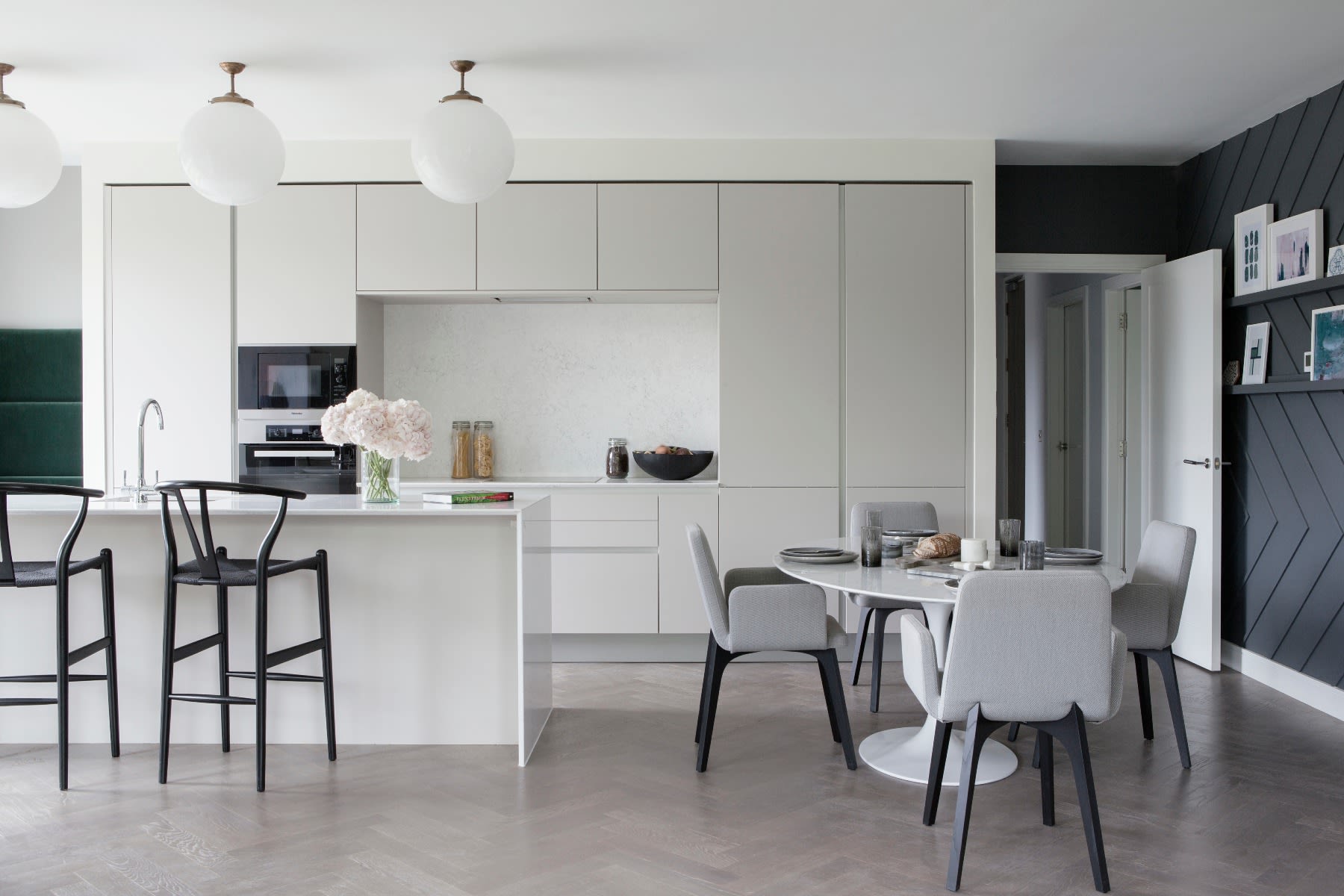 Customised 'Luanda' flush pendants in a showhouse by Kingston Lafferty Design. Photo credit: KLD.
Cylinder Pendants
Cylinder lights add a modern twist of sophistication to a kitchen area. Cylinder-shaped fixtures often give the illusion of height, tricking the mind into thinking the room is more spacious than it actually is.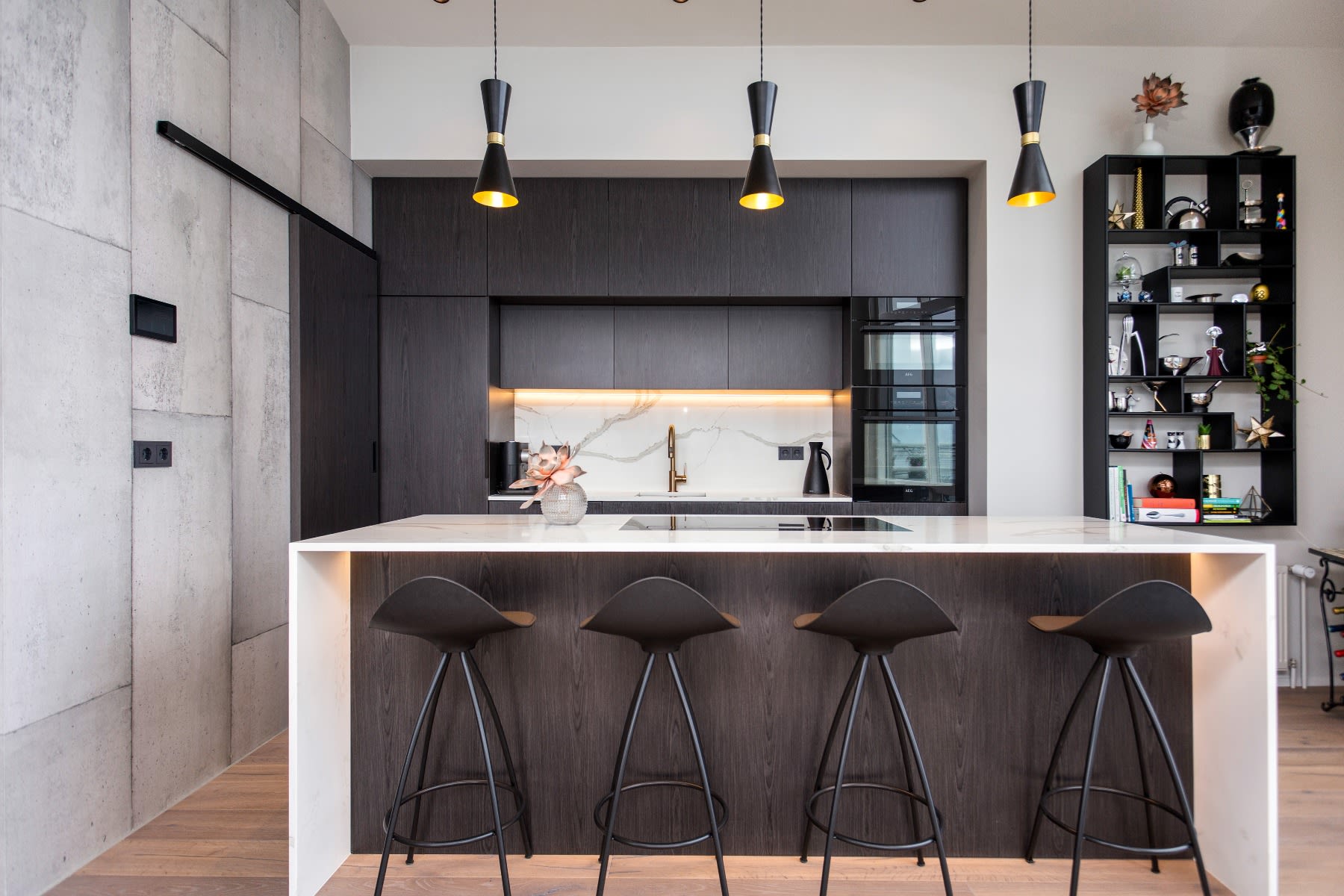 'Cairo' pendant lights in a penthouse apartment, Iceland by Lýsing & Hönnun.
At the end of the day, each individual person will have their own preference when it comes to selecting light fixtures for their kitchen island.
A top trick we like to use is for clients to hang balloons of similar height and size that resembles a light fixture they are considering purchasing. This will allow the individual to visualise the fixture in place, helping to identify whether they think the shape, height, diameter of the fixture is a good fit for their space.
Happy lighting!
You might also enjoy