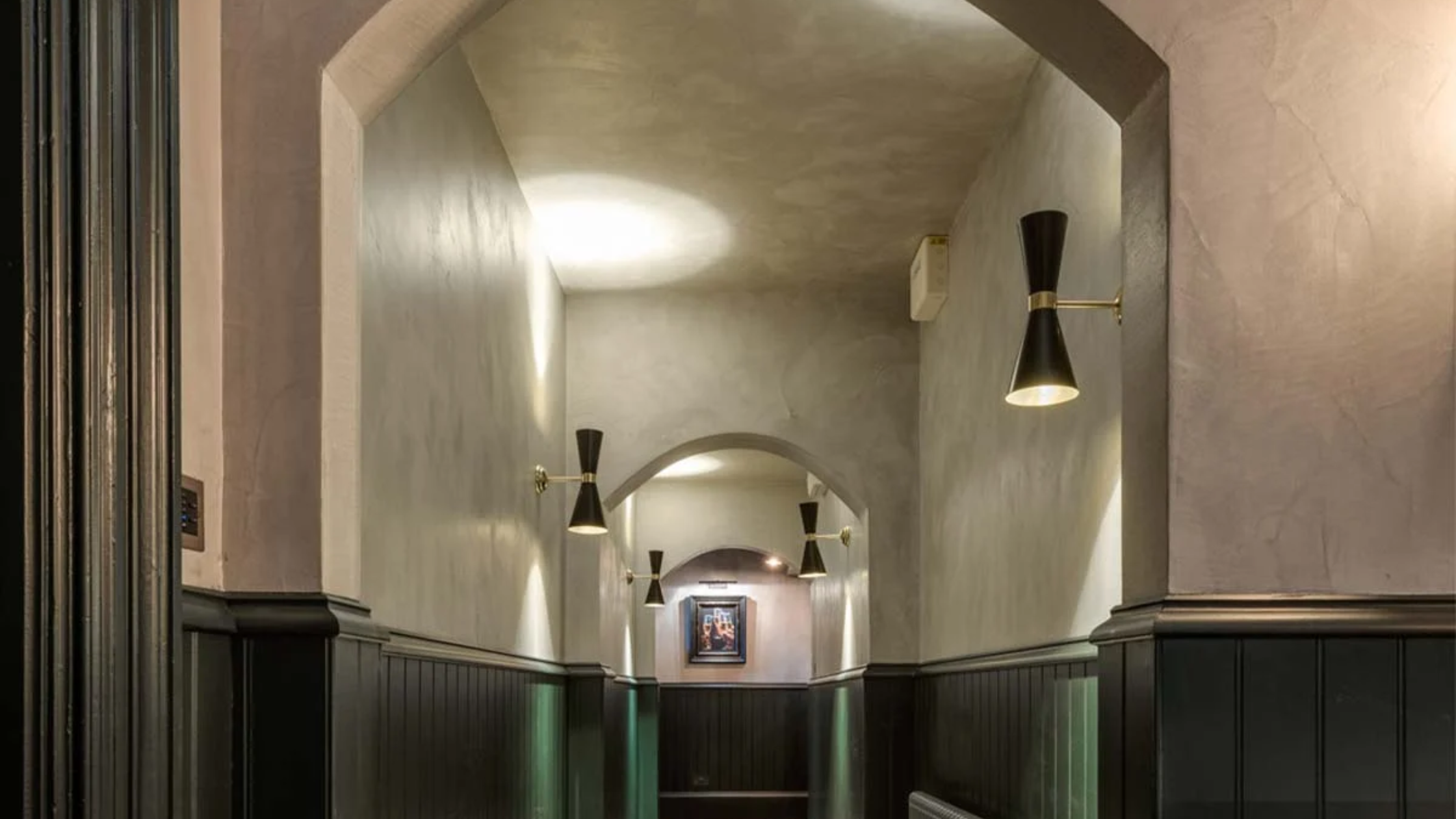 How to Place and Install Wall Sconces
Understanding the placement and functionality of your wall lighting is important to know before you start drilling holes and installing wall sconces! There are no set rules on what you can and cannot do in terms of wall light placement. However, we have drafted some guidelines below to help you make the process that little bit easier.
1. Kitchen Wall Lighting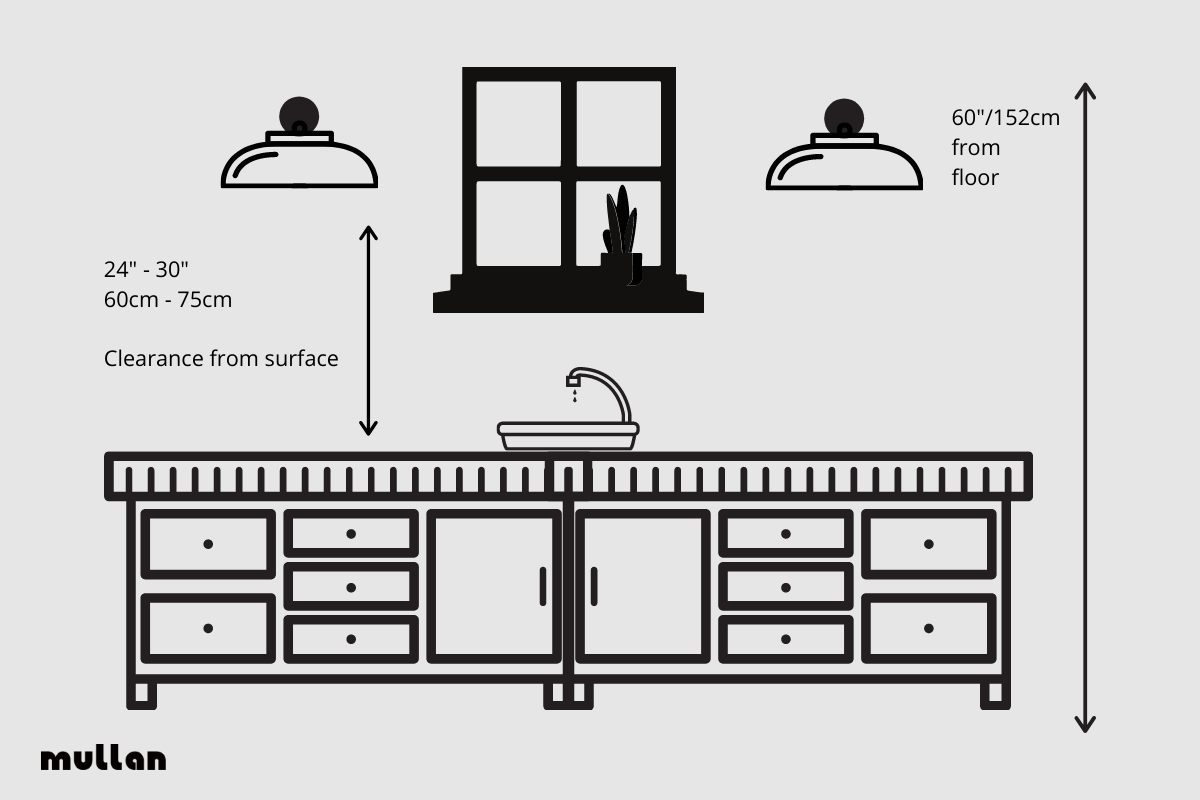 Visual guide for placing wall lighting in the kitchen.
Wall lamps can act as great sources of task lighting in the kitchen. Complementing ceiling mounted fixtures, wall sconces will ensure you have plentiful light when carrying out kitchen duties, including preparing meals and dish washing.
A general rule of thumb is to leave 60" / 152cm from the floor to the base of the fixture. Factor in existing furniture and features too before deciding where to place your wall sconces. This will ensure you have enough space and avoid cabinet doors clashing with your light fittings.
If measuring from your counter top, it is best to leave a minimum of 24"/ 60cm from the counter surface to the base of the light fixture. This helps avoid any nasty head clashes and keeps the light a safe distance away from sources of water.
2. Bathroom Wall Lighting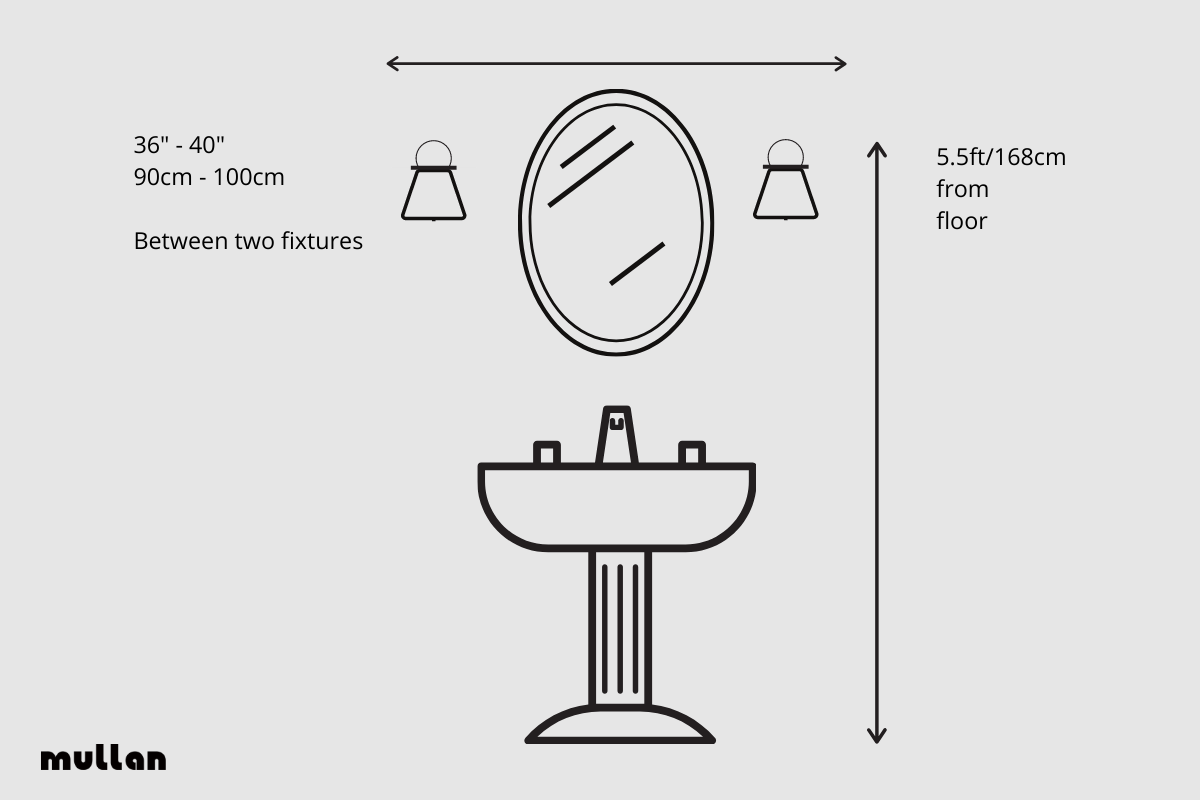 Visual guide for placing wall lighting over the vanity in the bathroom.
Lighting around the vanity area provides great task lighting for carrying out morning and night time routines. When installing wall lamps on either side of the vanity mirror, it's best to install them between 60-65" from the floor. The height of the light fixture should be fixed at eye level, minimising the appearance of harsh glares.
Opting to use wall sconces next to the mirror rather than overhead will eliminate the shadows that overhead lights tend to cast.
It is important to have sufficient lighting in the bathroom as you get ready for the day. When placing wall lights, you should leave 36-40" inches between fixtures.
Water safety should always be considered when selecting light fixtures. We would advise you to choose suitable bathroom IP-rated fittings.
3. Bedroom Wall Lighting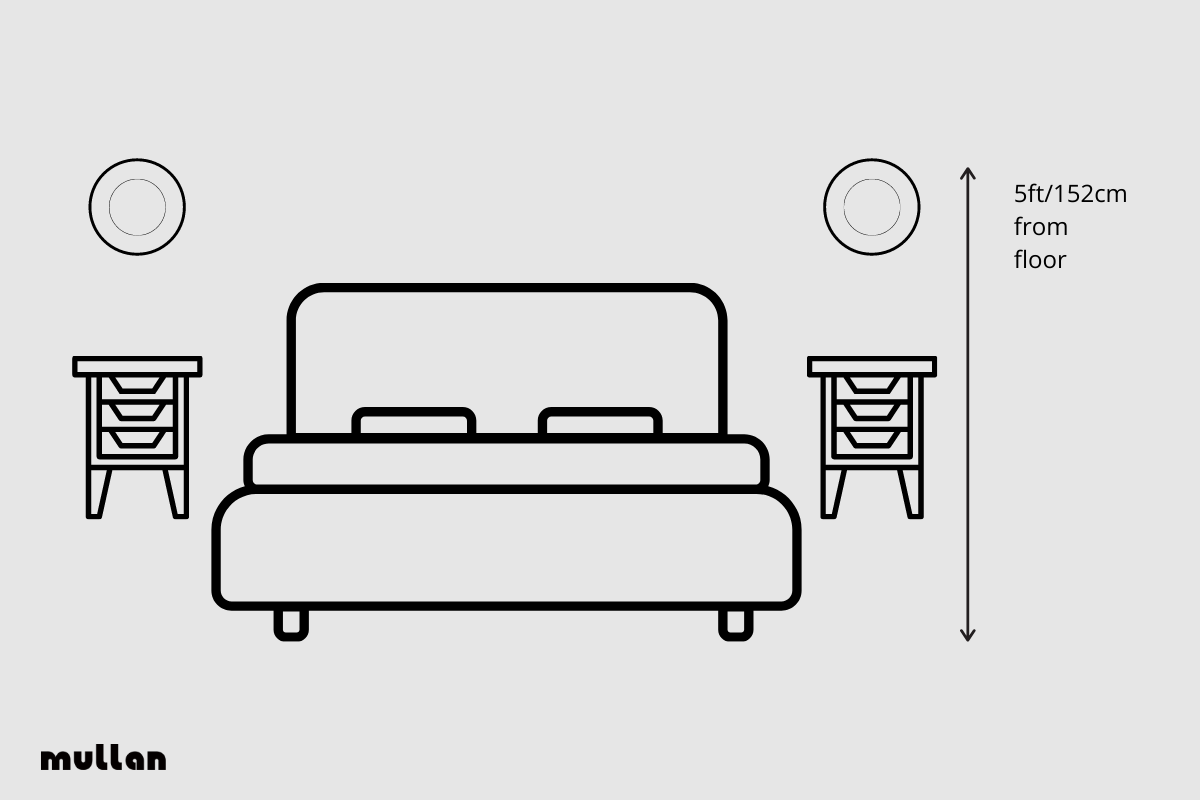 Visual guide for placing wall lighting in bedrooms.
Wall lighting can create a tranquil atmosphere in the bedroom, reducing light levels as you prepare to unwind and drift off to sleep.
Perfect for mood setting, wall sconces can highlight architectural features and bedroom décor.
Adjustable wall lights with swing arms offer a practical solution for late night reading. If you're a night time reader, make sure the wall lights are intentionally placed so that you can read comfortably.
A good tip prior to installation is to lay in bed and mark an area on the wall that is around 5" inches above your shoulders. Ideally the wall fitting will be within easy reach to switch on/off or to adjust the direction of light.
Based on a standard bed height, we recommend the wall light to be placed between 55-60" from the floor to the base of the fixture.
4. Entryway Wall Lighting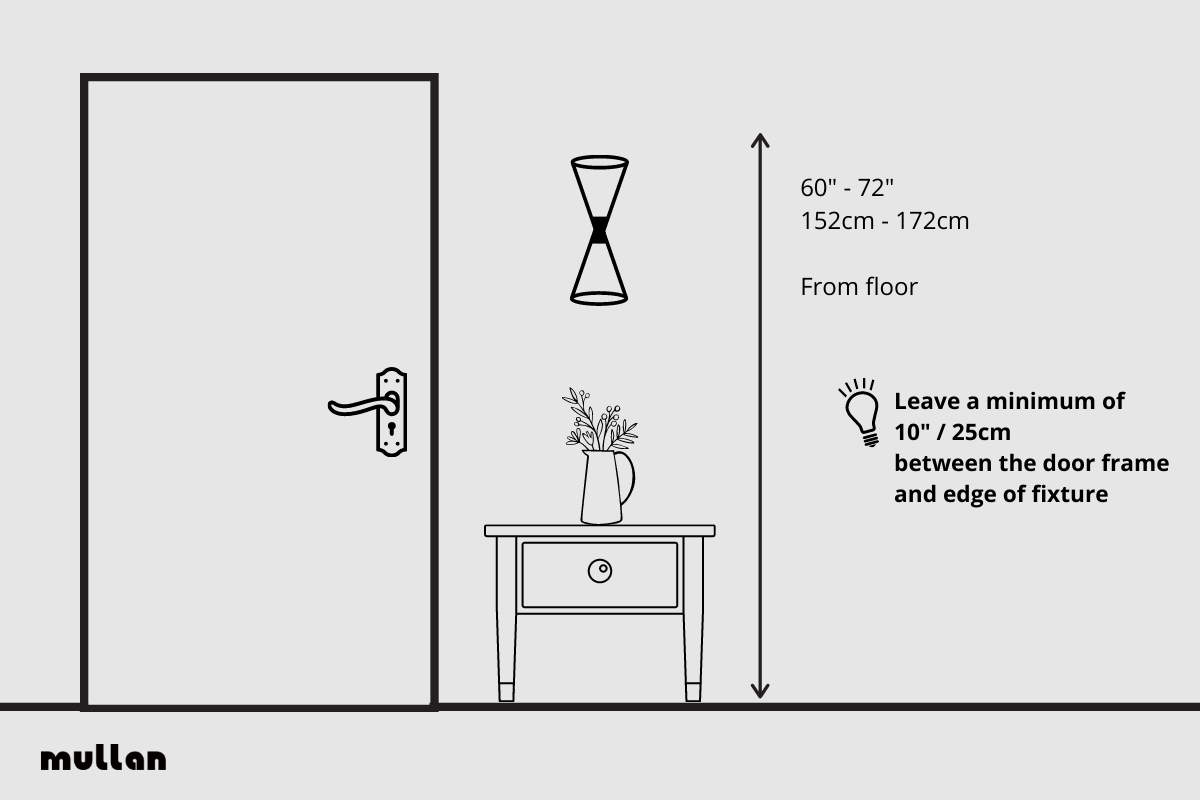 Visual guide for placing wall lighting in hallways and entries.
The entry to your home is an important space for welcoming guests and making a great first impression. Using wall sconces - like flush mounts - can add accent lighting, providing a warm tone throughout the space.
As a general rule of thumb, wall lights are installed between 60-72" inches from the floor. Each house is different but if you have a longer hallway installing multiple fixtures along the walls can help illuminate the area. To achieve coherent horizontal spacing, sconces should be placed evenly apart.
A quick measurement of the length of the hallway divided by the desired number of lights will help identify light fixtures with suitable widths.
Placement depends on how long your hallway is and if any other architectural features (such as vaulted ceilings, doorways, etc.) need to be factored in.
Our top tip for entry and hallway lighting is to leave at least 10'' between the door frame and the edge of the light fixture.
5. Positioning Picture Lights Above Artwork/Certificates/Décor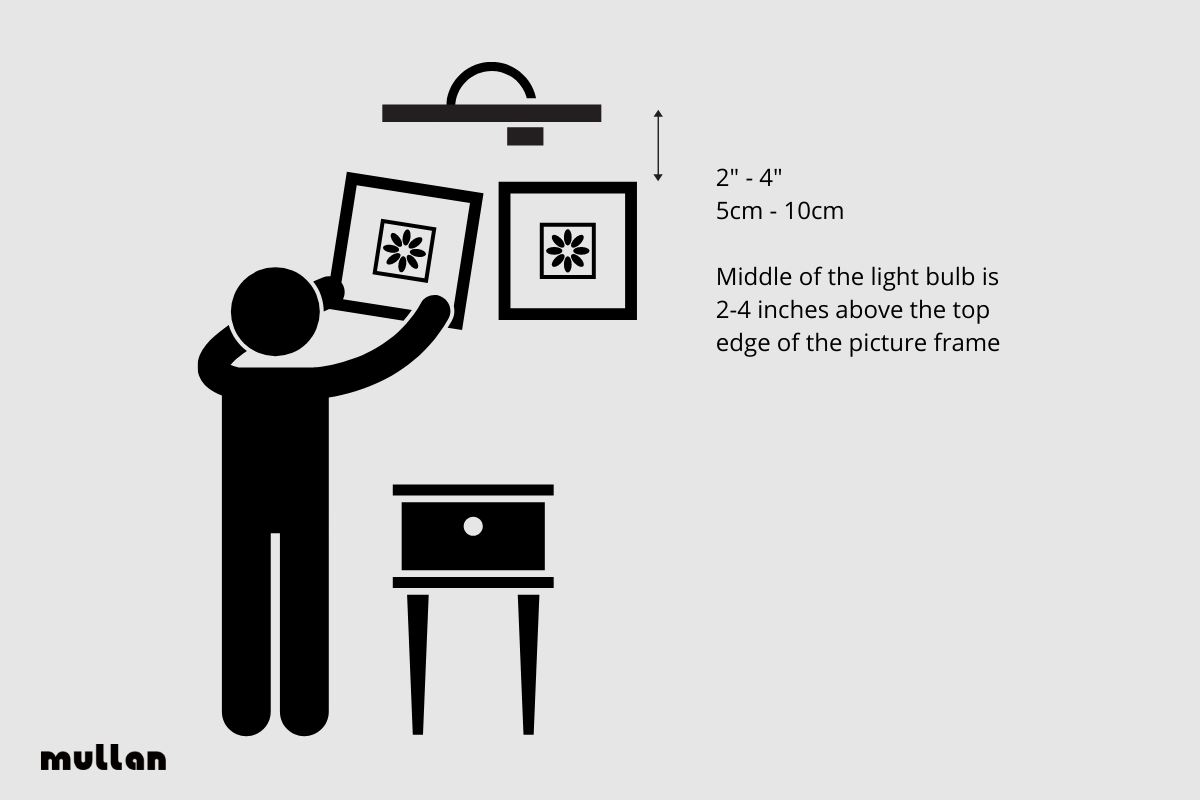 Visual guide for placing wall lighting over art decór and certificates.
When placing a picture light over an art piece you want to achieve an even spread of light across the whole frame and avoid a 'hot spot' on the top half of the work.
Placing the picture light centrally above the picture and at a 30-35° degree angle will help minimise the projection of glares on the artwork.
Highlighting educational certificates and art décor can be transformative to an interior. Illuminating them can add a sense of drama through the use of atmospheric picture wall lights.
Leaving a space of 2-4'' inches from the top of the frame to the middle of the light bulb should cast an even spread of light across the dedicated area.
6. Our Top Tip
Bespoke kitchen designers Rhatigan and Hick featured our 'Bogota' brass wall lights in this stunning kitchen design.
Our top tip before installing any type of wall light is to try and envision what the space may look like with the wall lights in place.
Cut a piece of cardboard to the size of your desired wall light and place it on the wall. Move the cardboard template around to ensure you are happy with its position before you purchase or install the light fixture. Once the cardboard piece is up, place a torch light in that position to see where the light projection will fall.
If the light source is in a position that will not be exposed and not cause glare, then the wall light is in an appropriate position.
A key takeaway fact is to remember the top of the wall light should be above eye level and around six feet from the floor.
As always personal preference should take priority in deciding where to place your wall lights. The above guidelines act as a resourceful handbook in hanging wall fixtures throughout your home. Following the above steps can help ensure lights are hung at a desirable level and light is evenly cast across your interior setting.
Have fun with your lighting projects and don't limit yourself to the 'right' way. Get creative and add your own unique touch!
You might also enjoy