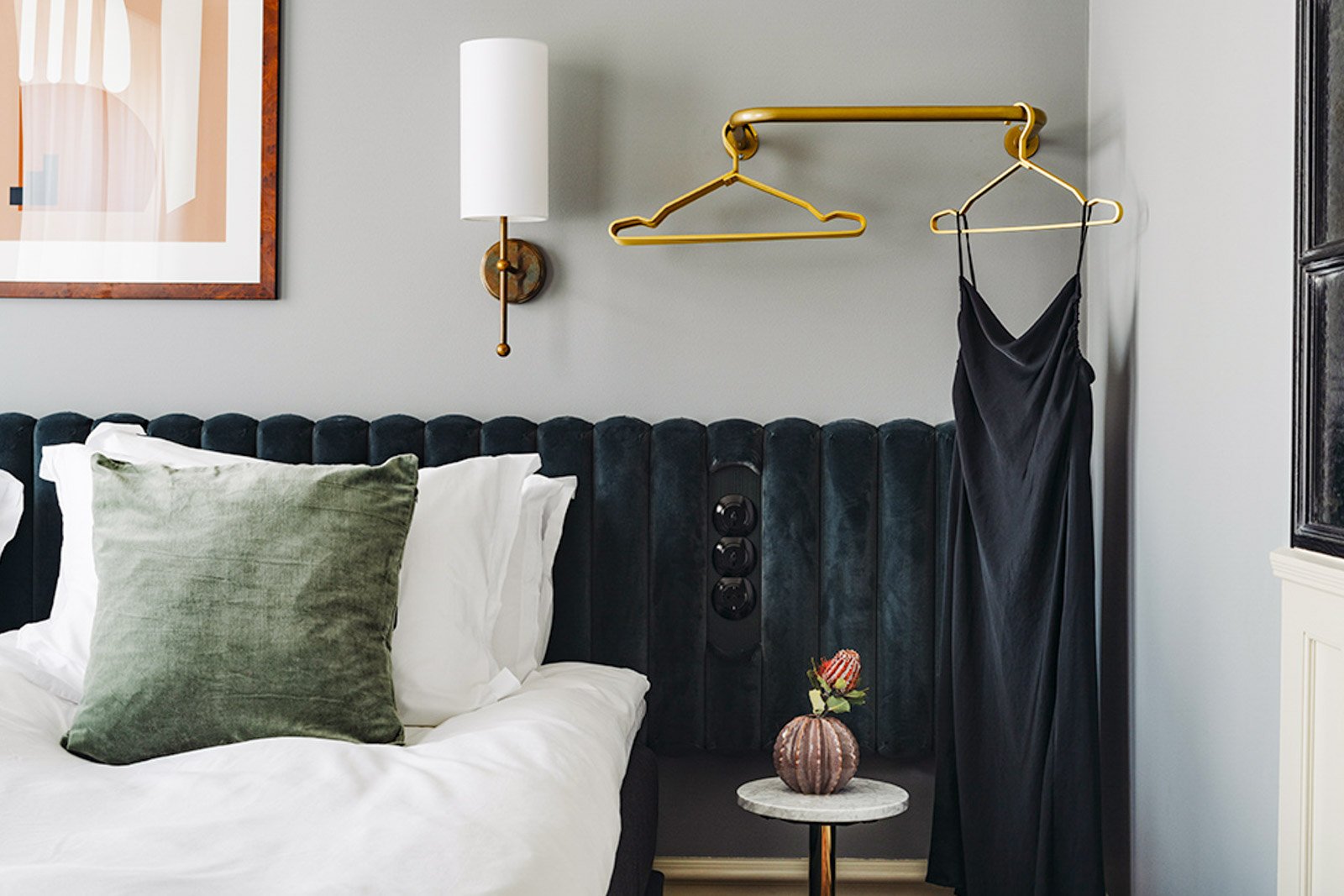 Boutique Swedish Hotel Hosts a Selection of our Decorative Hotel Lights
Located centrally in Sweden's capital city of Stockholm, Hotel Frantz is a family-owned and newly renovated boutique hotel.
Resting in a centuries-old historic town house, Hotel Frantz captures the charm of its 1647 foundation.
Leading Swedish interior designers - Spik Studios - were tasked with renovating and restoring life back to this antique building.
The hotel bedroom suites are full of charm and each hosts their own unique personality. Spik Studios wanted to capture the character of the building by introducing and expressing individual tailored and detailed designs in each suite.
'Arizona' wall light in a bedroom suite of Hotel Frantz by Spik Studios.
The captivating hotel offers six suite types, all of which have been altered to provide a luxurious and comfortable environment for guests to relax in and enjoy.
Whether you are a solo traveller or family of five, Hotel Frantz has catered their rooms to meet the demands of modern-day guests - be it for business or pleasure.
Key to the design of each bedroom suite is luxury high end furnishings blended with strong, rich colours.
Spik Studios opted to use our Arizona wall sconces above the headboards throughout all bedrooms, creating warm and inviting restful zones.
'Arizona' wall light in a bedroom suite of Hotel Frantz by Spik Studios.
The elegant wall fixtures contrast beautifully against the plush paint hues seen in the individual hotel suites.
'Cladach' wall light in a bathroom suite of Hotel Frantz by Spik Studios.
In the bathroom suites, our Cladach wall lights offers soft light projection above the vanity areas. Versatile in design, the Cladach wall fixtures combines a modern profile with a traditional vintage aesthetic, allowing it to easily adapt to the unique bathroom designs used throughout the stylish bedroom suites.
In the halls of this petite hotel, a chic display of our brass light fixtures can be admired. Tying in with the brass trim of the vintage radiators, our Dale pendant lights cast a warm glow along the window sills.
Our 'Clayton' and 'Fabo' wall and 'Dale' pendant lights in a corridor of Hotel Frantz by Spik Studios.
An endearing exhibit of our crackled glass wall lights helps guests find their way to their bedrooms late at night. The polished brass finish of our Fabo and Clayton wall sconces provide an elegant charm to the hotel's corridors.
Quaint in style, our Ardle ripple-shaped pendant lights give rise to the organic design concept of the restaurant, in keeping with the rustic style of the hotel. The aesthetic of the exposed bulb complements the vintage character of the hotel, while the racing green colour finish of the pendants are a testament to the colour palette used throughout the boutique hotel.
'Ardle' pendant light in the hotel restaurant of Hotel Frantz by Spik Studios.
It is without question that Spik Studios have managed to capture the natural beauty of this historic building. The freshly modern design carefully respects the heritage of the building through the use of quality, high-end décor.
Hotel Frantz is a relaxing and rewarding spot to unwind and enjoy a collection of exceptional light fixtures from Mullan Lighting.
Photography Credit: Spik Studios