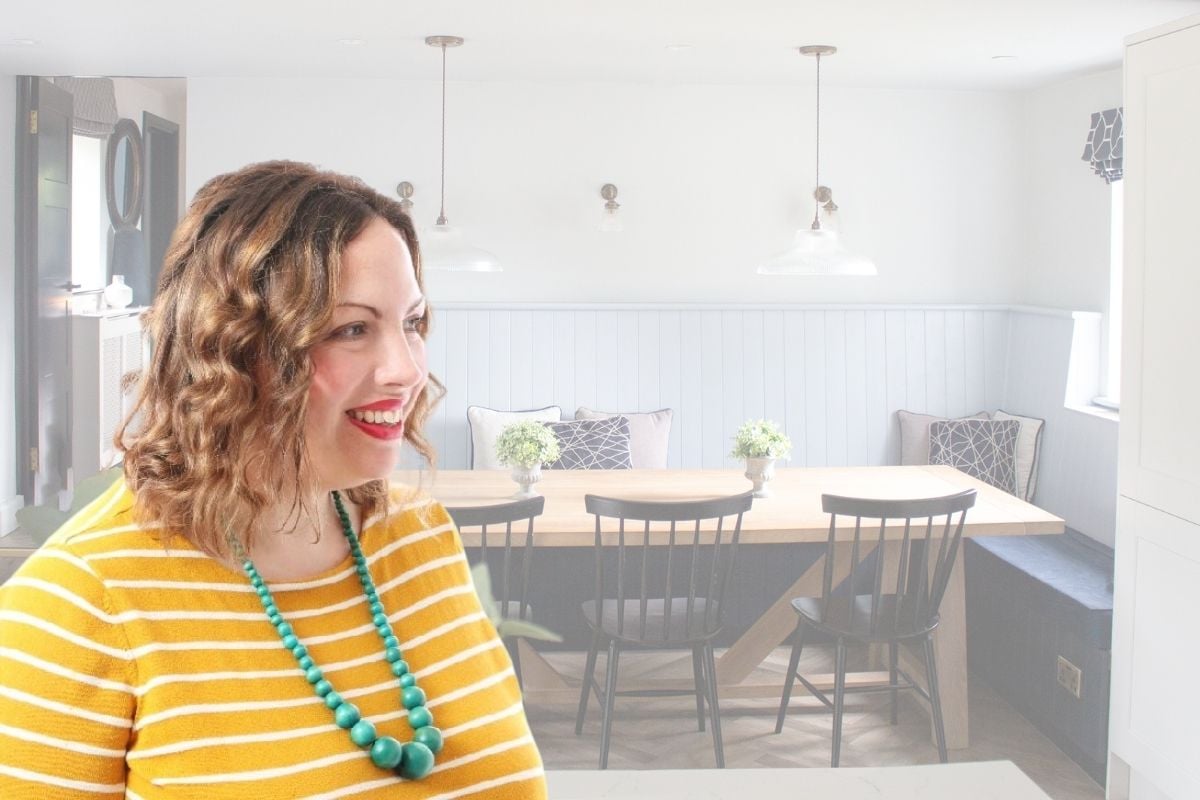 We Talk All About Interior Styling with Louise Misell
We recently chatted with Louise Misell - an interior designer from Cardiff, Wales. Louise shares some of her styling tips, highlighting how best to prepare for the inclusion of lighting in your interior design.
Louise recently featured a number of our light fixtures in a stunning home renovation project.
_________________________________________________________________________________________________________
Louise, can you tell us a little bit about yourself?
I am originally from Yorkshire but moved to Wales to study and have settled in Cardiff. I studied Theatre, Film and Television, and then worked in television before having my children.
I've always been fascinated by the arts but it took me a long time to realise that I was creative myself.
Whilst bringing up my children, I retrained as an interior designer and worked as a home designer for John Lewis for several years before setting up my own company.
What determined your passion for design?
I am your typical designer who spent hours moving her bedroom furniture around as a child and begged my mum to let me have paint made up to match a favourite purple earring for my walls!
I was always interested in colour and making the best use of space. I've learned so much over the years about how interacting with our environments can make us feel. When a building functions well, when we are surrounded by colours and things that we love, it can have such a positive effect on our mood and wellbeing.
What can potential clients expect when working with you?
I ask a lot of questions! It really pays for me to get to know my client's needs, likes and desires and also how they spend time in their homes as a family. From this I can design everything around them and the whole project is focused on getting the best outcomes for them practically and aesthetically.
Having said that, I always try to push my clients' ideas a little bit further than they are comfortable with - if I give them back exactly what they asked for then I don't think I have done my job properly.
'London' railway glass pendant lights in a private residence by Louise Misell Interiors .
Is there a project that stands out to you as being a key driving force for your career as a designer?
I think the modern country renovation project in Langstone is a standout project for me. It was the first time that I designed so many bespoke elements in one home and coordinated the installation of all the rooms at the same time.
The client was a dream to work with and let me try out ideas whilst keeping an open mind. This allowed me to stretch my abilities as a designer.
What inspires and influences your interior creativity?
I love colour and I am fascinated by the combinations which can be made by placing colours in a room. I always see colour when I look at a space - it's a great starting point for me. I look at colours and shapes everywhere - in art, film sets, flowers, clothes, and buildings, and I constantly file away ideas to pull out when I need them.
Ultimately though, my clients inspire me. My ideas are a response to their needs and the conversations we have about their homes.
What is your favourite room/space to design and why?
Ooh, that's a hard question! I love designing all spaces, but I do like to design bathrooms as they present a technical and space planning challenge.
The finishes we choose for bathrooms can often feel like an afterthought and be very much repetitive. As an interior designer, designing a bathroom offers a real scope for creativity and a chance to add in some personality.
'Moya' brass wall light in a private residence by Louise Misell Interiors .
Tell us a little about your modern country renovation project in Langstone.
I loved working on this project - the client was very trusting and let me lead her out of her comfort zone. She and her family had been living abroad for a few years but decided to move back to the house they had left behind.
She said that the place just didn't feel like home but she couldn't work out why. She had used a lot of grey throughout the house and it was making her feel gloomy. She told me she was scared of using colour and making mistakes with it.
I encouraged her to try out some colour in the form of deep blues and off blacks as well as adding interest with patterns, different textures, and brass accents. You should have seen her face when I suggested she paint all her woodwork black!
It was quite a large project - to make the layout work for this family we decided to move the kitchen from the small room at one side of the house to the large living room and took out a huge stone chimney breast in the process!
I loved designing all the bespoke elements required for this project - banquette seating, storage, panelling, blinds, cushions, and the many aspects of the lighting design.
Before we started the work, the client told me she had only ever had one light switch in each room and didn't know why we would need more. However, she now loves the flexibility of the lighting in her new spaces.
'London' railway glass pendant lights in a private residence by Louise Misell Interiors .
When selecting the light fittings for the kitchen area, what led you to choose Mullan Lighting?
I'd used Mullan Lighting before and knew that they would have exactly what I was looking for. I wanted something cool, slightly industrial but with a nod of a traditional country look.
I chose the Moya wall lights as they were perfect for highlighting the shelves above the worktop and the brass finish is stunning.
I opted for the London Railway pendants over the dining table as they offer a good spread of light and the clear shades are beautiful whilst not obstructing the view.
Lighting is an important part of any interior and is often overlooked.
Do you have any tips on preparing for lighting in a makeover or renovation project?
Take the time to sit in the space and think about how you use the room. How would you like it to feel at different times of the day?
Take an open plan kitchen diner for example, you'll need task lighting to prepare meals. Then when you are eating, you might prefer dimmed or softer lighting to set a relaxing mood.
Thinking about the different functions each space has will help you plan your lighting needs for that room so that you can layer your lighting to create the appropriate mood.
'Moya' brass wall light in a private residence by Louise Misell Interiors .
Finally, we have to ask, would you recommend Mullan Lighting?
Absolutely! The lighting designs are innovative and look great, but more importantly, the fixtures are robust and function well. I know that I'll find something cool and a little unexpected when I'm looking for pieces for my designs.
I've always found the team to be extremely helpful, whether that be answering a technical question or arranging a delivery to suit the timing of a project - which is one less thing to worry about when I'm juggling so many things at once.
_________________________________________________________________________________________________________
Thank you, Louise, for sharing some of your interior wisdom with us! It was so lovely to chat and better understand your design process.
We thoroughly enjoyed learning all about the Langstone makeover and would like to say that the finished interior is very impressive.
You might also enjoy: