We Catch up with Interior Designer Lisa Marconi from Design Led
Hi Lisa, thanks for taking the time to briefly chat with us and answer our questions. I appreciate you're extremely busy.
I think our readers will benefit from the advice that you can offer! Let's get started.
---
1. Lisa, how did you start your career in interiors?
It all began when I was doing up our house in Portobello about eight years ago. It started with the idea for an interiors boutique as I wanted to showcase some of the pieces that I had sourced from abroad. I opened our store Dust with my friend Sarah Drumm and this grew into a design studio.
2. Design Led is a new initiative you have created. Can you tell us a little bit about this service?
Design Led digitally recreates the experience of having a designer by your side as you put your home together and streamlines the home shopping experience.
It uses 3D gaming and visualisation technology to enable users to realistically see their home as they put rooms together with specific algorithms used to guide them as they design.
Our 'Amias' pendant lights in this bathroom design by Design LED Studio. Photography by Ruth Maria Photography.
3. What have you found to be the biggest 'mistakes' people make when choosing interior pieces for their homes?
Thinking about things in isolation rather than considering how everything will work together.
I have been to so many houses where people have just gone out and bought a big sofa, for example, and now can't figure out how to make it work with everything else they want to do.
It's so important to take the time to think about the whole room (or ideally the whole house!) before you start buying anything.
4. How can a service like Design Led help create beautiful spaces?
Design Led allows our users to see how all the elements of a room work together.
It's like a try before you buy service for furniture and homewares! The products on the platform are from design-focused high street retailers like Made.com and West Elm, so they're very accessible for our users to buy.
Design Led turns our clients' homes into a virtual showroom using their favourite retailers that ensures they have created something beautiful before they start shopping.
5. What is your favourite room to design and why?
I love designing children's spaces. People always want to have fun here and you often end up with really magical rooms.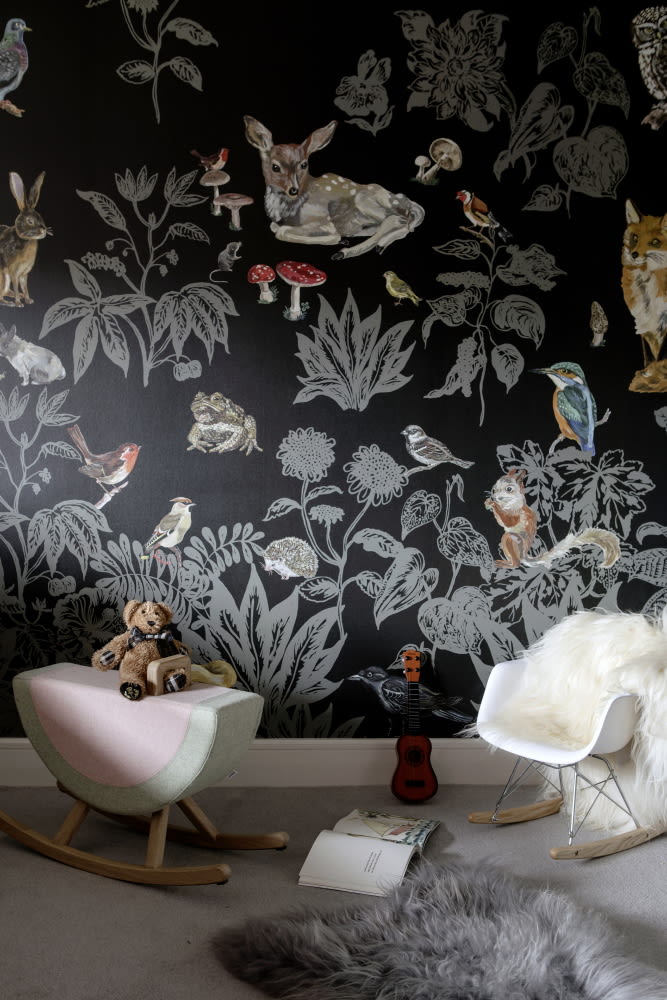 Kids play area styled by Design LED Studio. Photography by Ruth Maria Photography.
6. The design word changes all the time. How do you keep on top of trends?
I wouldn't say I'm a devout trend follower. I think it's important to bring classic elements into every design, otherwise it could risk looking dated very quickly.
In terms of keeping up with what's new, I devour interior magazines! I also get a lot of inspiration from my favourite designers - like Kelly Wearstler and India Mahdavi - through their books and social media accounts.
I'm primarily a residential designer but I often look at what is happening in commercial and retail design. They always have really interesting design concepts happening there that you can adapt for homes.
7. Have you any advice on how to blend a mixture of materials in home interiors?
When you're mixing materials, it's hard to get it wrong to be honest!
The secret is really to make sure you have a mix and not too much of one thing. A room that has velvet couches with velvet cushions doesn't feel interesting, for example.
Whenever you're buying something new for a room or putting one together, think about what's already there and bring in something different. So many things add texture – plants, different metals, vases, etc. It's not just about soft furnishings.
8. Bedroom décor has advanced in recent times, what would be your top 3 style tips for bedroom interiors?
Texture, texture, texture!
A bedroom should feel luxurious, inviting and cosy. The way to do this is to make sure you fill it with materials that reflect that. Think velvets, sheepskins, brass.
Think about what one of your favourite boutique hotels do with their rooms and take inspiration from that. They've generally nailed the perfect bedroom!
I also think it's nice to have tonal colour schemes in bedrooms as they're more calming – so no crazy pops of colour that might jolt.
Our 'Bamako' wall lights in this bedroom interior by Design LED Studio. Photography by Ruth Maria Photography.
9. How can someone 'safely' introduce colour to a space without it being the key focus of the room?
If you're nervous about colour, then I'd say introduce it in small ways. Some bright cushions or a lampshade. Or maybe a fun side table in a bright colour.
A way of achieving this on wall space is to introduce the colour into the woodwork.
This creates a neutral scheme with defined woodwork in an accent colour.
10. Lighting plays a crucial part in design. How do you balance task, ambient and accent lighting?
Whenever I'm designing the lighting for a space, it's so crucial to think about how it's going to be used. I generally wouldn't put task lighting over a dining table as you want that space to be more atmospheric.
However, if it's also going to be the place where the kids do their homework or where you work from home, you need to factor in additional lighting for this.
Lighting is such an important part of how people enjoy their homes. If you get it wrong, it can really kill a design.
There is nothing wrong with having multiple circuits in a room with different types of lighting on each so that the space can be adapted depending on how it is being used.
11. What has been the best design advice you have received?
Play with scale.
Sometimes having something in a room that is almost too big for it makes a huge impact and almost creates that 'Alice and Wonderland' magic feeling when you walk into a room.
Our 'Cairo' wall lights in this bathroom space by Design LED Studio. Photography by Ruth Maria Photography.
12. Lastly, would you recommend Mullan Lighting?
100%!
I use Mullan Lighting for virtually every job I do! I particularly love your range of bathroom lighting. It is so hard to find stylish bathroom-safe lighting and Mullan Lighting has a beautiful range.
Your exterior lights and chandeliers are also favourites of mine.
---
A big thank you to Lisa Marconi from Design Led for sharing some really helpful interior tips with us. It's fantastic to get an insight into the mind of a such a talented interior designer.
You Might Also Enjoy: