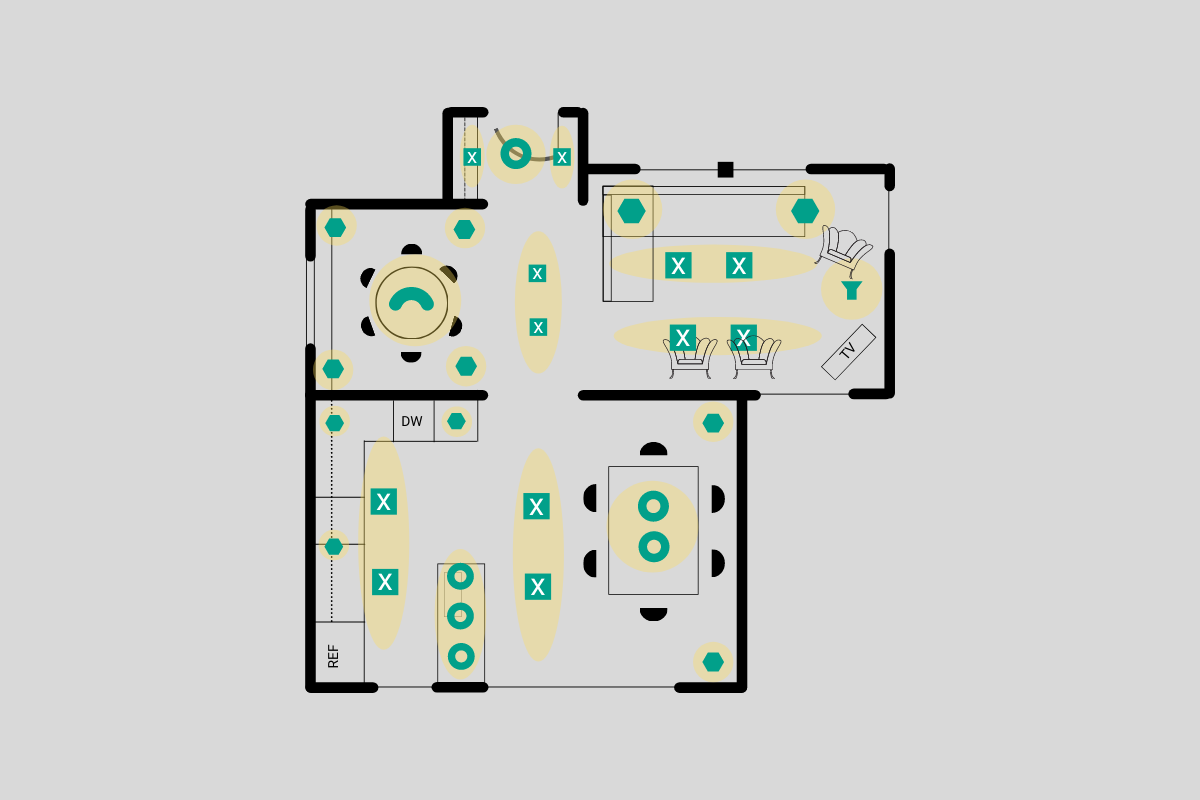 Seven Considerations When Creating a Lighting Plan for Your Home
Whether you're building a new home or significantly renovating an existing build, it is important to create your lighting plan at or before your "first fix" stage. First fix is everything that happens before the finishing like plastering and tiling.
For renovations in particular, a lot of us need to work with the fixtures and power outlets that are already in place. However, with some thought and clever detailing and layering, it is possible to create a great lighting plan for any space.
So where do you begin? Start with asking yourself questions relating to the function of the room or space that you're trying to light up. Think about all the potential uses of this space.
Interior designer Louise Misell offered us some great practical advice on how best to prepare for lighting an interior.
"Take the time to sit in the space and think about how you use the room. How would you like it to feel at different times of the day?
Take an open plan kitchen diner for example, you'll need task lighting to prepare meals. Then when you are eating, you might prefer dimmed or softer lighting to set a relaxing mood.
Thinking about the different functions each space has will help you plan your lighting needs for that room so that you can layer your lighting to create the appropriate mood".
Think about living areas – do they double up as a study spaces, craft areas or exercise zones? Or are they simply just used for watching TV?
What is on display in the room? Is there artwork or picture frames you want to highlight? This will help determine what accent lighting you need.
Who uses the space? Is it mostly used by older adults or younger children
What time of day is this space most likely to be used? Is there a flow of natural light?
The electrical and lighting plans of your future living space are just as important as all the other plans.
Before you commence your renovation or build, consider using these seven essential tips to help craft your lighting plan.
Starting your light plan
1. Draft your Floor Plan
Start with measuring your room, rescaling in size when drawing the interior out on graph paper. It is best to use a scale of 1:50. This means that every 1cm/inch of your floor plan represents 50cm/inches in reality. Once you have sketched your floor plan to scale, it is time to note some important features.
Draft floor plan.
2. Mark Immoveable Objects
Make note of fixed furnishings and objects - such as fireplaces, doors, window and alcoves - and draw these on your plan. These are things in your space that cannot be moved easily.
Mark immoveable objects.
3. Draw your Furniture
Next, draw the furniture that will be placed into the room. Try to mimic the size and shape of the furniture as best as possible as this will give a clearer indication of the available space in the room when complete.
Think realistically. Do you have high vaulted ceilings? How are you going to change the light bulbs
4. Note the Room's Functions
Mark in all the possible functions of the room with graphics - TV, reading, eating, studying, exercising etc. Adding in arrows to represent what direction people will be facing in the room can help identify the placements of light fixtures. For example, sitting at a desk for working or facing towards the television.
Note the functions of your space.
5. Choose Locations for Light Sources
Draw 'light circles' in areas that you want to bring light into. Try to avoid the overlapping of fixtures and ensure there is equal levels of light spread throughout the room. The aim here is to dodge any dark spots!
Choose locations for light sources.
6. Sockets and Circuits
Take note of the existing sockets in your space. In older homes it's common to have too few sockets that encourages the dangerous overloading of plugs!
Analyse where you would like to have light switches. Move around the space and think logically about the entry and exist points. Think of those late-night toilet trips and midnight feasts. You don't want to be feeling around in the dark for a switch that isn't there.
Don't neglect the thought of including dimmer switches. The ability to adjust the mood and atmosphere is easy and very practical, transforming interiors for all occasions.
Note sockets and circuits.
7. Recessed Lighting
What about recessed lighting? Recessed lighting is commonly used in open plan living areas such as kitchen diners. It increases the amount of light in a room, helping the space feel larger. Recessed lighting is practical too, allowing you to perform daily tasks with ease.
Be sure to place recessed lights at least 3ft away from walls. This helps to avoid dark shadows in corners.
To determine how far apart to space your recessed lights, divide the height of the ceiling by two. For example, if a room has a 12ft. ceiling, you should space your recessed lights approximately 6 ft. apart.
It is crucial to include recessed lighting in your plan if you want to achieve a clean, bright and even light projection throughout your space.
And that is you - done and dusted!

This simple guide aims to encourage you to think practically about how lighting can work for you in your home.
Although every room is different, it should incorporate the overall style and function of your home. Strategically link each room so there is an organic flow of light as your move from room to room.
If you have managed to get this far, you have come along way! Imagine the relief of handing your lighting plan over to your electrical contractor knowing you have clearly thought about all of the potential functions of lighting.
Happy Lighting!
You Might Also Enjoy: