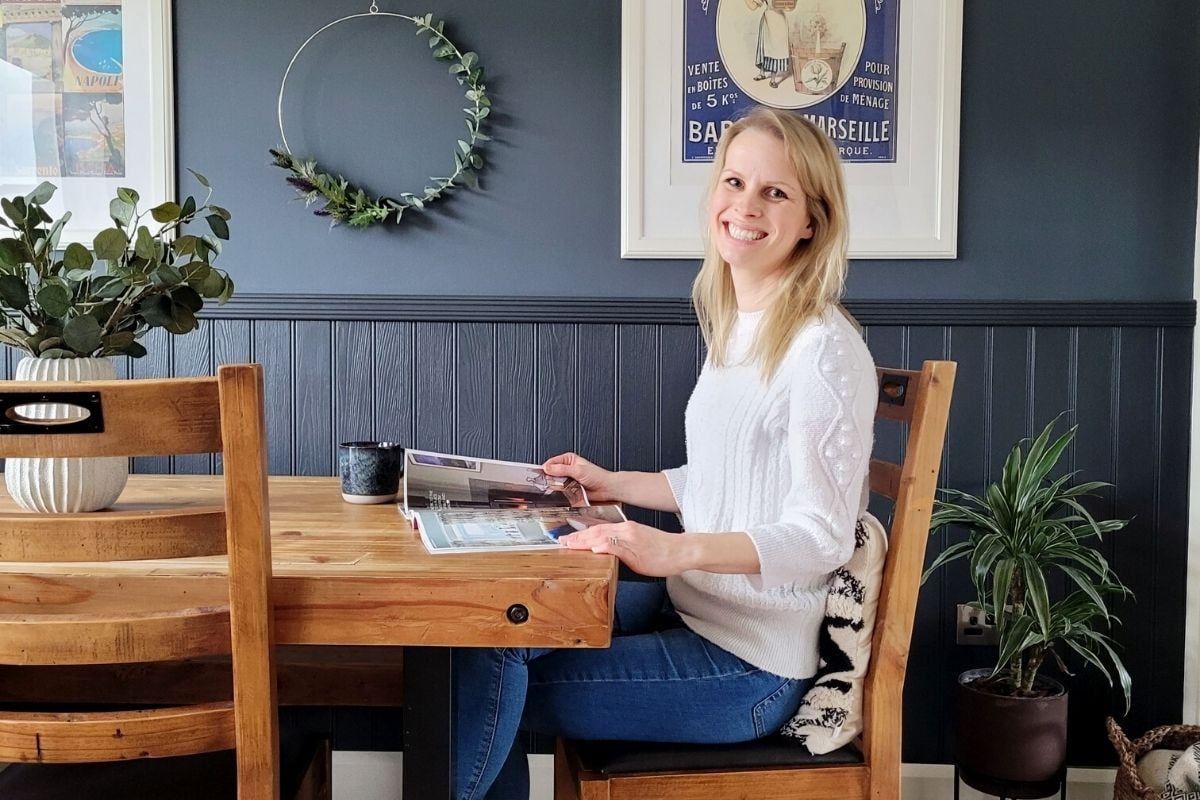 We Catch Up with Aspiring Interior Designer Isobel Waine
Join us as we catch up with interior designer Isobel Waine. Isobel takes us behind the scenes of what it is like working as an interior designer. We thoroughly enjoyed this insightful chat that offers lots of helpful interior tips and tricks.
---
Hi Isobel, can you tell us a little bit about yourself?
I'm originally from England but moved to Ireland about 10 years ago to live with my now husband, Robbie. We bought a house in Dublin five years ago that we share with our two young daughters.
I used to work in TV production but gave that up to become a full-time mum. In 2018 however, I decided to follow my dream and get a qualification in interior design from the Interior Design Academy of Ireland, with the end goal of pursuing a career in residential interior design.
Studying at the same time as raising two small children isn't easy, but I haven't regretted my decision for a second.
We have also spent many, many hours over the last few years renovating and redecorating our own home, improving its functionality as well as injecting our personality into the space. It's been a great project for getting real-world experience.
Having recently finished my last college assignment, I've also started taking on some exciting client projects for the first time. This is a brilliant feeling, seeing my dream starting to become a reality.
How did you become interested in interiors?
I have always been interested in anything creative and was passionate about art at school. I still paint regularly, both for fun and as commissions. I have always been really interested in TV programmes about architecture and interior design, from 'Changing Rooms' back in the day, to 'Grand Designs' and 'Home of the Year' today.
It wasn't until I sat down a few years ago and really started thinking to myself, 'what do I want to do when I go back to work?' that I realised I wanted to get into interior design in a professional capacity.
Get the look with our Nico table lamp in this private residential project by Isobel Waine.
Have you any advice for someone who may be considering pursuing a career in interiors?
I think the first step for anyone wanting to get into this as a career is to seriously consider enrolling in some formal education and gaining a qualification.
There's so much to learn; from the principles of design and communicating ideas to clients, to CAD and health and safety.
I also think it can be really useful to get onto social media platforms such as Instagram to get yourself 'out there'. It's a great space to share ideas as well as gain knowledge and connections too.
What can potential clients expect when working with you?
I am passionate about creating spaces that not only look good, but function seamlessly for the homeowner's individual needs. So a potential client can expect that I spend time finding out how they want to live and what they want their space to do for them, as well as focusing on the overall aesthetic.
I really believe that good design in our homes can aid happiness and wellbeing. This is more important now than ever before as we're spending so much time in our homes.
Our Ross marine bulkhead wall light in this private residential garden project by Isobel Waine.
Where do you take your inspiration from?
As I have small children, I have spent a lot of time at home over the last few years. For this reason, I tend to take most of my inspiration from magazines, social media sites like Instagram and Pinterest, as well as blogs like this one.
The pandemic has only added to the necessity of finding inspiration from the comfort of your own home. But some of the most inspiring ideas do come from visiting places like bars, restaurants, hotels and museums, so I can't wait to start visiting those places again.
When planning a room renovation, what is your main focus?
My main focus at the start of a project would be to plan the layout of the space itself to ensure the ultimate design will flow nicely and deliver maximum functionality.
I would then focus on the big-ticket items – those expensive elements which you won't be replacing for many years – such as flooring, built-in cabinetry, sofas – to ensure that the bones of a design are solid, no matter what passing trends there might be.
You can change the colour of your walls or the cushions on your sofa as often as you want, but you won't be changing your flooring every time you fancy a new look!
Our Albany table lamp in this private residential project by Isobel Waine.
Are there any design trends you're excited to explore more?
Something that really intrigues me is how certain aspects of smart technology can be incorporated into interior design to aid wellbeing.
One aspect of this is smart lighting where standard bulbs can be replaced with smart lighting options, allowing the user to set different lighting schemes for different tasks or to create different moods.
Some bulbs can even be programmed to work in harmony with your circadian rhythm, thereby improving your physical and mental health. So, as you approach sunset the lights would automatically change to a warmer colour temperature and emit less of the blue light that stops us all keeping a proper night's sleep.
How important do you think it is to incorporate good lighting into interiors?
I think good lighting is one of the most important aspects of interior design. Lighting can make or break a room and yet it is so often neglected.
A thoughtful, layered lighting scheme, incorporating a mixture of light sources, such as wall lights, floor and table lamps, and ceiling lights gives you flexibility with your lighting and can completely transform the atmosphere of a room.
If you're relying solely on a ceiling full of recessed spotlights to provide all your artificial light, chances are the space will feel stark and uninviting. This can be easily remedied with the addition of table and floor lamps.
If you have the opportunity to include wall lights in your design too, that's great. Wall lights not only provide another source of light but they can also add character and visual interest to a wall in the same way that a piece of art or sculpture might.
Our Elle picture wall light in this private residential project by Isobel Waine.
What do you think is worth investing in when doing a room makeover?
That's a hard question because each project will be different. If you're talking about a bigger overhaul, I'd say one of the most important things to invest in is a decent floor. A beautiful floor can really elevate everything else in the space. On the contrary, a cheaper floor can negatively impact any furniture you put on top of it.
For a smaller scale, more cosmetic makeover, I think it's really important to inject character into a room, so investing in artwork you love is really worthwhile.
You recently featured some of our picture lights in a living interior, why did you choose Mullan Lighting?
A while ago I was chatting to a friend who is also an interior designer and she recommended Mullan Lighting to me.
When we were redecorating our own living room, I wanted a brass picture light for a gallery wall I was putting together. I was looking for something that had a vintage feel - but at the same time was sleek and classy - and the Elle picture light was perfect.
Our Elle picture wall light in this private residential project by Isobel Waine.
Last but certainly not least, would you recommend Mullan?
I certainly would! Firstly, I absolutely love that Mullan Lighting is an Irish company. It's so important to support local business - something that has come into increasingly sharp focus over the last year. Also, I have found the customer service to be really excellent.
And lastly, the products are of such high quality and so stylish – it's now a go to site for me when I'm putting together a mood board.
---
Thanks, Isobel, for taking the time out of your busy schedule to chat with us. I am sure our readers will agree that you have made an incredible start on your journey as interior designer.
You can find out more about Isobel over on her Instagram account (@izzys_home).
You might also enjoy: