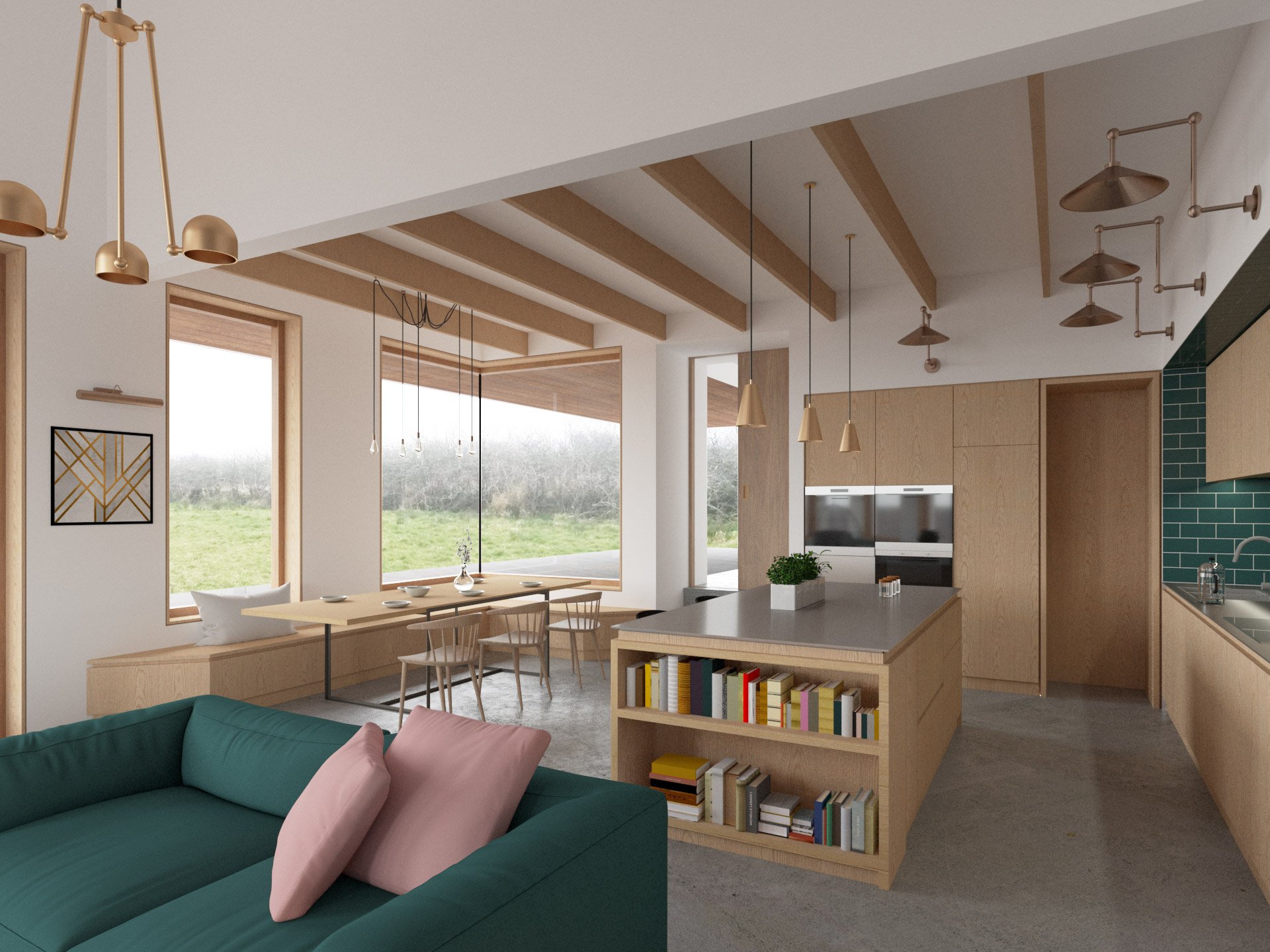 Our lights feature in this contemporary home that overlooks Benbulben
Our light fixtures effortlessly illuminate the interior of this stunning house in Streedagh, Co. Sligo. Streedagh is known for its famous 3km long sandy beach located on the North Western shore of Ireland. Bruen Architects designed this contemporary home, creating a sustainable and stylish décor in this lifelike 3D render that exclusively features our quality light fittings.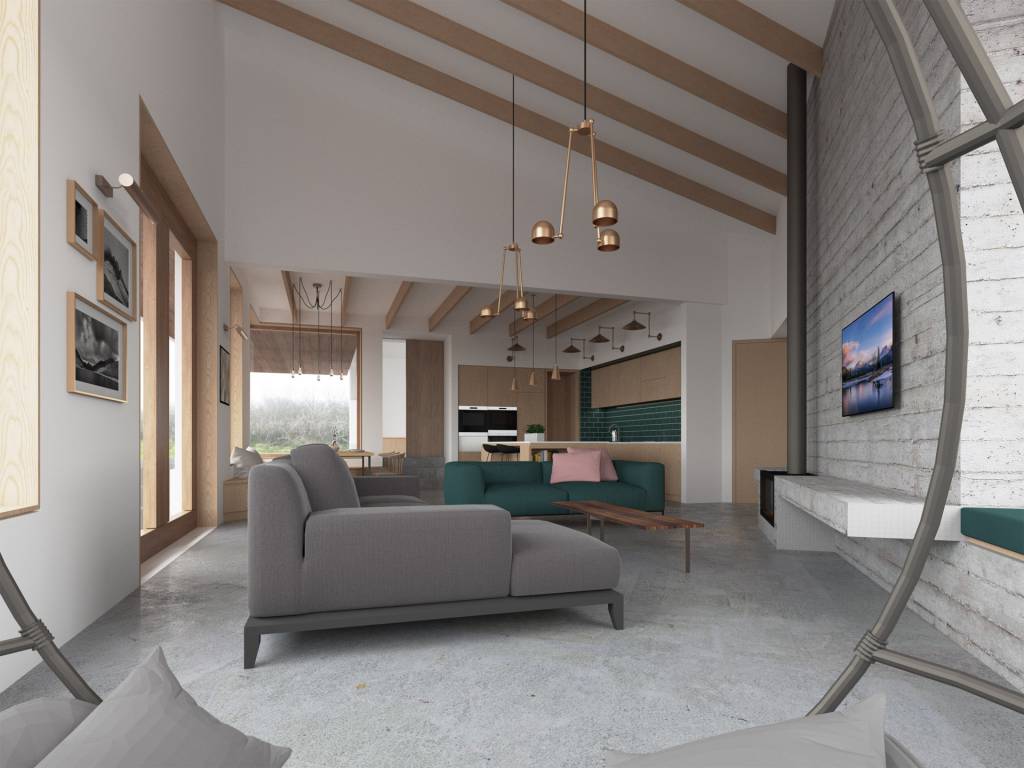 Our quality light fittings feature throughout this contemporary house. Our Neiva quirky chandeliers are suspended in the living area of this open plan house. These three-arm chandeliers make a unique statement against the simple colour palette of these 3D renders, adding a distinctive ambience to the living area.
Our Neiva chandeliers make a unique statement.
Artwork features heavily throughout the double-height space, and our Dublin brass picture lights perfectly illuminate these pieces. Illuminating artwork with picture lights allows the space to appear even larger and more open. The dining area of this contemporary house features long, open windows that boast scenic views of Streedagh countryside and the famous Benbulben mountain. Adding a vintage industrial feel to juxtapose these incredible views is our Lome cluster pendant. This versatile cluster pendant features five suspensions, all originating from a single ceiling rose that beautifully adds warmth to the dining area.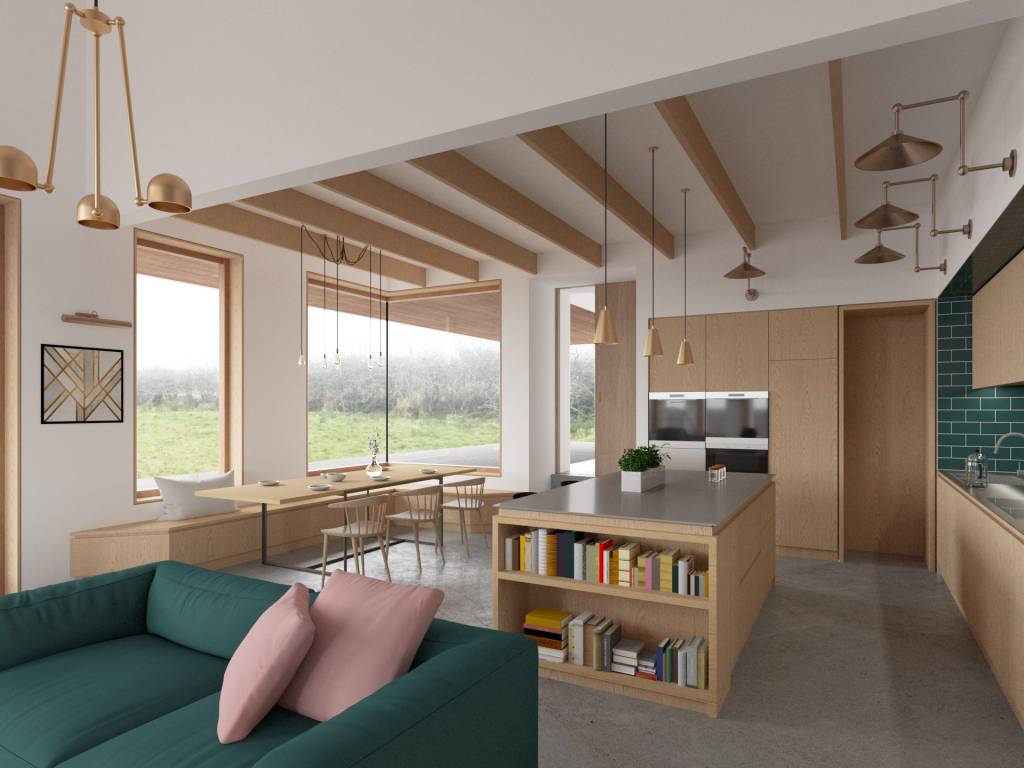 Our Lome cluster pendants add a vintage and industrial feel to the space.
Our Moya modern pendants are delicately suspended above a sleek grey island counter in the kitchen area, adding a polished and contemporary feel to the area. These pendants are beautifully complemented by our Rio adjustable, industrial wall lights. With an adjustable brass arm, these wall lights direct light downwards, reflecting on the proposed green kitchen tiles.
Our Moya pendants and Rio wall lights add a contemporary feel to the area.