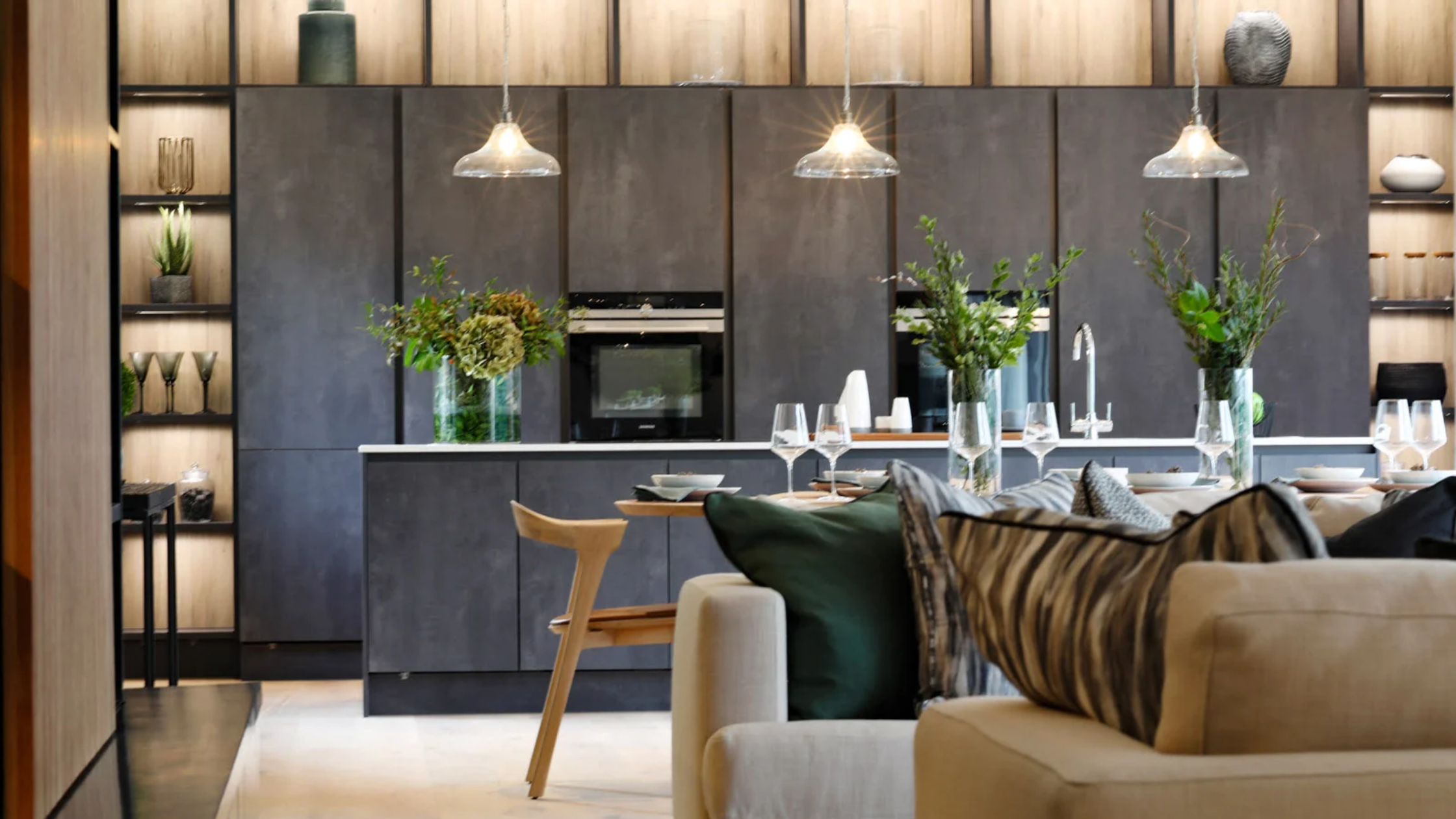 Kitchen Island Lighting: How to Choose the Right Lights for Your Kitchen Island
The kitchen island acts as a central gathering point where family meals are prepared and chats with friends occur over cups of tea and glasses of wine.
We have found the topic of kitchen island lighting to be an especially common residential lighting query, emphasising how important this space truly is. In this post, we offer some useful tips for sourcing the right kitchen island lights for your home.
It's important to understand and know the purpose of your island lighting before you shop. What will the light fixtures offer? Are they solely for decorative purposes or will they provide an essential source of light in the kitchen?
Let's start by clarifying the various functions of lighting.
1. Task Lighting
Task lighting focusses on illuminating a specific area, like your kitchen island surface, to help you see clearly while working.
If you would like your island pendants or chandeliers to bring light to kitchen tasks such as preparing meals, you'll want to choose a fixture that beams the light downwards. An open or translucent base will diffuse a high level of light across the island worktop.
It is important to note that open-bottom fixtures can often create a harsh spotlight when paired with powerful bulbs. If you've installed a fixture and the light is too stark, you can switch to a bulb with a lower lumen output.
You may also consider installing a dimmer that will allow you to adjust the light levels adapting to atmospheric needs at different times of the day.
2. Ambient
This refers to the general lighting that fills the entire kitchen area. This is the opposite to task lighting.
Island and breakfast bar lighting can help bring more light to the whole room. Your automatic reaction might be to install a large fixture. However, bigger is not always better.
A large fixture with a single bulb won't necessarily add more light compared to a smaller fixture with the same bulb. Consider using several light fixtures spread evenly across the space or lights that host multiple bulbs to achieve a balanced cast of light.
Pendants and chandeliers whose sole purpose is to provide general lighting gives you an opportunity to add in decorative fixtures and flicker a touch of your personal style to the interior.
3. Accent
Accent lighting showcases special features within an interior such as artwork, certificates or materials and textures.
Traditionally, pendant and chandelier lighting isn't used for accent lighting in the way that picture lights would illuminate a painting.
Often, we spend an abundance of time, money and effort in choosing a beautiful countertop only for it to sit unappreciated. A cast of light will help bring out the various tones and textures. Accent lighting can highlight flecks of sparkle in flecked quartz and granite tops as well as pinpoint grains of the wood in carved countertop surfaces.
Now that you understand the purpose of your island and breakfast bar lighting, next on the agenda is to define a style of lighting.
Chandelier or pendant?
Industrial or vintage?
What material should you choose? Glass or brass?
These are just some questions that you will need to ask yourself as you research potential light fixtures.
Kitchen Interior Styles
Let's briefly discuss and highlight popular kitchen island interior concepts and what lighting options are best suited to accompany these particular styles.
Industrial
Mid-Century Modern
Vintage Farmhouse
Traditional
Contemporary
;
Industrial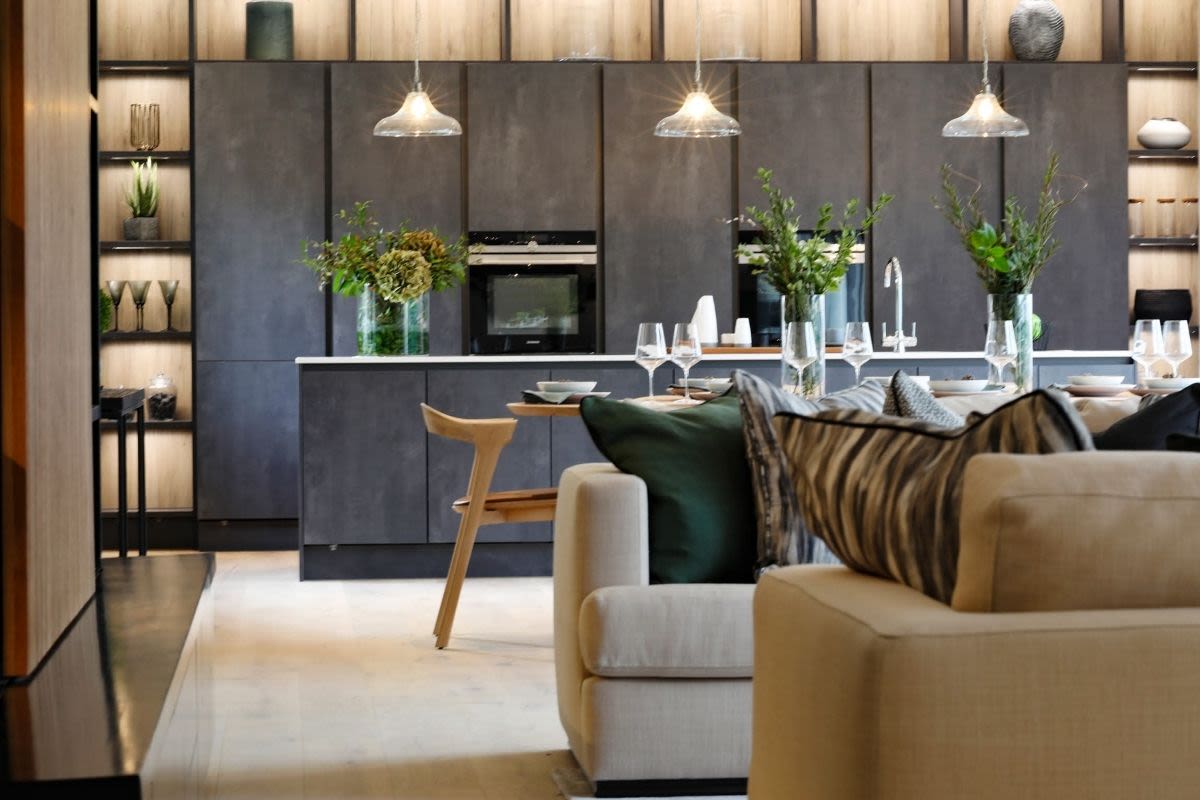 'Clifton' clear glass pendant lights in a private residence by Pollard Design . Photo credit: Ailbhe O' Donnell.
Industrial-styled kitchens are known for having an open, spacious layout with functionality being a key element. Darker tones often make up the colour palette to achieve this style.
Exposed brick walls and pipes, wooden rustic beams and wall mounted rails are key touches that bring the industrial style theme to life. Industrial kitchens often reflect a loft-style aesthetic with coarse textures blending with smoother steel finishes.
We have highlighted some of our favourite industrial lighting designs that really capture this interior design concept in the kitchen.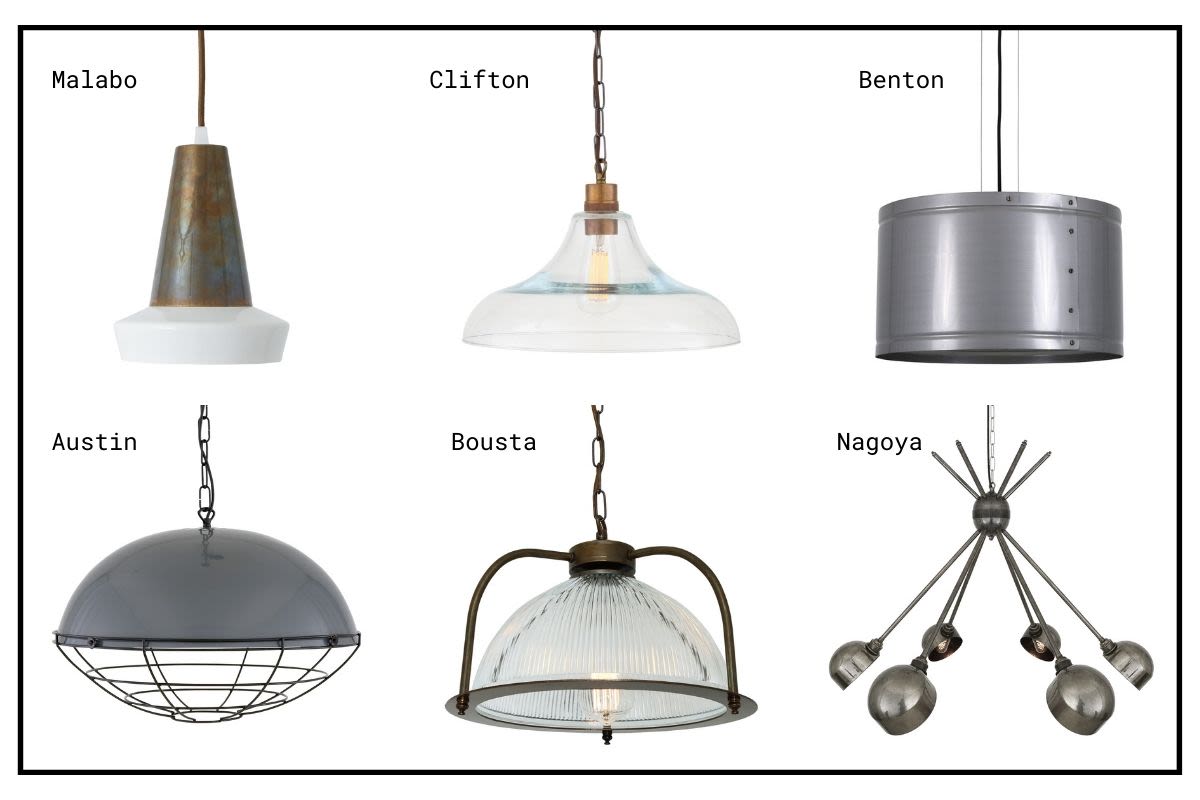 Mid-Century Modern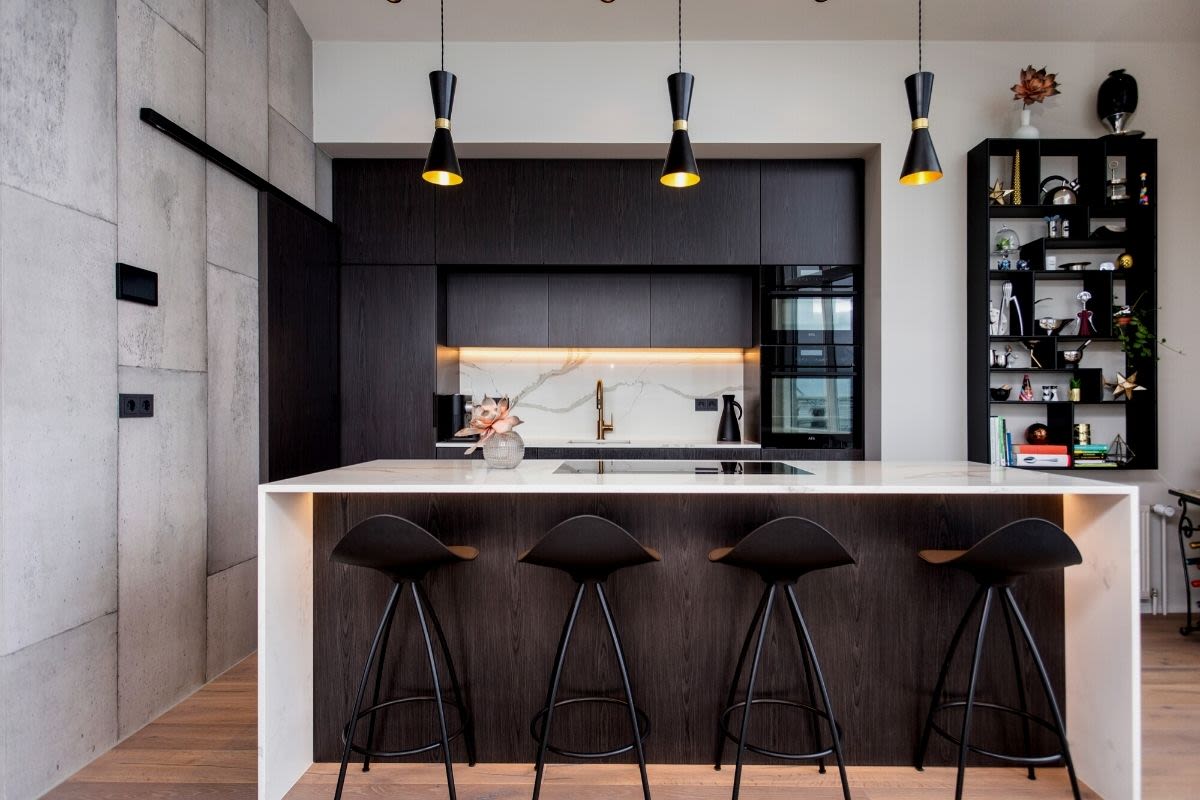 'Cairo' brass pendant lights in a private residence, Iceland by Lysing&Honnun .
The simplicity that comes with a modern mid-century kitchen design is largely appreciated through straight, clean lines and soft curves.
This particular design places emphasises on high quality materials and is teamed with a seamless finish.
We highlight some of our favourite mid-century modern lighting designs that we think look inviting and at home in the kitchen.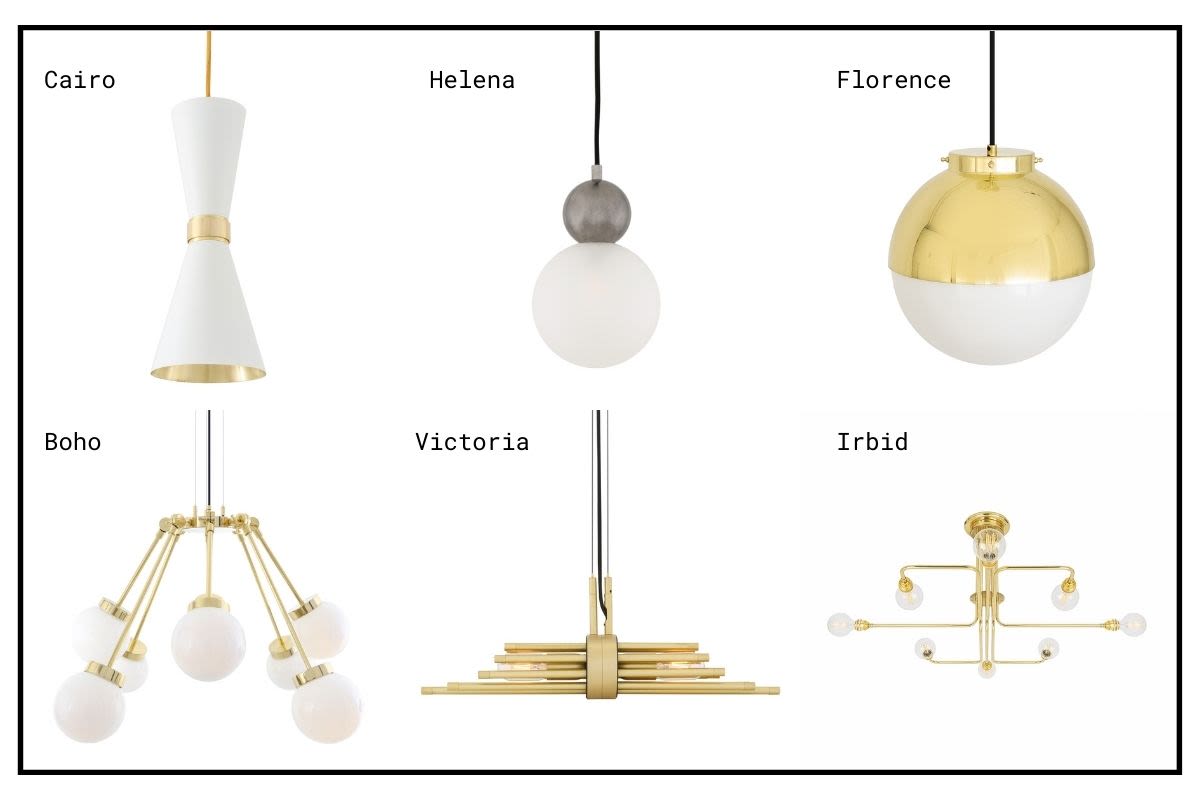 Vintage Farmhouse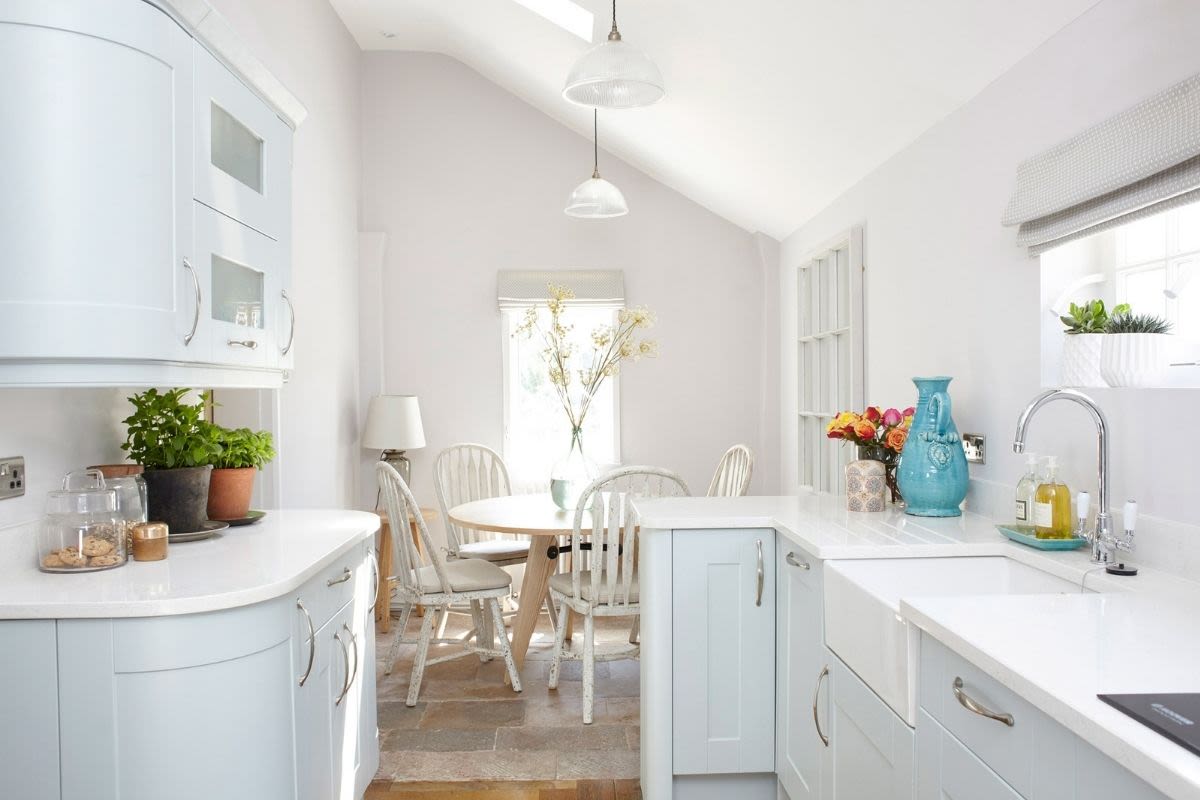 'Nova' prismatic glass dome pendant lights in a private residence, George Clarke: House Rules by Geroge Clarke . Photo credit: George Clarke.
The relaxed country feel of a farmhouse kitchen can be replicated in homes of all periods and locations. They offer a sense of nostalgia. Traditionally, farmhouse kitchen will consist of a range cooker, soft colour palette and an iconic butler sink.
Solid timber carpentry is generally used in farmhouse kitchens with the inclusion of a butcher block kitchen island or large dining table that is centre stage in the kitchen space.
One thing for sure is that this type of kitchen design is never perfect and owns the wear and tear charm making it especially practical.
Shown below are some kitchen island lights we think work well with the farmhouse kitchen aesthetic.
Traditional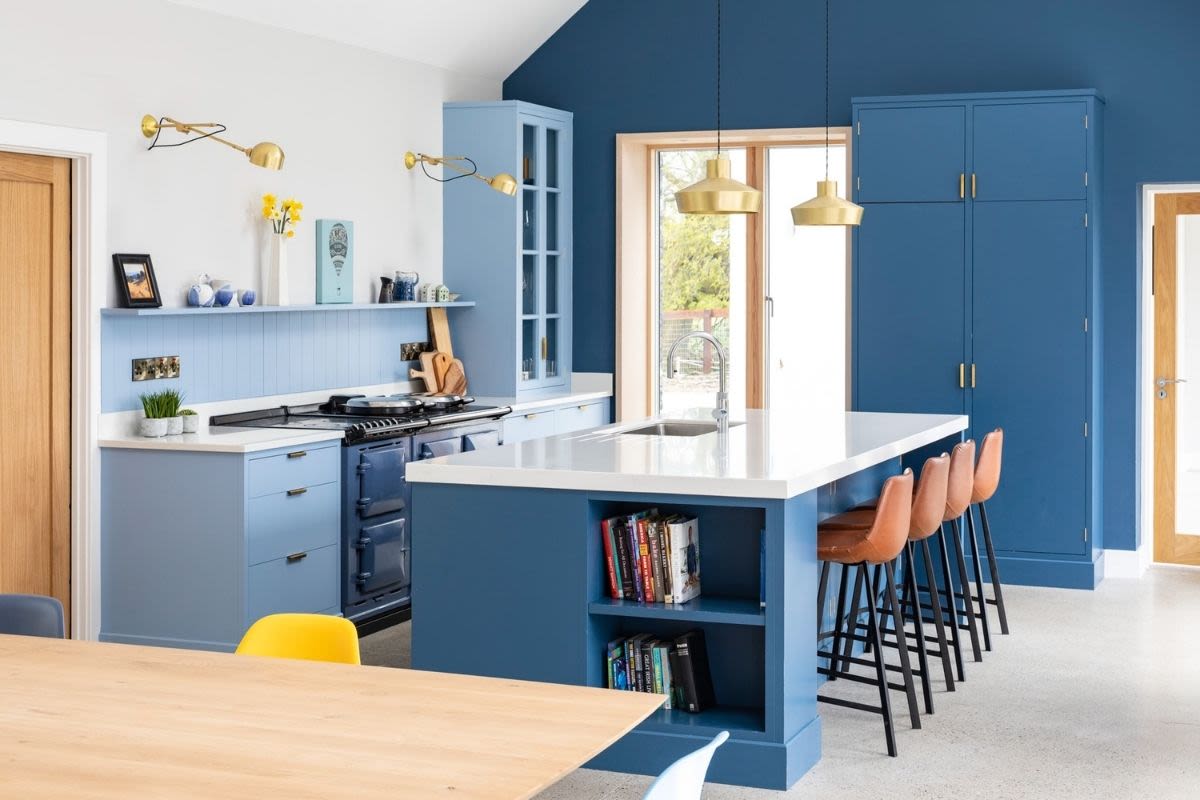 'Elegance' brass pendant lights in a private residence by Rhatigan and Hick . Photo credit: BML Media.
Traditional kitchen designs are warm and homely. The low fuss interior of these spaces puts both homeowners and guests at ease.
A solid wood kitchen is generally associated with a traditionally styled kitchen. The units are generally teamed with glass fronted cabinets and wooden worktops.
You can expect to see tiled backsplashes and a natural colour palette in a traditional kitchen, keeping the style classic and timeless.
Displayed below are some traditional inspired island light fittings that blend in with this kitchen design idea.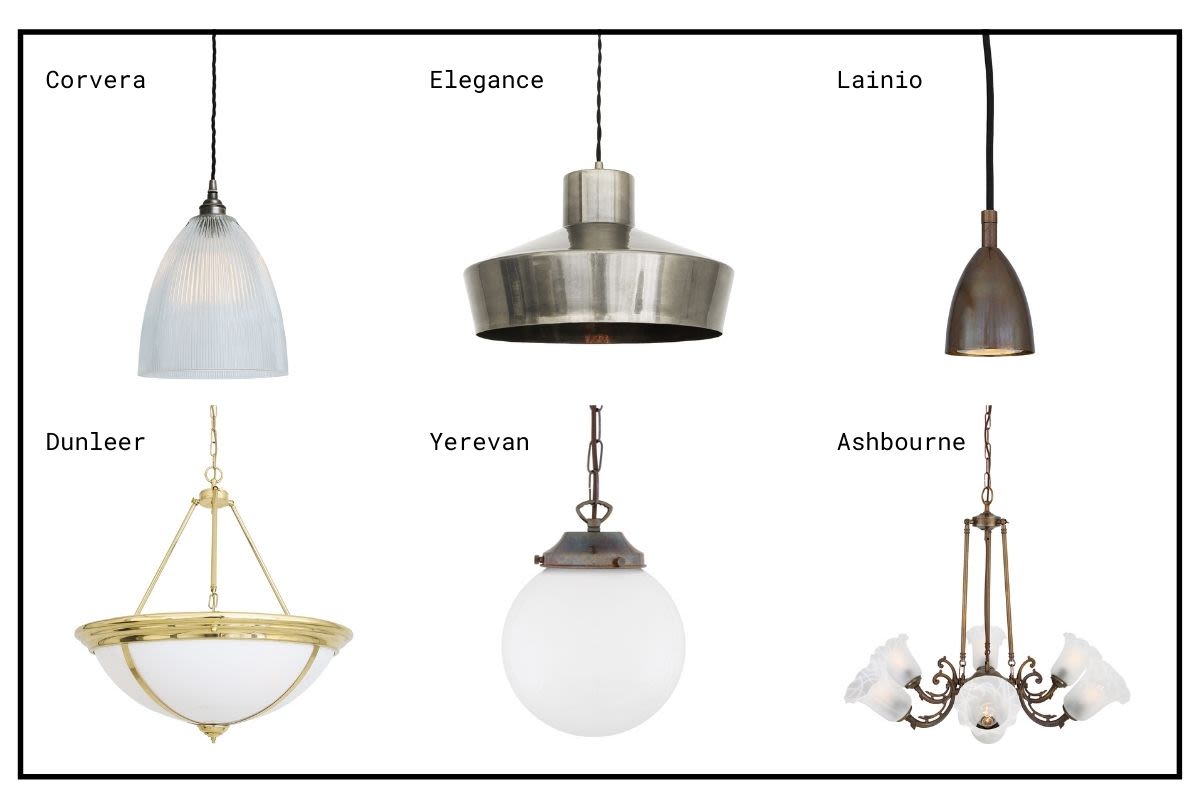 Contemporary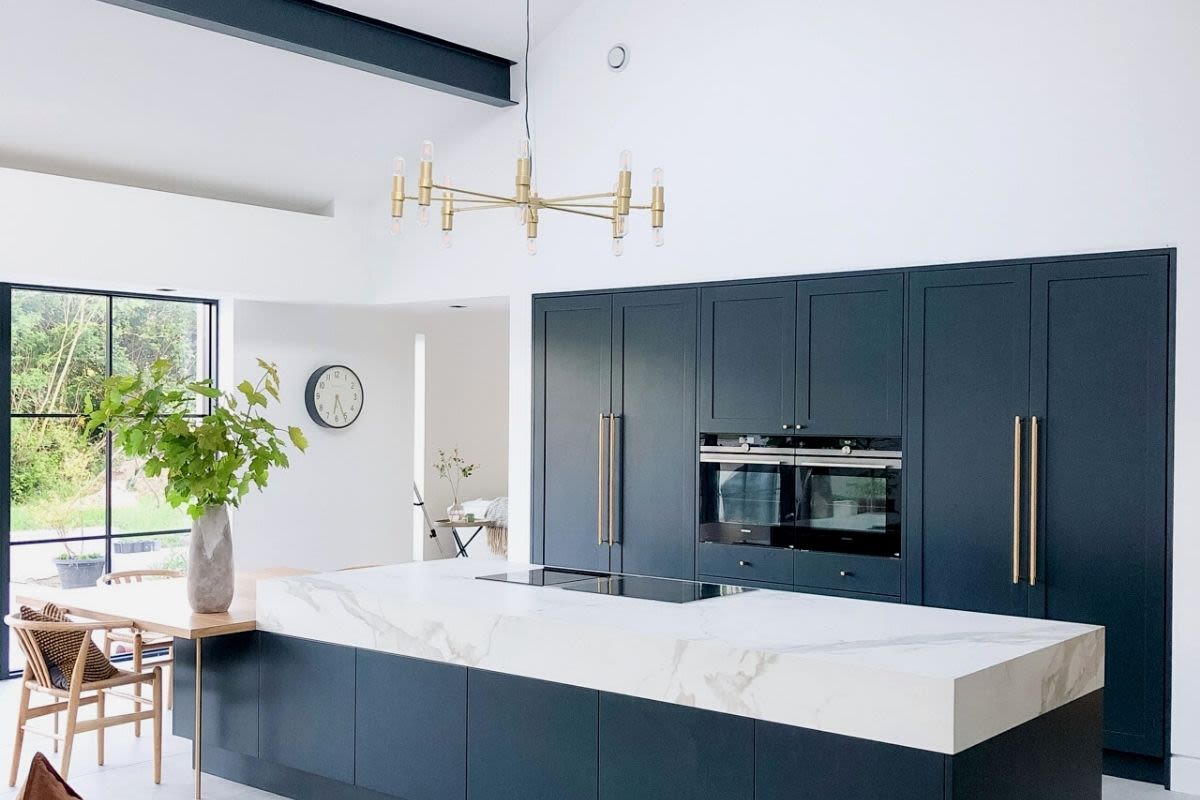 'Kendu' chandelier in a private residence by Ashen & Cloud . Photo credit: Ashen & Cloud.
Contemporary kitchen designs favour sleek cabinetry units and sophisticated colour schemes.
This kitchen design concept blends modern design with minimalistic styling that creates a unique aesthetic and a fluid, fresh feel.
Flat, smooth fronted cabinetry, chic fixtures, stylish worktops combined with wood and stone features are just some key elements found in a contemporary kitchen.
What about lighting? What role does it hold in a contemporary setting? Lighting can be transformative in design and can add character to a modern space.
Below is a selection of our favourite contemporary island lighting designs that we think look great in the modern-day, contemporary kitchen.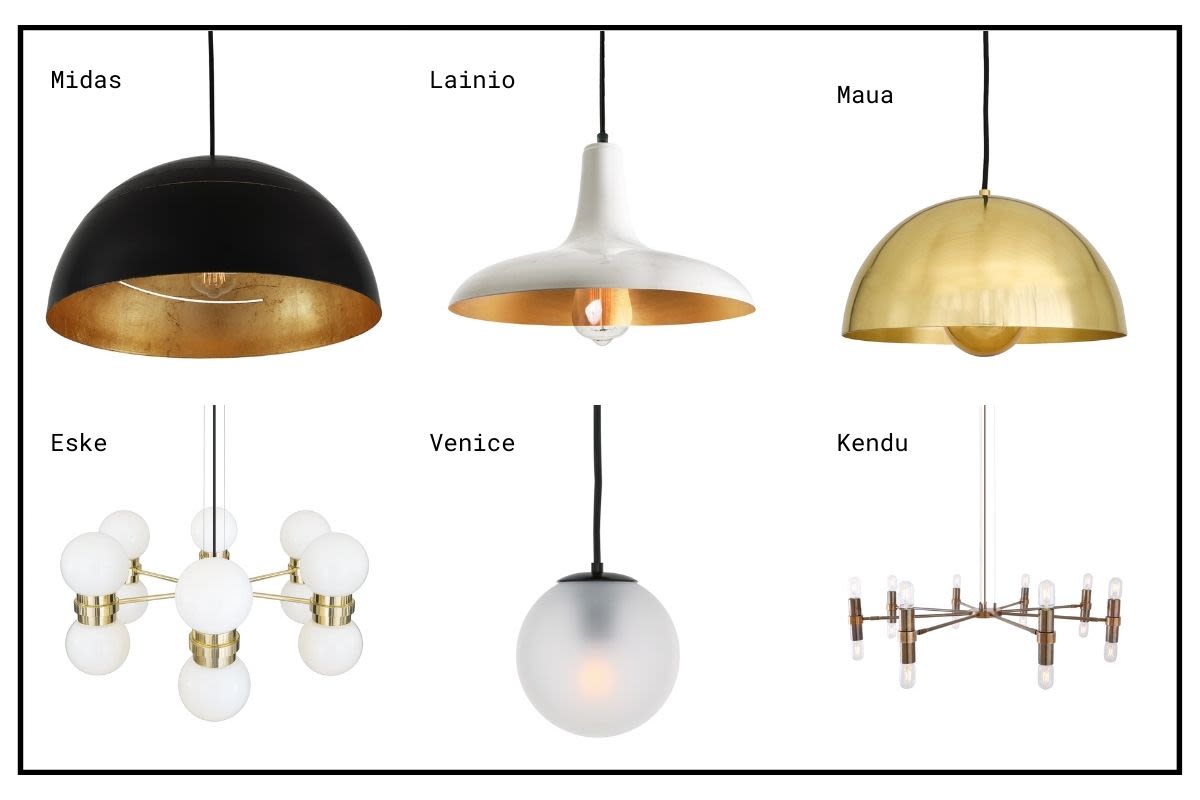 A certain level of preparation is required to help organise and select the right fixture to hang above your breakfast bar and kitchen island.
Takeaway Tips
1. Size
Think about the size and shape of your island or breakfast bar and choose fixtures that meet the proportions of your measurements. Naturally you want to try and achieve a balanced aesthetic.
Just because you have a small unit doesn't mean you need tiny fixtures, don't be afraid to us larger pendants.
2. Function
What is the purpose of the island? Will you prepare your meals here or is it more for entertaining?
We highlighted above the various light functions. Once you have identified the purpose of the island, it will be easier to choose suitable and functional light fittings.
3. Drop Height
Hang and arrange your kitchen island lights at the correct height. We have put together this super helpful guide on how to perfect your pendant and chandelier drop heights.
4. Colour Finish
This varies between light fixtures. The finish you choose will influence the style of the finished fitting. Brass tones add warmth to interiors while glass allows for a more natural flow of light. Polished chrome and antique silver are commonly used in industrial and contemporary settings.
You can be selective and choose a colour finish that complements other interior finishes such as appliances, and cabinet and door handles.
5. Shades
Shade styles, sizes, and materials can emphasise a particular style aesthetic. Our online collection is versatile with our shade options varying from vintage to chic and contemporary.
Clear glass:

A clear glass shade helps illuminate the kitchen with bright ambient light. A glass shade teams well with an Edison-style filament bulb.

Opal glass:

An opal glass shade offers a more diffused glow and is often seen as more traditional.

Brass

: A brass shade projects the light downward which is a suitable option for targeted tasks. If your kitchen has a good flow of ambient light, pendants with brass shades can direct more light onto your kitchen island or workspace.

Regardless of rules and specific style terminology, it is your personal taste and preference that will dictate what type of light is installed over your kitchen island.
The above are guidelines offering some support as you make the important decision as to what fixtures will bring light into your kitchen.
We would love to see your home interior designs, share your images with us on Instagram by messaging @mullanlighting
Happy Lighting!
You might also enjoy