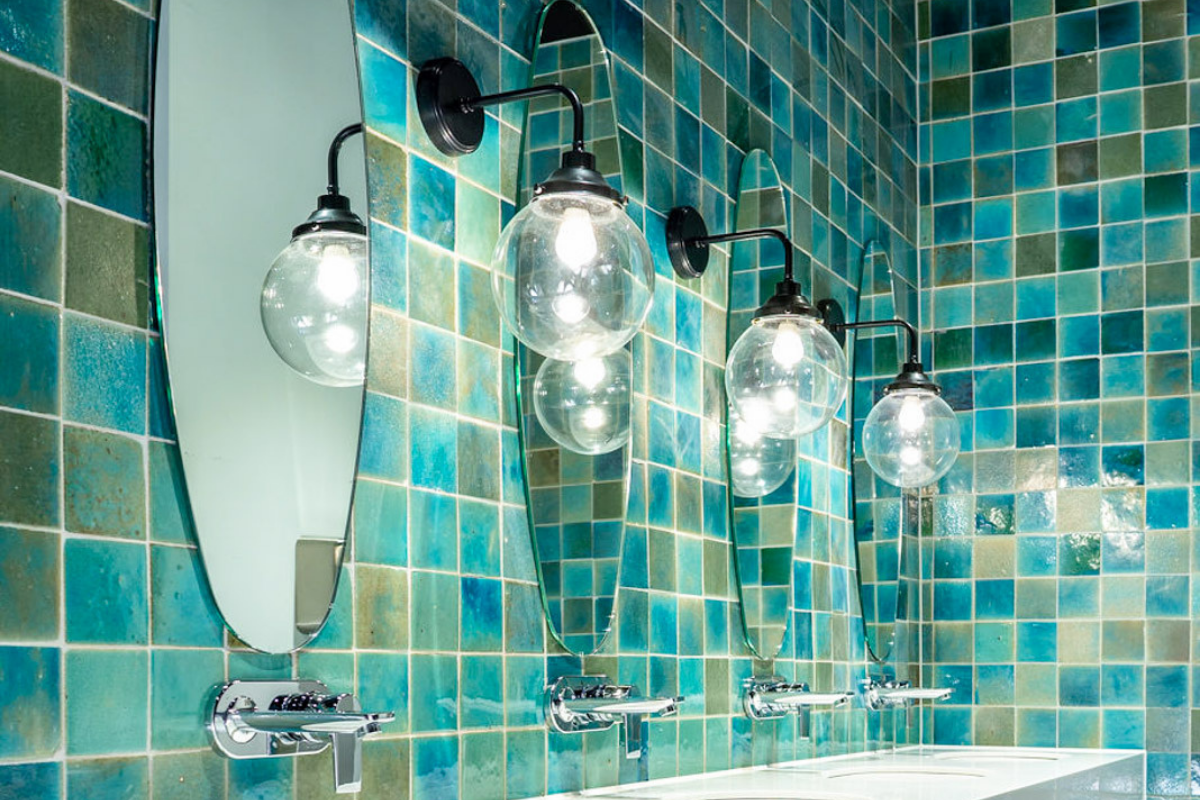 IP Rating of Light Fixtures Explained
What does IP rating mean in lighting and how important is it? An IP rating is shorthand for an Ingress Protection mark. The IP (Ingress Protection) rating of a bulb or light fixture declares the level of protection it has against dirt and water.
Any fixture that is used in a bathroom, garden or wet environment should have an IP rating that is sufficient enough to stop the ingress of dust and water.
An IP rating consists of two digits. The first digit represents protection against the ingress of solid objects i.e. dust. The second digit represents protection against the ingress of liquids i.e. water. The higher the value of either digit, the greater the protection.
So, what protection do you need?
Lower IP Ratings
Lower IP ratings - such as those below IP44 - are mostly suited for indoor use in spaces that have virtually no exposure to dust or water, like your living room or bedroom. Most light fixtures inside your home will be rated IP20 and that is sufficient for most indoor purposes.
Ratings between IP44 and IP65 are acceptable for both indoor and general outdoor use, provided they are installed in a sheltered location and are protected from the harshest weather conditions.
Higher IP Ratings
Higher IP rated light fixtures are more suited to areas that will be exposed to harsh weather conditions. If there is a chance of contact with dust or liquids, selecting a fitting with a high IP rating will give the most protection.
Light fixtures that are rated IP65 and above are considered to be waterproof and are suitable for both indoor and outdoor use.
IP65 and IP66 are common IP ratings that offer more protection. IP65 lights can withstand water projected directly onto the fixture but are not completely waterproof and should not be submerged in water. IP66 lights can withstand water being sprayed forcefully from any direction but should not be submerged in water either.
These following spaces require lights that are rated IP65 and above:
Outdoor locations
Locations with exposure to dust, dirt and debris
Wet spaces with a high chance of coming in contact with water
Inside showers, pools, wet rooms or bathtubs
A quick guide to Ingress Protection: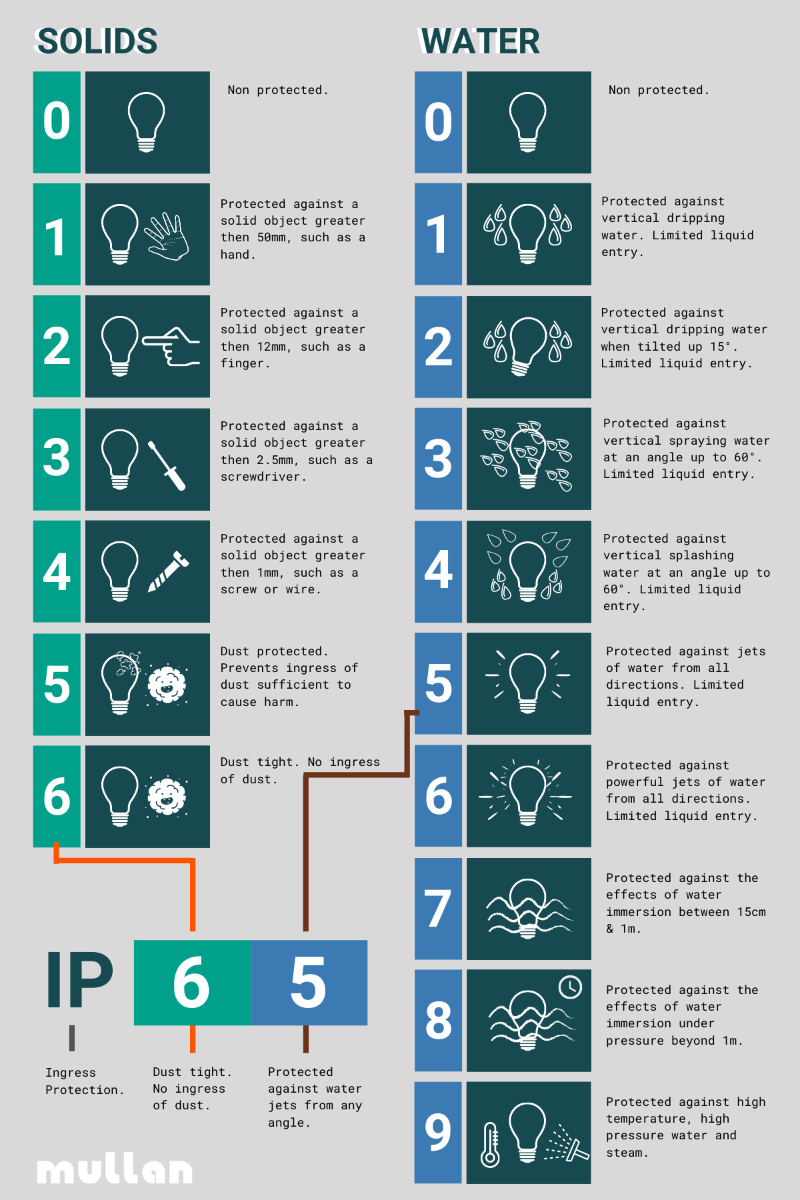 IP Rating Visual Support Chart
Light Safety in the Bathroom
Whilst having a stunning chandelier hanging over your bathtub might look pretty and in vogue, is it actually fit for purpose and protected against water? Is the fixture located outside of a splash zone?
Below we highlight the various zones in the bathroom with regard to lighting and electrical safety. Each zone requires a different, minimum IP rating.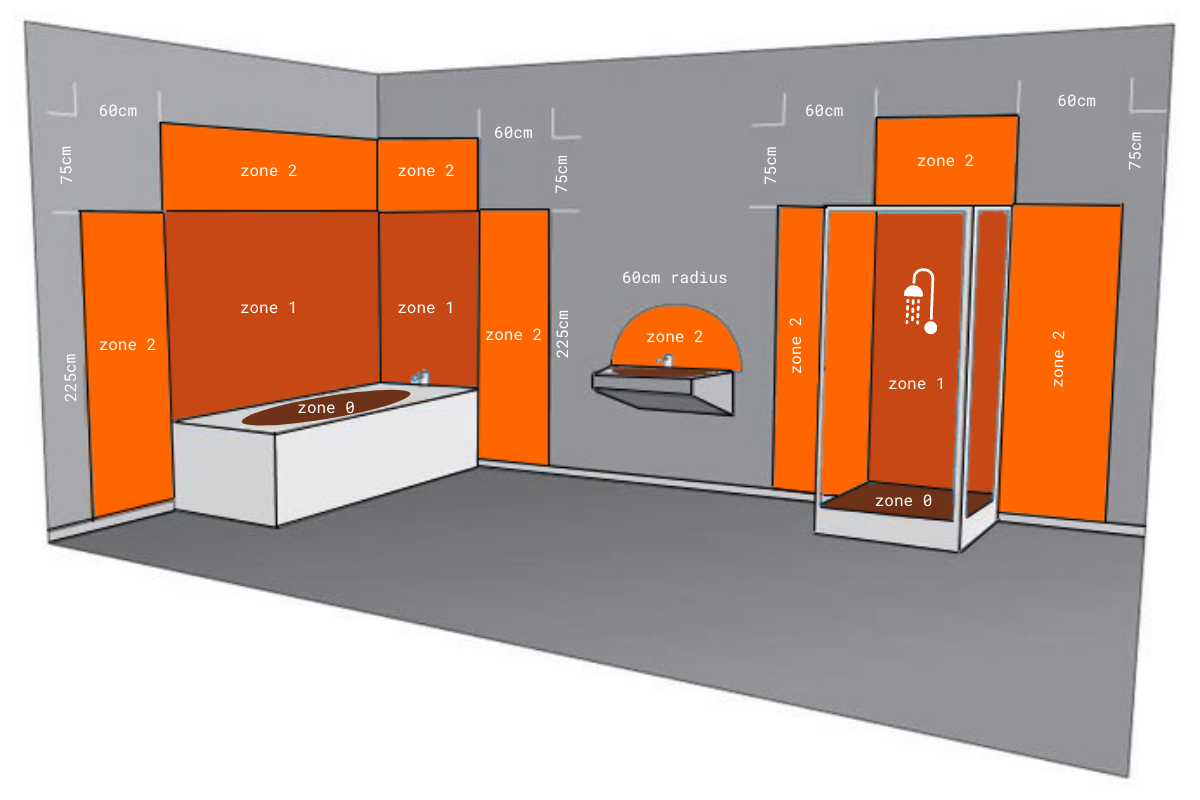 Visual Guide to Bathroom Water Safety Zones
Zone 0 - Lighting that is directly inside the bath or shower
This covers areas inside the bath, the shower tray and sink basin. Any fitting used in this zone must be low voltage (max 12V) and be rated at least IP67.
Zone 1 - Lighting that is directly above the bath or shower
This includes lighting directly above the sink, bath and shower up to 2.25m from the floor and is within 60cm of the water source.
If the fitting is 240V a 30ma Residual Current Device (RCD) must also be used to protect the circuit in this zone (this will make sense to your electrician!).
A rating of at least IP44 is required but generally an IP65 fixture is used for additional protection.
Zone 2 - Lighting placed either side of the bath, shower or wash basin
This accounts for the area that stretches an additional 60cm beyond zone 1 and up to a height of 2.25m from the floor.
In this zone an IP rating of at least IP44 is the minimum requirement and is more than ample.
It is good practice to consider the area just beyond a 60cm radius of any tap or water source as zone 2.
Zone 3 - Anywhere outside zones 0, 1 and 2
Zone 3 is anywhere outside of zones 0, 1 and 2 (subject to specific limits) and where no water jet is likely to be used. In these areas, a rating of IP20 is sufficient.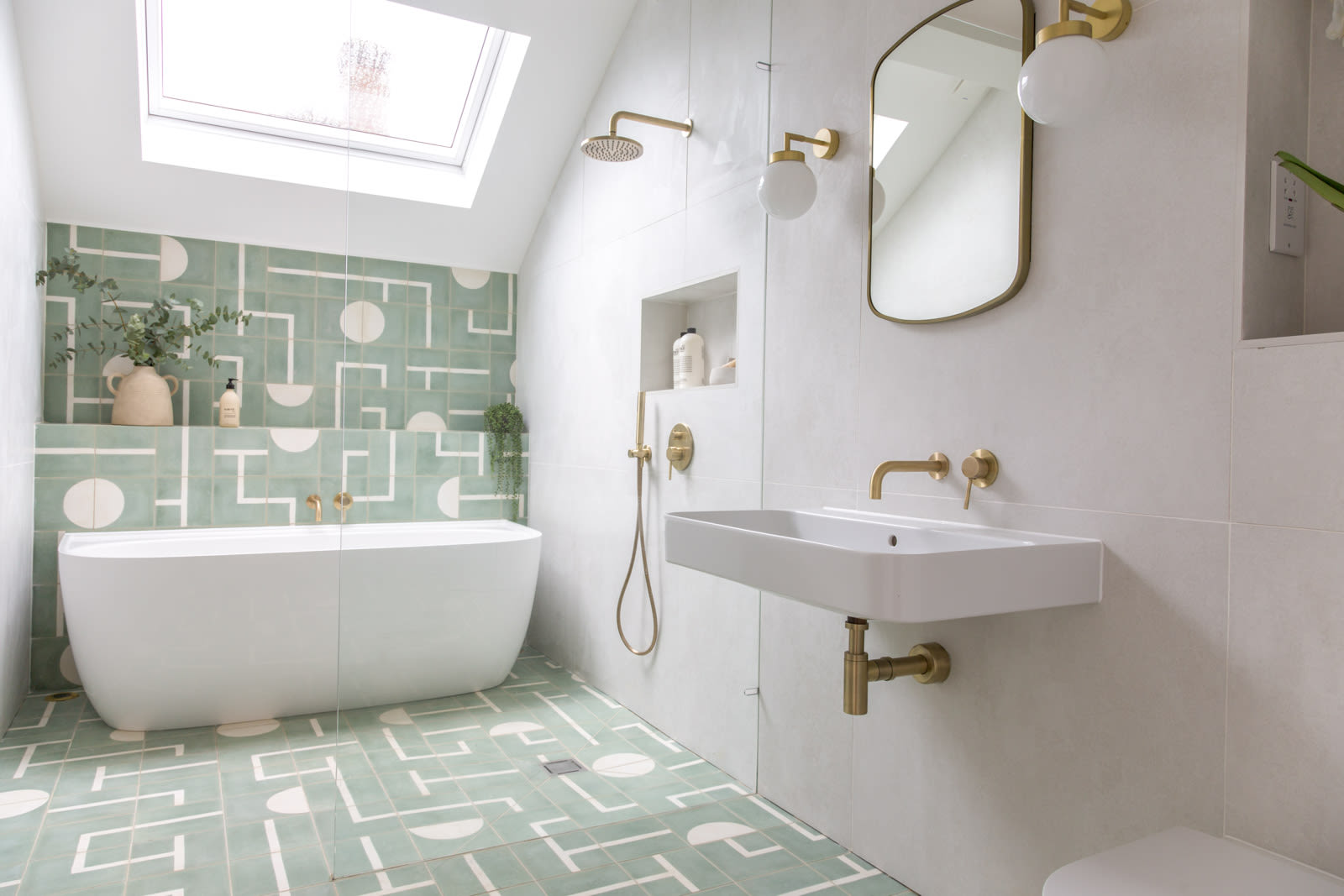 Bathroom Design in George Clarke's 'Ugly house to Lovely House'. Designer: Edwina Boase. Photographer: Daniela Exley
Naturally with larger bathrooms it's easier to space and place light fixtures outside of zone 1 especially, affording you a greater choice of light fixtures.
However, we do offer one of the largest selections of decorative bathroom and outdoor lighting of any European lighting manufacturer so we're confident that we'll have a suitable IP rated wall, pendant or ceiling light that can add a decorative touch to your powder room.
Now that you're up to speed with bathroom light zones and IP ratings, you can make more informed lighting decisions for your bathroom and outdoor spaces.
You can follow our essential guide to bathroom lighting and outdoor lighting tips blog to help bring style to these areas too.
Happy lighting!
You might also enjoy