Our Banjul floor lamps add luxury to the Crowne Plaza Belfast
The recently refurbished Crowne Plaza Belfast is one of Northern Ireland's most luxurious hotels. Located in the Lagan Valley region just outside Belfast City Centre, the Crowne Plaza is a refined and modern 4-star hotel that features some of Belfast's most innovative architecture. This lavish hotel, with interior designed by Philip Rodgers Design, boasts 120 luxurious bedrooms and extensive, stylish dining options to cater for all tastes. The Green Room Restaurant offers a seasonal menu using locally sourced ingredients to serve the highest quality traditional Irish cuisine. In contrast, The Spice Club offers delicious Indian dishes.
Our Banjul floor lamps sit proudly in the lobby of Crowne Plaza Belfast Crowne Plaza Belfast showcases a modern, contemporary lobby with stunning cream ceramic tiles and a cashmere carpet that gives a warm and luxurious feel to the open area. Our Banjul floor lamps sit proudly on the black marble pedestals in the lobby of Crowne Plaza Belfast. With a striking visual presence, this elegant floor lamp is the perfect fixture for fashionable hotels, effortlessly adding to the luxurious atmosphere felt as guest first arrive in the main lobby. The Banjul floor lamp is constructed with brass tubes and enhances natural light to create a soft and cosy atmosphere. With a soft black shade, the floor lamp adds a timeless character to the lobby, providing an inviting illumination for guests at Crowne Plaza Belfast.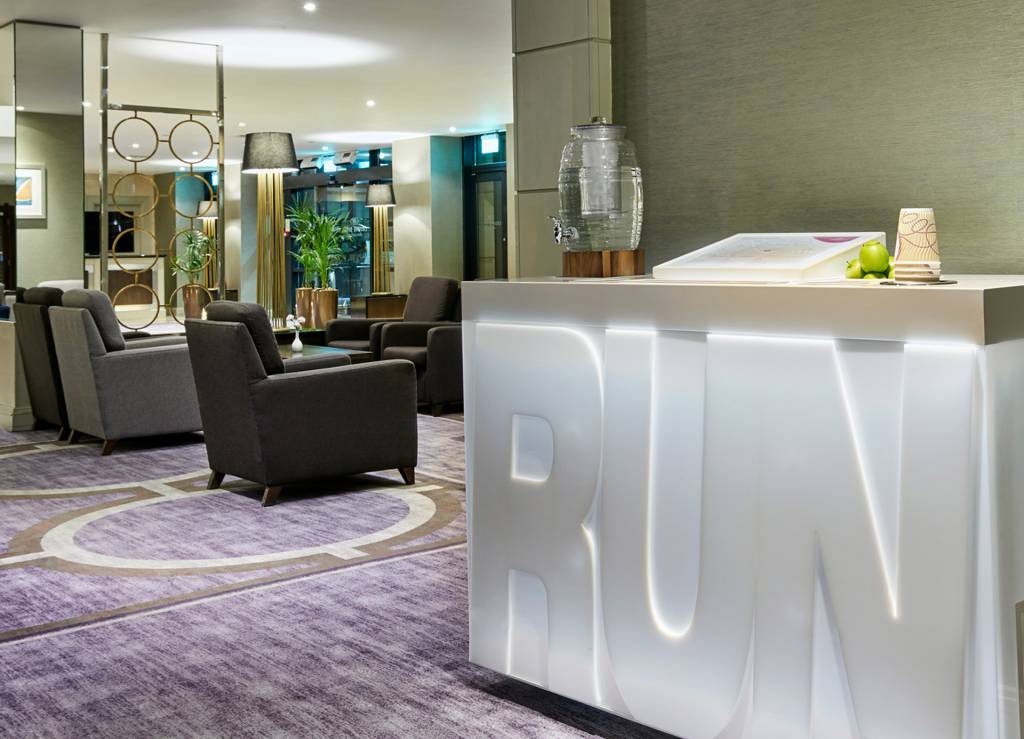 The recent refurbishment of Crowne Plaza Belfast has confirmed the hotel's position as Northern Ireland's largest premier residential conferencing and banqueting venue, offering state-of-the-art facilities. With three large event and conference spaces, the variety of rooms available cater for intimate gatherings or large scale events for up to 900 delegates. The Great Oak Conference Centre is one of the recently refurbished meeting rooms and receptions with luxury fittings and stylish seating areas. Again our Banjul floor lights have been used to illuminate the entrance of the conference centre with a cream fabric shade, creating a soft, diffused light that complements the refined modern décor.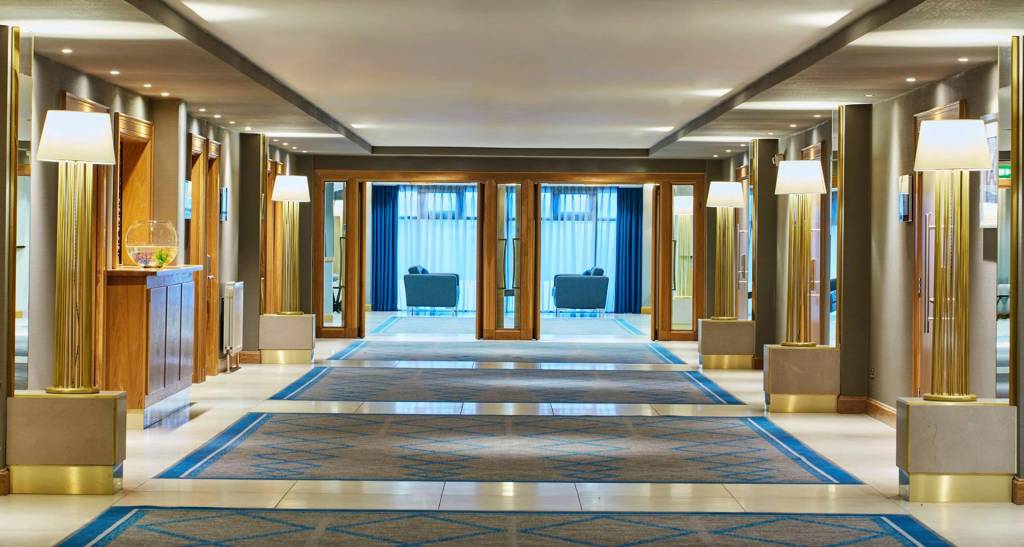 Our Banjul floor lamps illuminate the entrance of The Great Oak Conference Centre