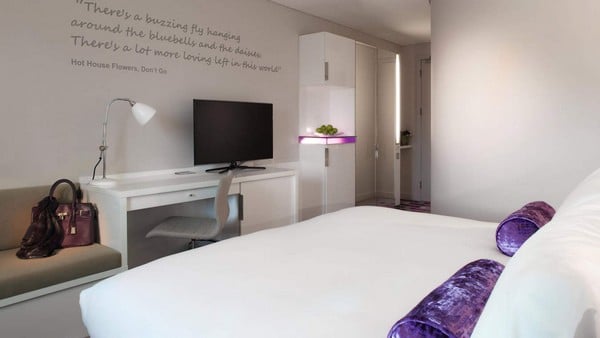 Bespoke lighting at The Morrison Doubletree Hotel by Hilton
The Morrison Doubletree Hotel by Hilton is a boutique hotel in Dublin city centre. Mullan Lighting manufactured bespoke light fittings for this beautiful hotel.The
Morrison Doubletree Hotel by Hilton
is a newly refurbished boutique hotel in Dublin city centre. Mullan Lighting manufactured bespoke light fittings for the accommodation to this project that was completed to a very high standard within a very tight time frame.
The Morrison Hotel, Dublin With part of the building located on what was Musicbase, where many young Irish bands started off, the hotel has enjoyed a chic rock 'n' roll reputation since it first opened in 1998 and many of its guests have been music industry luminaries, such as Rihanna, Paul Simon and Mumford and Sons.
Bedroom of The Morrison Hotel where Mullan Lighting manufactured bespoke hotel bedroom lights As a result, architect
Nikki O'Donnell
gave the recent redesign a strong musical theme, with song lyrics and a sound wave graphic decorating the walls of the hotel's 138 bedrooms.
The luxurious bedroom suite of The Morrison Hotel, Dublin where Mullan Lighting manufactured bespoke lights From the word go, the style of the hotel had been quite dull, with low light levels and dark-coloured joinery. The new look is much brighter, with a lot of lighter materials which really opens up the interior.