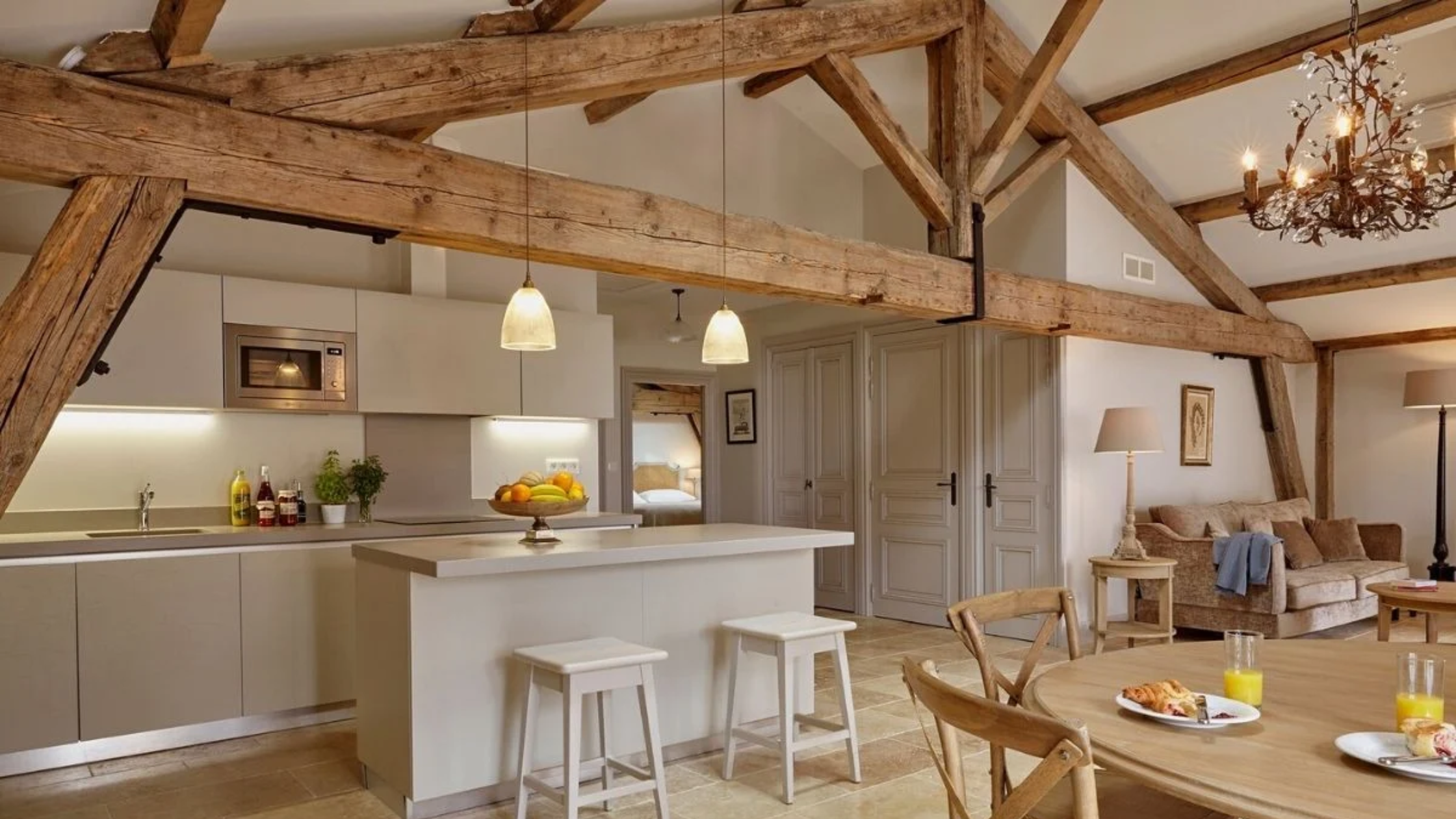 How to Light a Room with a Sloped or Vaulted Ceiling
Vaulted ceilings are an architectural statement in any home and create the illusion of a larger space.
A vaulted ceiling is also sometimes referred to as a cathedral ceiling. However, a cathedral ceiling has equal sloping sides that are parallel to the centre of the roof. Vaulted or sloped ceilings may only slope on one side and are generally supported by an archway or wooden beam.
These two ceiling designs can be challenging for home owners as they try to source the right light fixture to suit the interior space.
Do not fret! We have pulled together some helpful tips on how best to light your vaulted ceiling.
Our 'Elegance' pendant lights in this modern farmhouse kitchen by Rhatigan and Hick. Photography by BML Media.
Recessed Lighting & Spot Lights
Spot lights, particularly in kitchens, are a great source of task lighting. However, it is important to strike a balance here as you don't want to project a clinical appearance in your home.
Your vaulted ceiling should be celebrated so it is best not to overcrowd the featured ceiling space with too many light outlets.
The general rule of thumb is to place the light fixtures 3ft away from the wall to minimise any harsh shadows.
The size and spacing of recessed lights is entirely dependent on the specific dimensions of the space you're lighting and what lighting effect you want achieve.
However, we would generally recommend to keep them around 4-6ft apart to achieve an even flow of light.
It's also possible to get directional recessed spot lights that can be really useful on sloped ceilings to ensure that light shines directly to the floor.
Pendant and Chandelier Lighting
Our 'Lome' pendants and 'Chulainn' wall lights in The Sanctuary Holiday Home by Unique Homestays.
Pendants can stylishly dress an interior space and act as a suitable lighting option for vaulted ceilings.
Some pendants do require a ceiling adjustment to account for the slope in the ceiling. However, most of our pendant lights do not require this and will hang perfectly straight due to the design of our ceiling roses and cord grips.
You could opt to extend the cable length of the pendant, creating a dramatic drop height or hang the pendants half way down the slope of the ceiling to fit a more traditional lighting aesthetic.
Pendant lighting also complements recessed lighting as they fill the extra space in a room. Vaulted ceilings are the perfect opportunity to feature pendants given the extra head height available.
Our 'Eden' in the restaurant of Hillsborough Castle by Kinnersley Kent Design. Photography by Tom Bird.
Our tops tips when installing your chandelier & pendant lights;
1. In a room with a standard ceiling height (8ft), pendants need 7ft between the base of the light and floor. As vaulted ceilings are higher, you will need to decrease the pendant's drop height by 3 inches for every foot above the standard ceiling height of 8ft. So, if you're ceiling is 12ft at a given point, the base of your pendant would be 8ft from the floor as a rule of thumb (7ft + (3" x4) = 8ft).
2. When hanging an arrangement of pendants in a room with vaulted high ceilings, you may need to install them with varying drop heights to ensure the base of each pendant is the same distance from the floor. You may have to reduce the cable length or remove links from hanging chains to ensure the pendants all appear to hang at the same height.
To help with this process, experiment with balloons and strings, to ensure the proportion is correct.
Clever pendant hanging trick by Woodrow Architects.
3. Ceilings that meet at an apex point can prove difficult when installing light fixtures as the ceiling rose for a pendant or chandelier can't be installed at this point.
A canopy box is a clever technique to combat this issue as it will be made specifically to sit into the peak where you will then hang the pendant or chandelier from the flush, horizontal surface. This has to be considered early on in a build or renovation though.
You could also use the 'hang and drop' technique that involves installing the ceiling rose on the slope rising to the ceiling's apex and use a hook at the centre of the apex to loop the cable or chain of the pendant / chandelier. This will allow the light fixture to hang centrally over the apex. This same technique can be used to arrange a cluster of pendants.
4. Work with the wall space. Sami Somer from BLOCK Design Build used the wall space in this dining space very cleverly. He installed the light fixtures on the wall and used ceiling hooks to hang the pendants directly above the dining table. This beautifully exposes the glass roof and makes practical use of the space.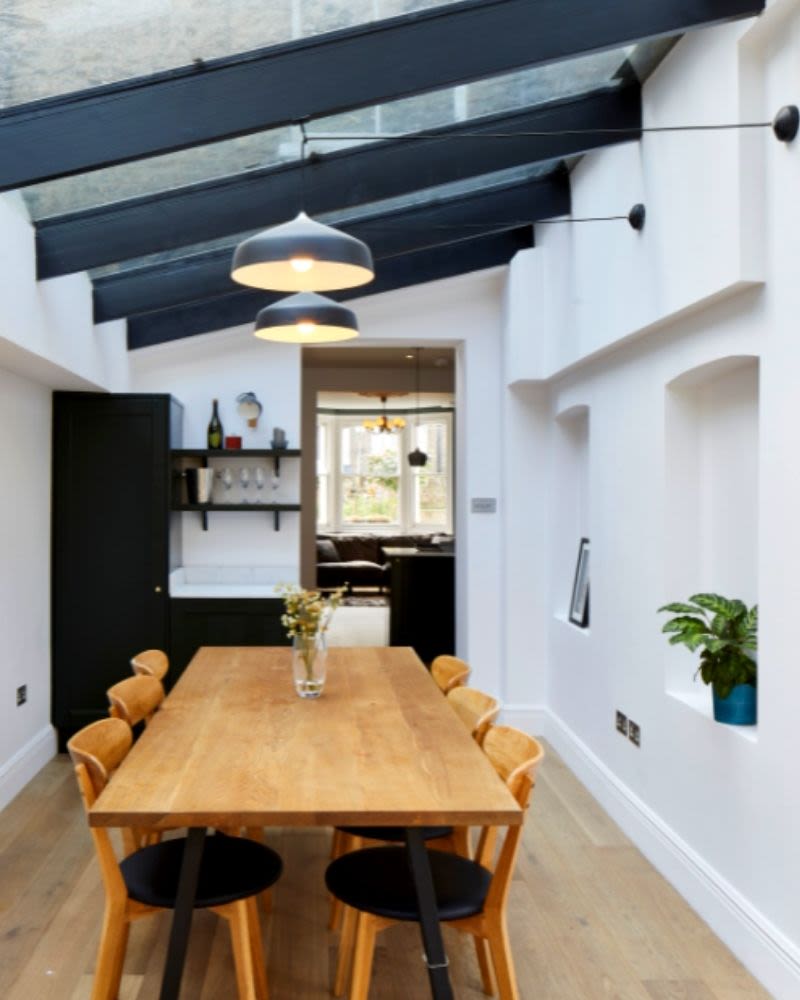 Smart use of pendant lights in sloped ceiling dining space by BLOCK Design Build.
Track Lighting
Track lighting is a popular light option for sloped ceilings. Incorporating several lights onto a single strip provides a strong projection of light and directs focused illumination to specific areas.
Tracked light fixtures can be easily fixed to beams that are a common feature in rooms with high ceilings. Track lighting is generally installed on the ceiling and does not necessarily have to be at the highest point.
It's important to keep in mind that track lighting should not replace recessed light fixtures. Track lighting's primary role should be to complement the recessed lighting within a room.
Bespoke mesh pendant box in this living space by Craftstudio Architecture.
Accent Light with Lamps and Wall Lights
The final stage in lighting a room with vaulted ceilings is to complement the space with table lamps and wall lamps.
Lamps can be used as an accessory, adding character and warmth to interiors. You can introduce lamps to side tables or console tables next to soft furnishings like sofas, accent chairs and dining spaces.
Wall lights provide a decorative touch to wall spaces, offering an additional flow of light to darker areas. Placed above kitchen sinks, cooking stations or along the couch wall, wall lights provide an added layer of light to interior settings.
Wall lights help to balance the flow of light within a room, ensuring light levels can be adjusted for a range of tasks and atmospheres.
Our 'Rebell Coolie' wall lights in this open kitchen by Kestrel interiors. Photography by Alan D Photography.
Key Things to Remember When Lighting Vaulted Ceilings
Amount of Light Required
What light levels does your space need? This will affect the type of light fixture you choose.
Think about the activities and tasks you will carry out in the room and centre your lighting around those tasks. This is where layered lighting comes into play.
Colour Temperature
You want to match the light's colour temperature to the style and feel of your interior when choosing your light bulbs. Lighting has the ability to influence your mood, so having various levels of light and the appropriate temperature of light is essential for adapting atmospheres.
Avoid having a conflict in colour temperatures. For example, you wouldn't have one light fixture at 5000k and another at 3000k. This would leave a harsh imbalance. Aim to have your colour temperature within 500k of each other i.e., 3000k and 3500k.
Dimmers
Dimmers are essential when it comes to creating ambience in a room, particularly with high vaulted ceilings.
Dimmers are a fantastic way of creating atmosphere in a space and raise or reduce the lumens as needed. For example, if you're watching a movie at night, you might wish to lower the level of light from your recessed spot lights.
Our 'Cairo' wall lights in this open living space by Atelier ÉS. Photography by Yosuke Kojima.
Take your time when deciding your lighting plan. You will need to decide on recessed lighting, pendants and chandeliers early in the construction process. Table lamps can be decided at a later stage when you get a better feel for the space.
If you're renovating a space that already has vaulted ceilings, you will need to develop your plan based on the pre-existing electrical wiring to avoid breaking up walls and ceiling spaces.
By implementing the right lighting style into your interior, you can create a relaxed and welcoming space that is elevated by a well-lit vaulted ceiling.
You Might Also Enjoy: