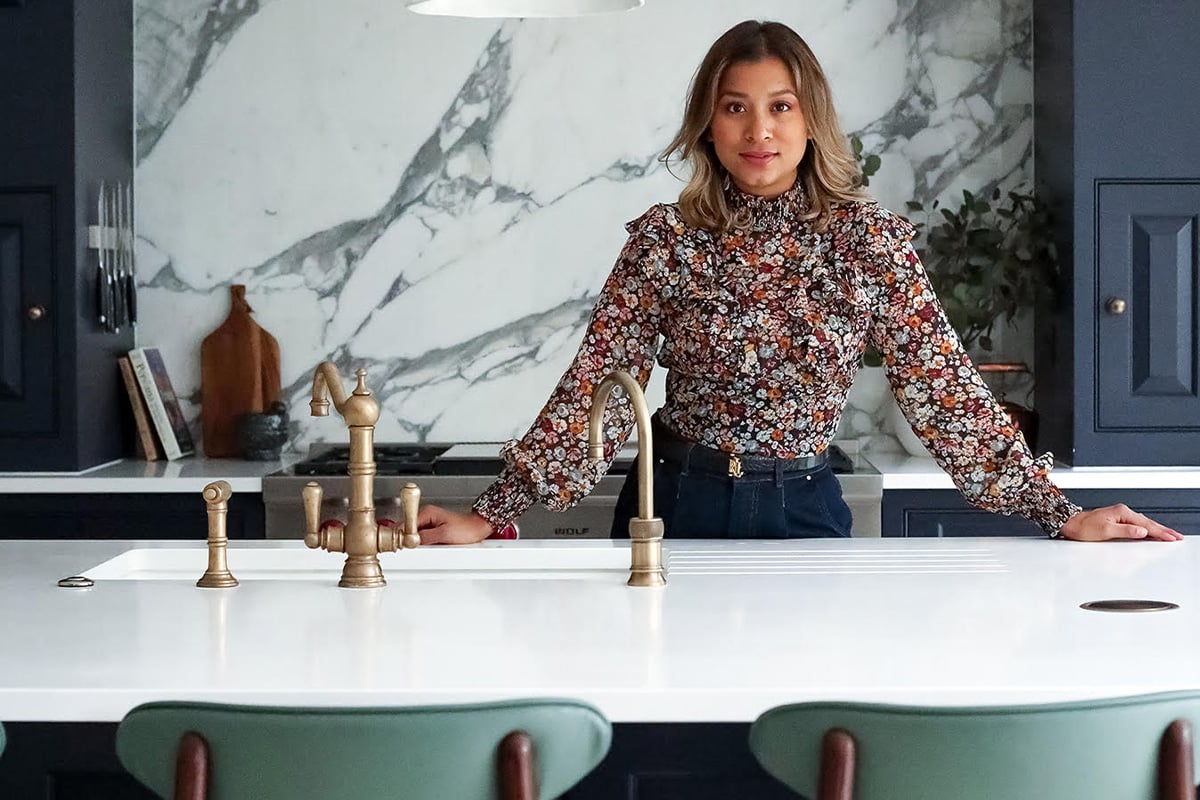 Five Minutes with Melissa Bolivar from House of Sui Sui
We recently chatted with interior designer Melissa Bolivar. Founder and creative director of House of Sui Sui in London, Melissa shares some of her interior styling tips and gives us an insight into her design inspirations.
House of Sui Sui recently featured in the July 2020 volume of Homes and Gardens magazine showcasing one of their latest residential projects. We were delighted to see our Cullen industrial dish wall lights feature in this snug interior.
---
Melissa, tell us a little bit about yourself.
My name is Melissa Bolivar and I am the Creative Director at a young London based interior design studio, House of Sui Sui. We create beautiful spaces that enhance the quality of life.
What determined your passion for design?
My earliest memory for design was back in primary school when I designed a sour apple sweet. I remember this being my first experience of designing a product, creating a brand, choosing its colours and flavours. I completely fell in love with the process of design.
Throughout my life this passion was refined and developed through art lessons and an interior architecture degree. After university I worked with some of the world's biggest fashion brands such as Hugo Boss, Maxmara and Chloe in creating in store pop-ups and window designs, to finally setting up my own studio House of Sui Sui.
When preparing for a project, what key information do you seek from a client?
Everything starts from a conversation with the client and simply trying to understand life from their perspective. What are they trying to achieve? What problem are they are trying to solve? What are their ultimate goals and desires?
This allows us to see the parameters, the problems and the dream. This will then form the design brief and allow us to work within these constraints and develop their ideas into tangible, great designs.
'Cullen' wall light in a private residence, London by House of Sui Sui. Photo credit: Jack Fox.
Tell us a little about your Hertfordshire Country Home project?
We ripped out everything! We refurbished the entire house, from all of the hard finishes, joinery, lighting, furniture and accessories. It's a family home with a lot of colour and character, filled with eclectic pieces and fun artwork reflecting the fun personalities of the home.
What inspired your design concept for the snug/cinema room?
My design intent for this room was to experience being surrounded by warmth, through one colour. The room is quite small and I wanted to work with this feature as opposed to against it. I found a teal woven wallpaper and we painted the joinery in a similar tone. The effect it created was incredible. It feels very relaxing and cosy at the same time.
It was a big risk and I remember the client almost being slightly hesitant about the dramatic choice but it has turned out to be one of the most popular rooms of the house as judged by the client and guests alike!
How did you choose the light fittings for this project and why did they work in this space?
The wall sconces were perfect as they remind me of vintage paparazzi cameras. This room is where the family watch movies together so it was perfect.
I love the design of these wall sconces. They look vintage and modern at the same time. This is a feature we always look for when selecting furniture, pieces like this that have a timeless air to them.
We also needed a wall sconce that would contrast against the teal backdrop. The brass really brings the wall to life!
'Cullen' wall light in a private residence, London by House of Sui Sui. Photo credit: Jack Fox.
In general, how important is it to consider lighting for an interior space?
It is one of the key elements to design. An interior can make you feel uneasy if the lighting is off. Lighting can make you feel cosy or alert. It's important to figure out what the purpose of your space is before deciding what type of lighting you will implement.
What are the most common lighting mistakes people make when redesigning their interior spaces?
The kelvin of the bulb is too white or too orange. If the bulb is not the right kelvin (warmth) it can create the wrong atmosphere in the room.
What and/or who are some of your design inspirations?
Nature and fashion are my biggest inspirations. Nature has design in its DNA, tried and tested millions of times. We can learn so much from nature. Its natural beauty is unrivalled.
Working in the fashion industry we had to take inspiration from clothing collections. It taught me to find inspiration in fabrics and intricate details and this has stayed with me.
'Cullen' wall light in a private residence, London by House of Sui Sui. Photo credit: Jack Fox.
What would be your top design tips for someone who is redesigning their living space with respect to this project?
Be brave, be you and don't be afraid to take risks. If you are not sure about your design decisions, find a project that has done something similar. If they've made it work, so can you!
Finally, we have to ask, would you recommend Mullan Lighting?
Yes a million percent! Amazing and efficient customer service but above all beautiful, great quality products.
---
Thank you Melissa for sharing some of your inside secrets with us! We love to learn more about the interior designers who choose to use our products in their projects. We hope to work with you again in the future.
The latest volume of Homes and Gardens is available in shops now where you can read more about Melissa and her interior design team. House of Sui Sui is a London-based design studio, where they complete projects locally, nationally and internationally.
You might also enjoy: