Kudos for Kudu, a new London restaurant featuring our Cairo pendants
Kudu is a new restaurant that recently opened on Peckham's Queen Street in London, serving modern European food with influences from South Africa. Mullan Lighting once again worked with Alessio Nardi of A-nrd who curated the interior design of this wonderful 52-seat restaurant.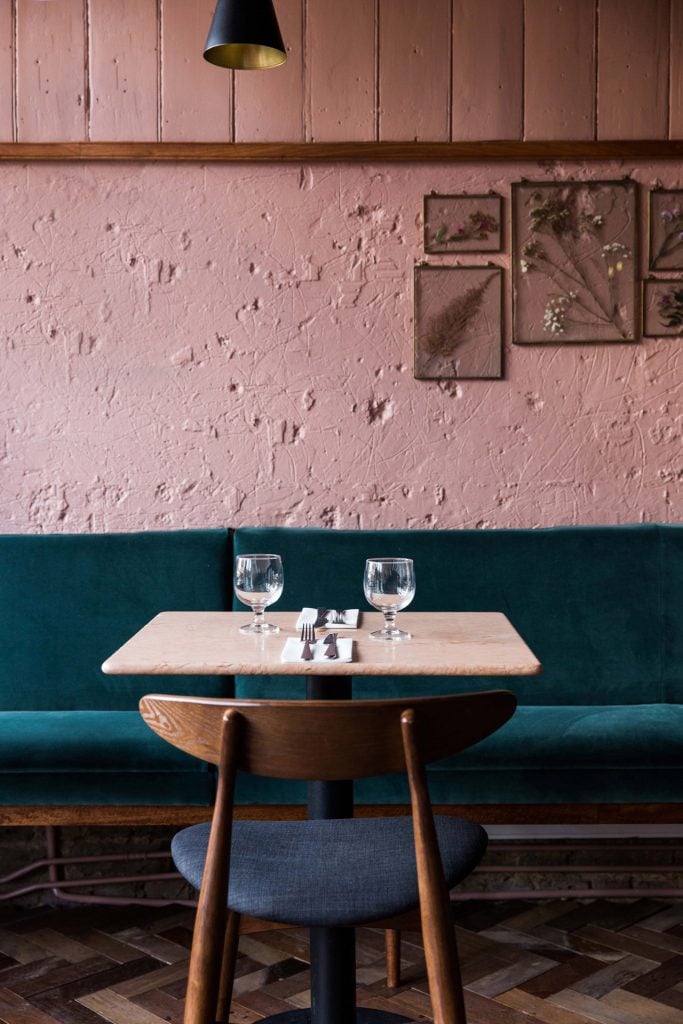 Rose brown wall paints contrasts against the forest green velvet seat covering We previously worked with A-nrd at Darjeeling Express restaurant on London's Carnaby Street. The restaurant is managed by Amy Corbin and Patrick Williams – a couple who first met through their shared love of food. Amy manages front of house and Patrick, who hails from South Africa, is head chef. Together they've created a warm, lived-in feel in Kudu with reclaimed materials, earthy colours and accents of greenery.
Patchwork wall detail at Kudu restaurant, London During the restaurant's renovation the walls were stripped back to reveal a beautiful patchwork of old materials: tongue and groove wood panelling interrupted by concrete renderings, old brick and tiles. Alessio Nardi comments on the randomness that emerged when the walls were stripped back to a more original and authentic state,
"We immediately fell in love with the randomness of the finishes and decided to keep them all, revising the design scheme to play with these beautiful finds."
Our Cairo pedants juxtaposed against the rough render walls The patchwork walls are juxtaposed against the clean and symmetrical lines of our Cairo pendant lights that shine down on each individual and intimate table setting below. The walls have been toned down with a coat of rose brown paint, contrasting the burnt umber ceiling and striking, reclaimed African mahogany parquet flooring.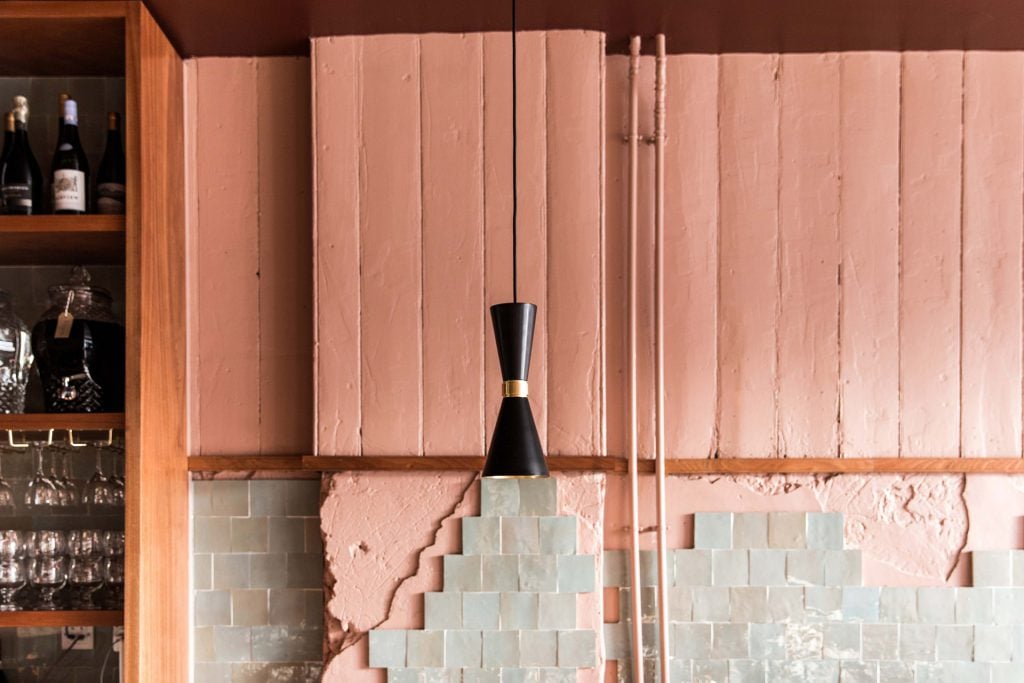 Our cairo pendant at Kudu restaurant, London Forest green velvet banquette seating runs the length of the main dining space with tables in antique brass and Italian rose limestone.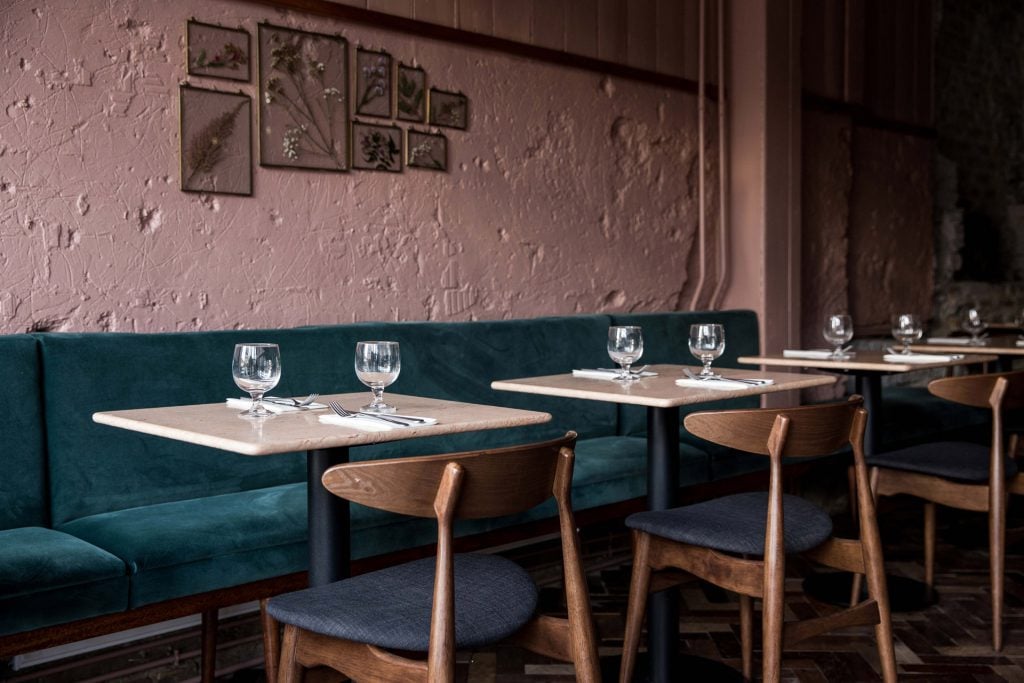 Italian rose limestone table tops at Kudu restaurant, London The front counter is clad with juniper green hand glazed tiles that spill onto the adjacent walls, adding an accent to the restaurant's concise colour palette. The counter – which seats an additional six diners – has an antique brass top and allows patrons watch Patrick and his team work.
Our Cairo pendants in the Orangerie of Kudu restaurant, London Located towards the rear of the restaurant is the Orangerie with tall tables, antique mirrors, raspberry velvet stools and handmade concrete floor tiles leading to an outdoor garden.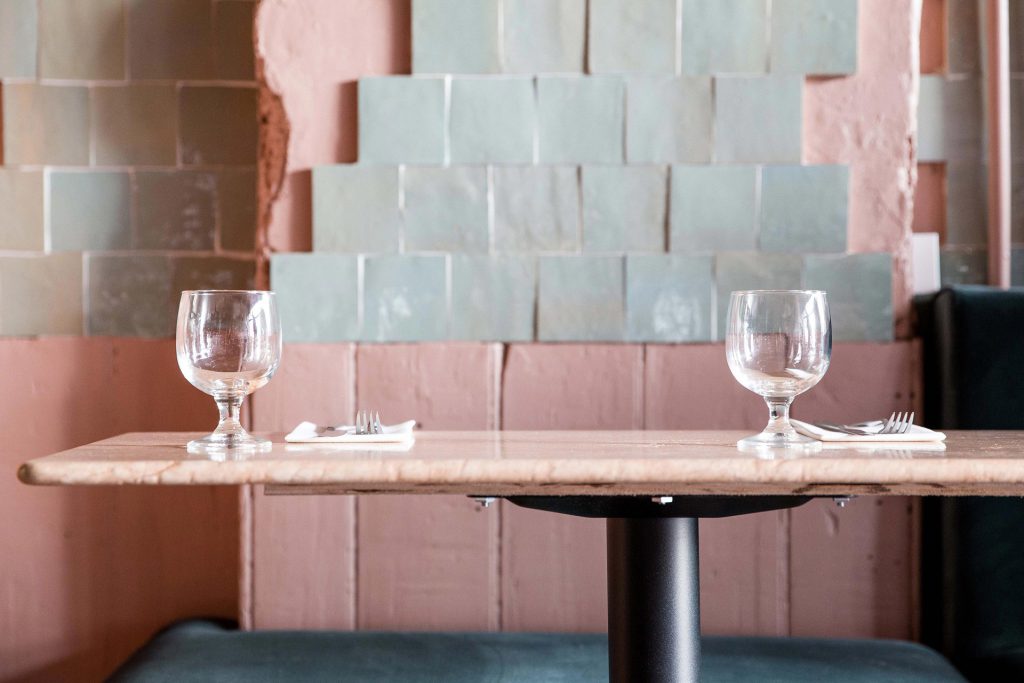 Glazed wall tiles at Kudu restaurant, London