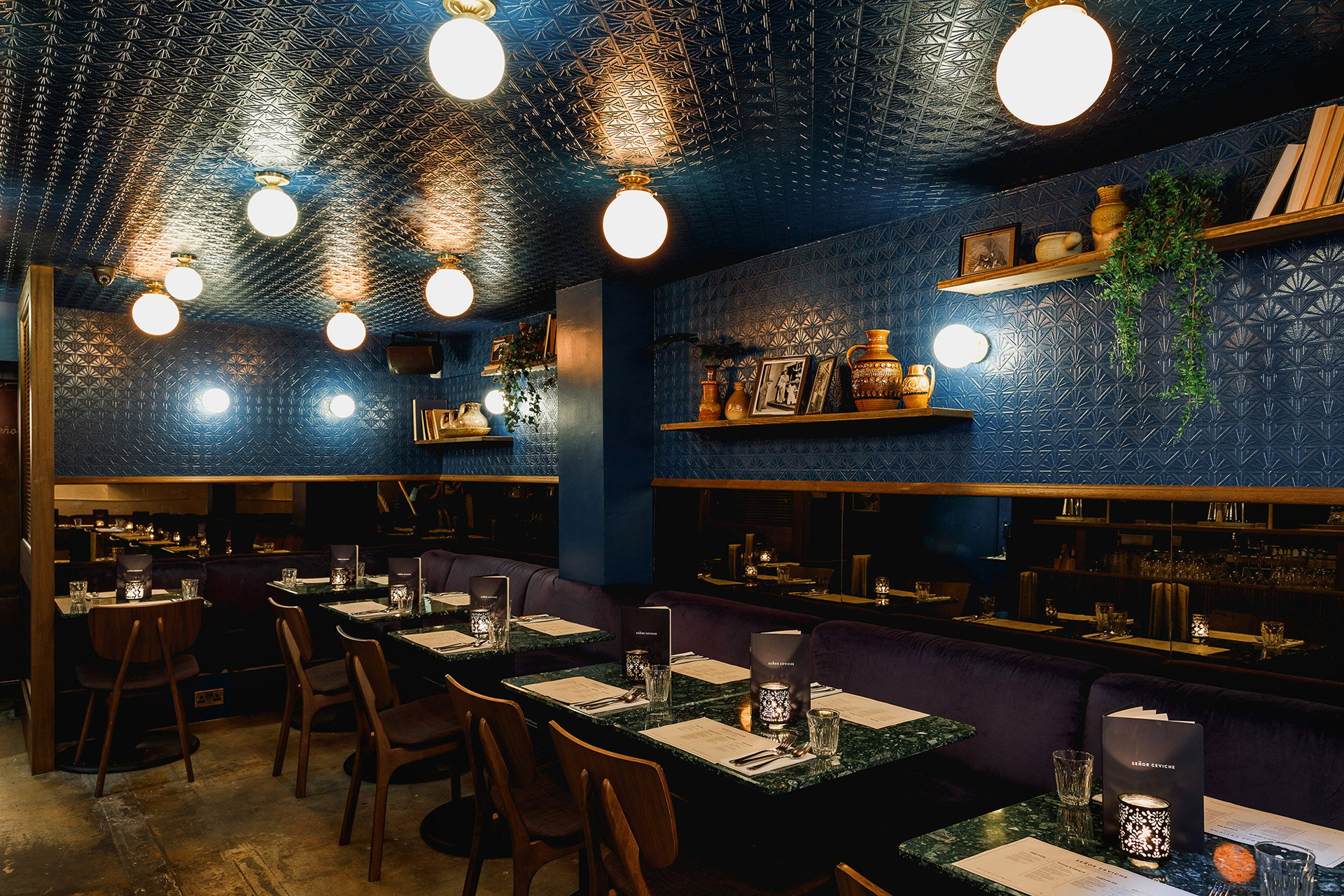 How to Choose the Correct Ceiling Light Fixture: Flush or Semi-Flush?
Flush mount or semi-flush mount lights are likely the most common ceiling lighting fixtures in your home. They are versatile, don't require much space and are available in a multitude of styles and finishes. Here's our guide on choosing the correct ceiling light fixture.
Flush mount or semi-flush mount lights are likely the most common ceiling lighting fixtures in your home. They are versatile, don't require much space, and are available in a multitude of styles and finishes.
These type of light fixtures are ceiling-mounted and illuminate a large area. These type of light fixtures will enhance the style of a space, illuminating a wide space whilst doing so.
Flush Mount Fixtures
Flush mount fixtures are directly mounted closely to the ceiling therefore providing greater ceiling clearance. These features tend to blend in more with the ceiling, however when implemented strategically they can be used as a decorative feature.
Our Apoch flush cage ceiling light is directly mounted to the ceiling.
Apoch industrial flush ceiling light.
Semi-Flush Mount Fixtures
Semi-flush mount fixtures provide more illumination than flush mount fixtures. A semi-flush mount fixture is suspended, leaving a small gap between the ceiling and fixture. This gap allows for an uplit effect, while providing a direct downward light. These ceiling fixtures produce a better ambient light effect than flush mount fixtures and are usually the preferred option for living spaces.
Our Dodoma ceiling light is a semi flush ceiling light.
Dodoma vintage flush ceiling light.
Opting for a flush or semi-flush light fixture is based upon taste and proportional considerations, but a few standard rules apply:
1. Consider your Style and Purpose
Are you a fan of traditional lighting or you get excited anytime you see a ceiling with modern ceiling light fixtures?
Retro, classic, traditional, modern, whimsical and many others, the market for flush light fixtures has it all. Find your style and look for light fixtures that will complement it, along with all of your furniture and decorative items in your room. If you prefer a minimalist look, then opt for flush mounts.
These are less noticeable and are great in places where space is minimum like in hallways or bathrooms. Semi-flush mount is good for those who prefer more detail in their lighting design as they will add balance to practicality and style without overwhelming the space. You also must consider the purpose and practicality of the light fixture you choose.
Hallways and stairways may be areas of concern when considering using flush or semi-flush ceiling fixtures as these are areas where objects are regularly moved about the home. Therefore, you must consider the dimensions of such objects being moved and if a low hanging fixture may affect the movement.
Our Kigoma semi-flush ceiling lights are perfect for this high ceiling at Pot Bellied Pig, Dublin.
Kigoma ceiling lights in the Pot Bellied Pig restaurant by Kingston Lafferty Design. Photography by Barbara Corsico.
2. Correctly Size Up
Regardless of whether you need new flush ceiling light fixtures for decoration in your backyard or to light up your bedroom, they should be sized up correctly for best illumination or overall decorative effect.
Measure your room or hallway correctly and look for fixtures that will fit great and within the electrical code restrictions for where they will be used.
Yerevan ceiling lights in a private residence by Buchanan Studio. Photography by Kalina Krawczyk.
3. Consider the Height
One of the most important thing to consider is the height on which you will install your ceiling light fixtures. It is important to consider the ceiling height of the space and the height of individuals who live in that particular home.
If the ceiling is lower than 90 inches, then a flush mount fixture would be the perfect choice as it will take up less ceiling space and height. Just remember, flush and semi-flush fixtures should not be used in homes with cathedral ceilings or a 20-foot ceiling, because they will not provide enough lighting.
4. Choose the Right Bulbs
When it comes to bulbs, there are many different bulb options on the market, allowing you to choose the one that suits your lighting requirements perfectly. Consider the cost-efficiency with the desired ambient illumination for each ceiling light fixture. Choose between halogen, fluorescent, LED and incandescent lighting fixtures. Our Stanley holophane globe ceiling lights and pendants complement the Parisian charm.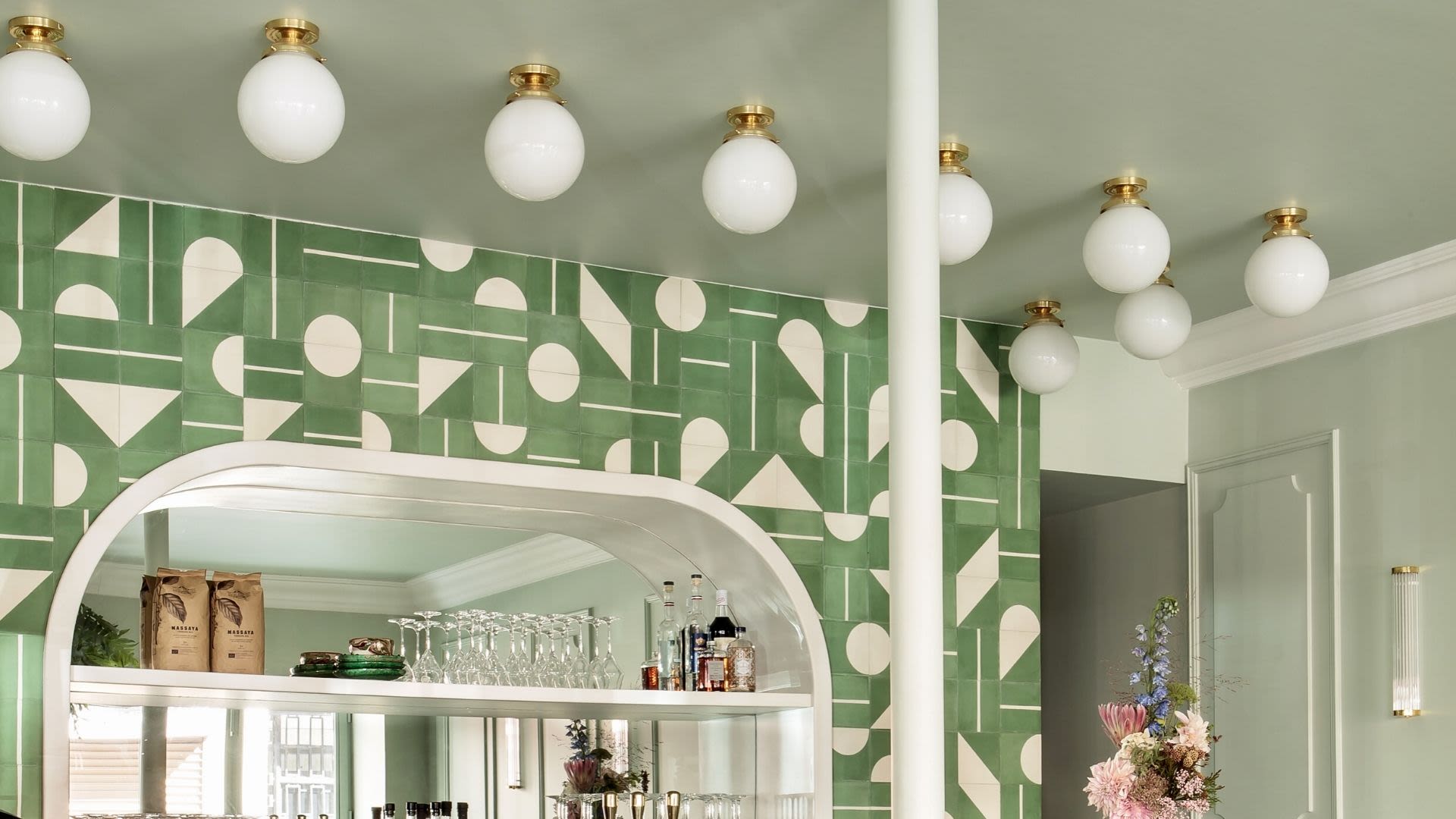 Yerevan ceiling lights in Bistrot Rougemont Virginie Friedmann. Photography by Hervé Golzua.
5. Gain Complete Control
The extra features of ceiling light fixtures make them much more beautiful, but also more efficient and controllable, in order to create the right mood.
The innovative switches and automated controls can make significant differences to the lighting. If you are using these ceiling light fixtures in your bedroom or living area, it is recommended to install them with controls for ultimate convenience and bigger energy savings.
Flush vs. Semi-Flush Lighting
Once you have decided that a close to the ceiling light is the right choice for you, you can save time if you can eliminate half the options by knowing if you need a Flush Mount or Semi-Flush.
A flush mount naturally sits directly on the ceiling, while a semi-flush hangs down several inches, leaving airspace between the ceiling and the fixture.
Based on your ceiling height, you may be limited in what fixture you can install:
For low ceilings (below 20cm), you will want to pick a flush mount light fixture (if you have a table or counter below the light, you can choose a semi-flush or even a chandelier).
For ceiling heights of 21cm to 25cm), consider a semi flush mount light. Most hang less than a foot from the ceiling.
For over 25cm ceilings, you should consider chandeliers or pendants.
A flush light fixtures work best in hallways, closets, bedrooms, or bathrooms.
A semi-flush light fixture adds a nice touch to a kitchen nook or a smaller low-ceiling dining room.
And that's it. A short guide on how you can smartly introduce flush lighting into your interior space. Whether you opt for a flush or semi-flush light fixture, you can expect your ceiling space to be dramatically change with the introduction of decortative lighting.
You Might Also Enjoy: