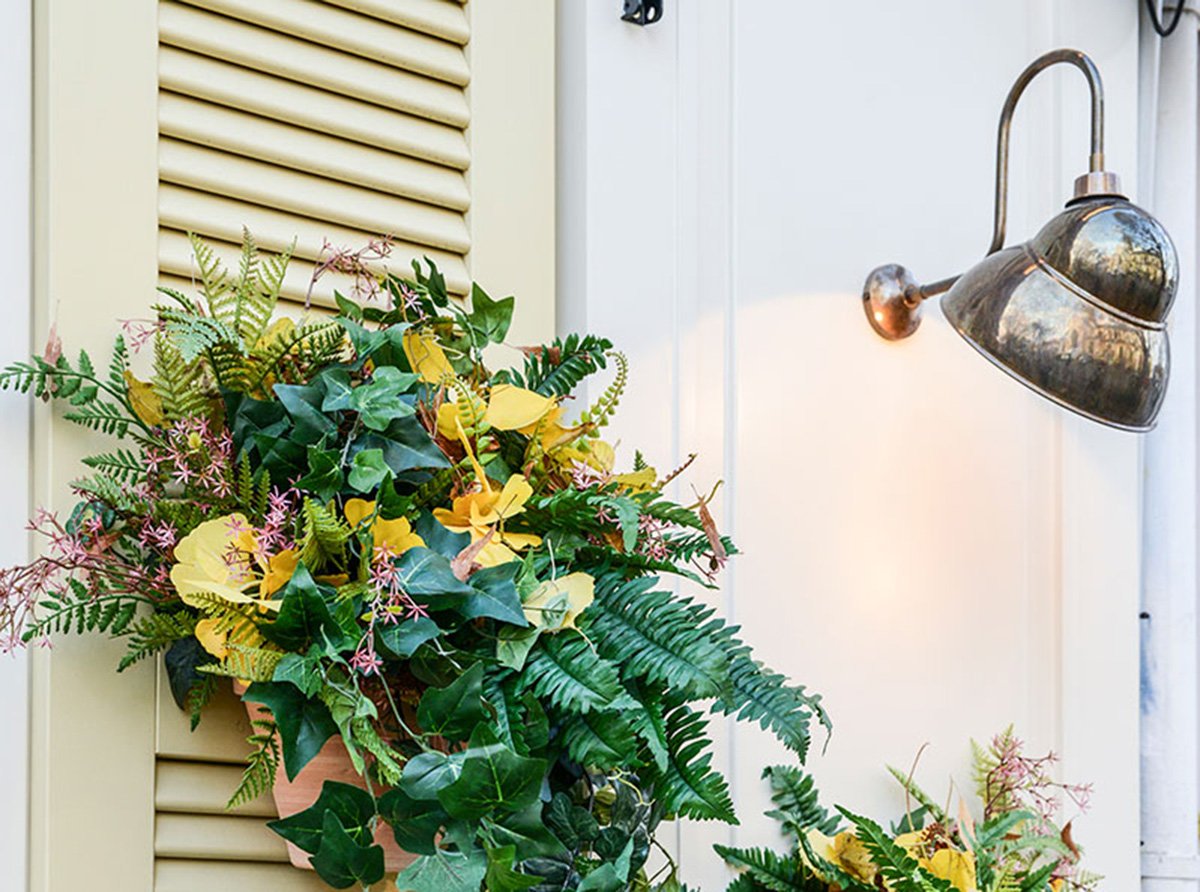 Outdoor Lighting Tips, Tricks and Considerations
Outdoor lighting has the capacity to enhance the beauty of your home while providing a sense of security and safety for all outside activities. Installing the correct light fittings can transform how you use your outdoor space and offer extra value to your home.
Whether you're seeking practical lighting solutions or hoping to create some outdoor ambience for those romantic evenings, the following tips will help you revive that patio or garden so you can spend more time in the great outdoors.
Home Entrance, Front Door and Porch Lighting
Porch entrance image render featuring the 'Brent' Mullan Lighting outdoor wall light.
Offering a well-lit outdoor home entrance provides a warm welcome to guests, as well as illuminating the space to ensure you don't hit the curb while trying to park!
Placing wall lights either side of your front door will provide a welcoming look to visitors. A traditional lantern fixture such as the Brent will offer an authentic look, while the Fabo offers a more simple and stylish finish.
An alternative solution to porch lighting is a single spotlight fixture. This look can be achieved through a single pendant chain light or a flush ceiling fixture. A popular choice amongst our customers is the Darya pendant light. Sophisticated in design, this fitting complements an industrial interior or exterior finish. In contrast, the Anath ceiling light offers a more traditional grace to this outdoor space.
For side or back door entrances opting for a single wall light fixture could be an option for the keyhole side of the door. The Clayton double glass wall light, featuring two lamps, provides lots of light from a single fitting.
Deck or Balcony Railings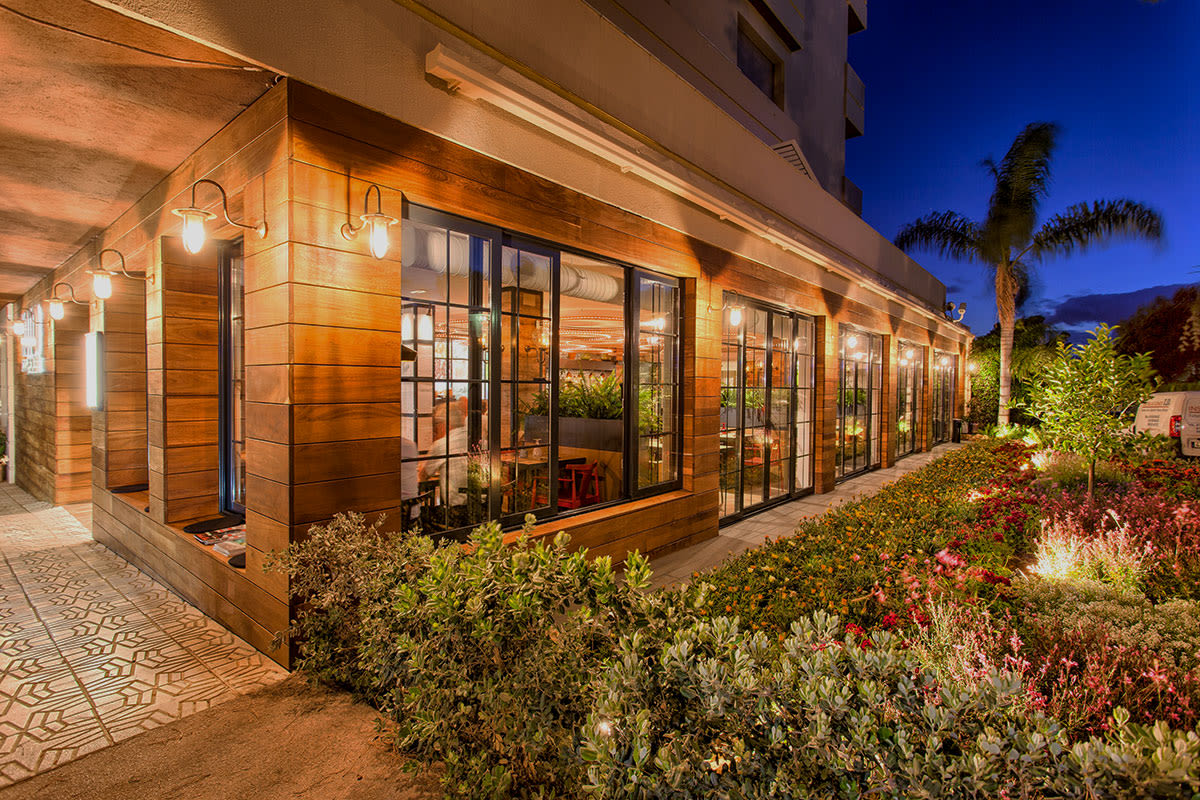 'Fabo' well glass wall light outside the Noto Restaurant, Marbella, Spain.
The twinkle of the lights at dusk can bring a sense of atmosphere to any outdoor space. Optimising light exposure in your outdoor setting will transform the area into a tranquil and calming escape.
String lighting or rope lighting is a classic and timeless choice for decking and balcony areas. Who doesn't enjoy this look?
This lighting trend illustrates a decorative feature providing ambience for gatherings, special celebrations and parties. String lighting is one of the easiest outdoor lighting fixtures that homeowners can use. Anyone who has hung lighting around a window or a tree understands this basic concept.
Our Lome and Ren pendants have been used in previous projects to achieve this design.
'Lome' cluster pendant light in Hakkaiza Restaurant, Oslo by Christina Jolsen. Photo credit: Ihne Bilder.
Why not add a little touch of Hollywood to your garden space. A lighting trend that favours a rustic, moon lit atmosphere is adding a spotlight in branches of a nearby tree or green/forestry area. This also expands the visual space of your deck allowing you to see beyond the edge of the patio and creating the illusion of a larger space!
Downlights act as a way to recreate natural moonlight in certain parts of the property. Positioning a downlight in a mature tree offers the sense that the moon is peeking through the branches. Placing these fixtures under eaves or windows calls attention to the architecture and acts as an added safety feature.
We think the Jordan, Mica and Laguna pendant lights provide a twilight inspired light projection.
Patio and Dining Areas
Patio dining image render featuring the 'Darya' Mullan Lighting wall lights.
Embrace the bright summer evenings and make use of that patio space by hosting a BBQ or drinks night! For this space, we suggest keeping the lighting low and moody through indirect lighting. As evening falls into night, you want to note this transition.
Taking the bulb out of people's direct sight will allow their eyes to adjust between darkness and light more readily. This makes it easier for people to switch from dimly lit parts of the yard and the patio.
Bring indirect lighting to you deck through step and wall lighting. Our Begawan, Evander and Agher fixtures offer staple, warm lighting options to help achieve this lighting finish.
Make the most of your backyard through the addition of outdoor lighting. The long summer evenings yearn for us to stay outdoors, highlighting the need to carefully install some special lighting to create an inviting entertainment space.
Relax, unwind and enjoy the great outdoors. Happy lighting!
Enjoy these useful lighting support guides