We're exhibiting at MAISON&OBJET 2019 in Paris next month
Once again we're returning to Paris next month for MAISON&OBJET - one of Europe's largest and most exciting design trade shows. MAISON&OBJET takes place from September 6-10, 2019 and coincides with Paris Design Week.
MAISON&OBJET will feature over 3,000 individual exhibitors, including ourselves - Mullan Lighting. We'll be showcasing a combination of new and existing tailor-made light fixtures in Hall 6, Stand I92. Our usual blend of styles - that range from industrial and vintage to contemporary and modern - will be on display.
Mike Treanor, Director of Design and Operations, at Mullan Lighting commented,
"As an Irish company that designs and manufactures our own products in a relatively remote part of country, it's exciting to continue to bring our products to a global audience."
Mike continued,
"From humble beginnings in 2009, our light fixtures are now exported to 55 countries worldwide and are used widely in the commercial, hospitality and retail sectors. Exhibiting at international trade shows like MAISON&OBJET has helped the company expand globally."
One particular theme or design trend that we're bringing to Paris is an abundance of beautiful, polished brass fixtures. In total we're bringing just over 100 light fixtures to Paris. This includes our new Helena, Oxford and Victoria chandeliers.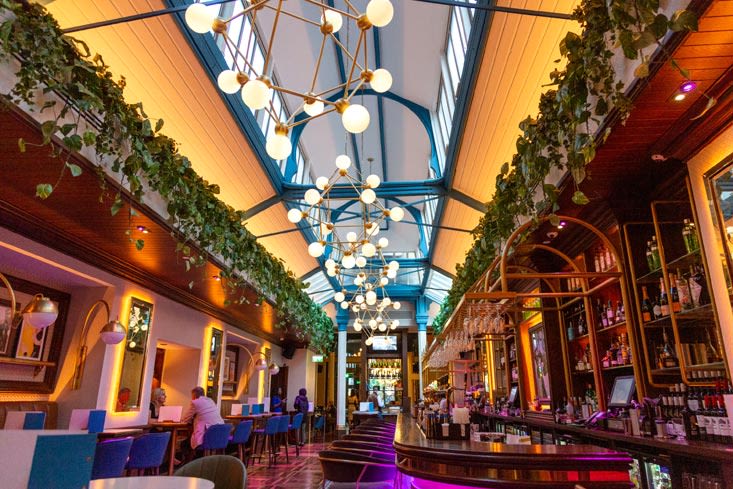 Helena chandelier in the newly opened Café en Seine, Dublin, Ireland (Design: Millimetre Design / Image: Julie Molia)
Some other new designs on display will include the Auburn, Kamina and Royce wall lights, as well as the Helena, Royce and Venice pendants.
MAISON&OBJET takes place in Paris Nord Villepinte from September 6-10, 2019. We're exhibiting in Hall 6, Stand I92. Hopefully we'll see you there?