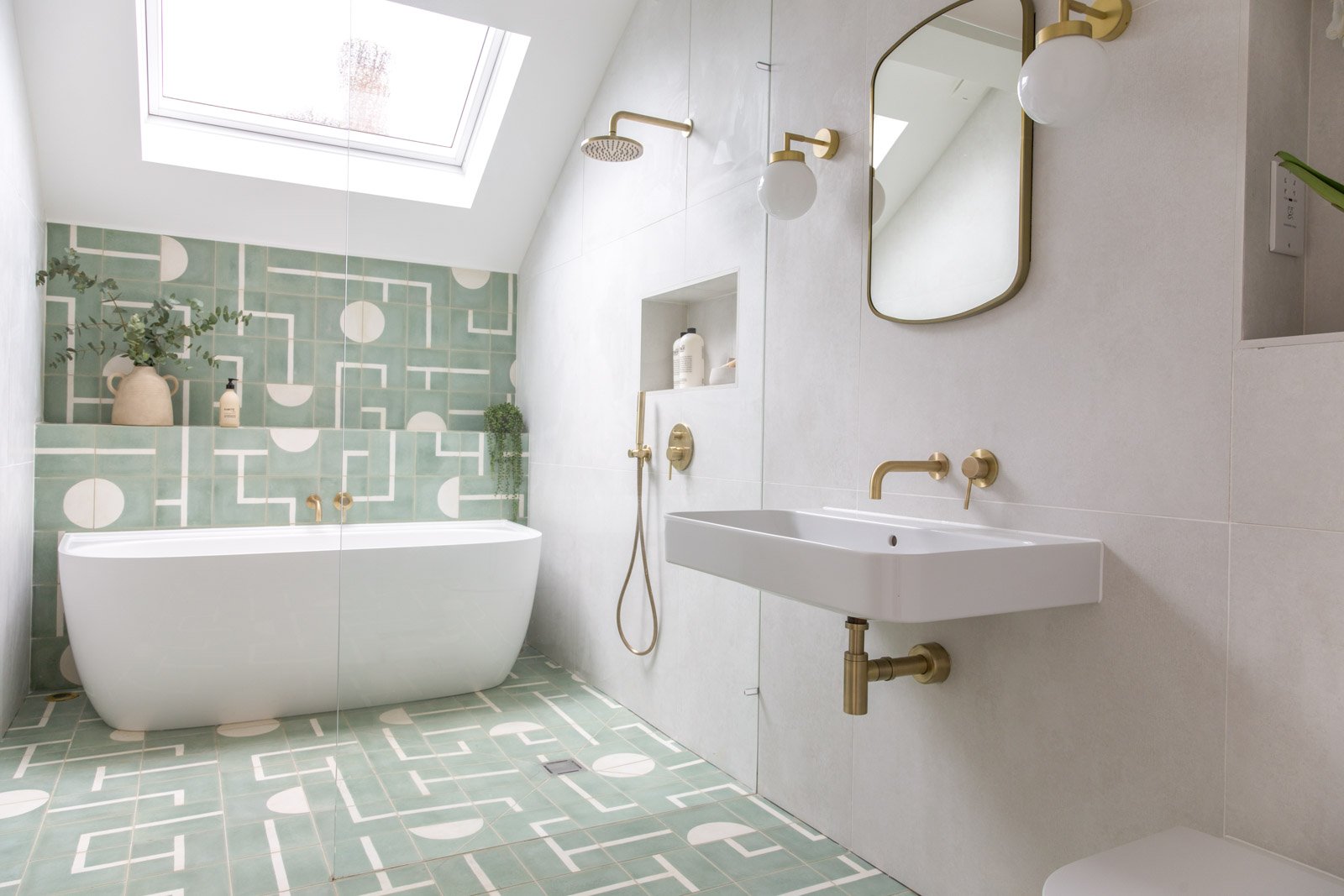 Our Essential Guide to Bathroom Lighting
When it comes to bathroom lighting it is important to consider various lighting scenarios. Natural daylight should be acknowledged when planning your bathroom light fittings as the lighting needs to be adaptive in the gloomy winter months and throughout the brighter summer days.
The bathroom is often the first place you visit in the morning, so it's important that you set the right mood for the day ahead!
1. Layering Light
Adding layers of light can help complement your bathroom space in a stylish manner. Opting to incorporate different lighting styles can also will help disperse light more evenly.
Ambient lighting can be achieved with the inclusion of pendants, wall lights and chandeliers. This will act as the general source of lighting in the room.
The second layer is suited to carrying out daily activities such as applying makeup, brushing your teeth and shaving. Good task lighting is highly essential here as you don't want to rock up to work with toothpaste on your face or looking like Joaquin Phoenix in Joker!
Layer three focusses on accent lighting. Here you can showcase some key architectural designs within your vanity space, allowing you to be creative with your interior décor. A selection of alternating pendants, scattering of wall lighting around the perimeter of the room and directional recessed lamps are popular trends used in the bathroom.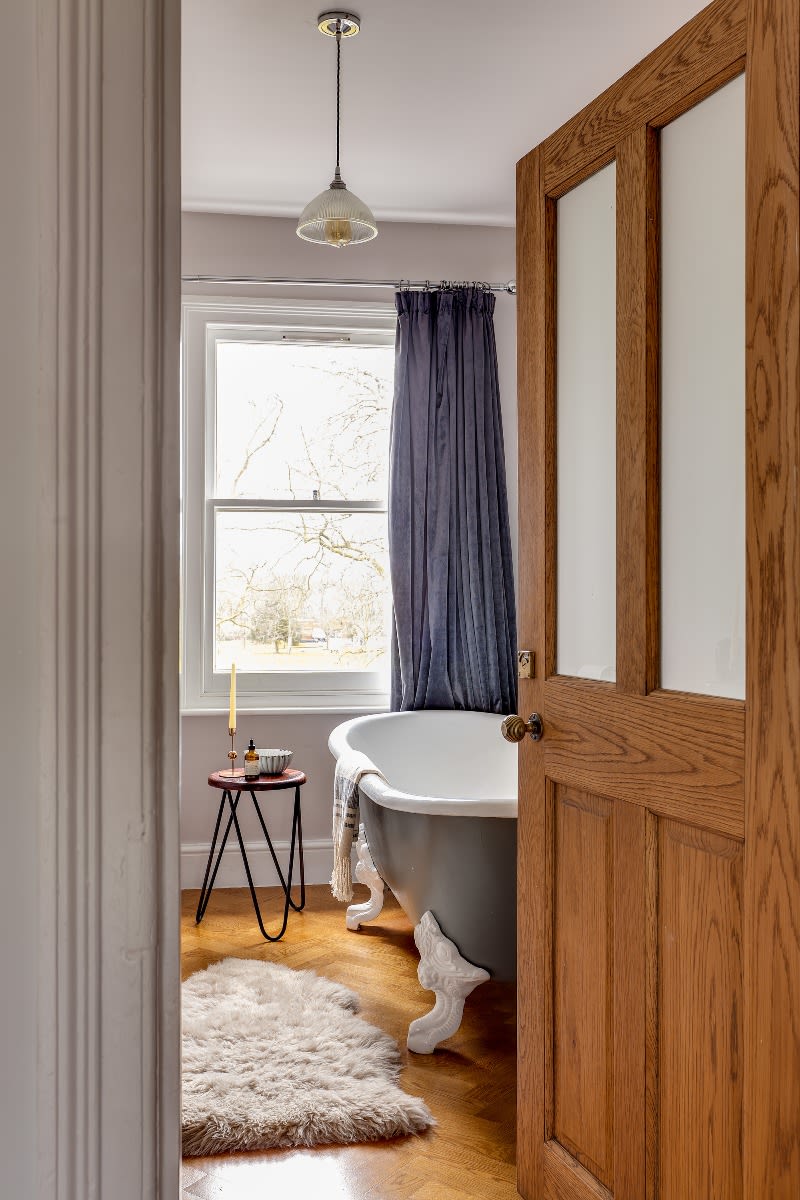 'Boston' industrial pendant light in a private residence, London by Phillips Design Studio. Photo credit: Fiona Walker-Arnott.
2. Ceiling Lighting
The ceiling is generally the first place you think of when it comes to sourcing light fittings for your bathroom. The ceiling is out of the way and offers the perfect opportunity to add a touch of style without any obstacles getting in the way.
There are many different styles to choose from when it comes to ceiling fixtures as generally speaking this higher space is out of the immediate wet zone danger. Flush ceiling lights have been traditional used as the central ambient lighting source and, in recent times, they have tastefully progressed in fashion, such as our Aquarius, Talise and Darya IP-rated bathroom ceiling lights.
Pendant and chandelier lighting are growing in popularity in bathroom interiors as people yearn to create their own private sanctuary. Our Kyoto, Yaounde and Eske chandeliers offer great decorative styling options for both small and large bathroom spaces.
If you opt to add a pendant light or chandelier to your bathroom, consider choosing one that casts a patterned shadow this will add extra texture to your ritual retreat.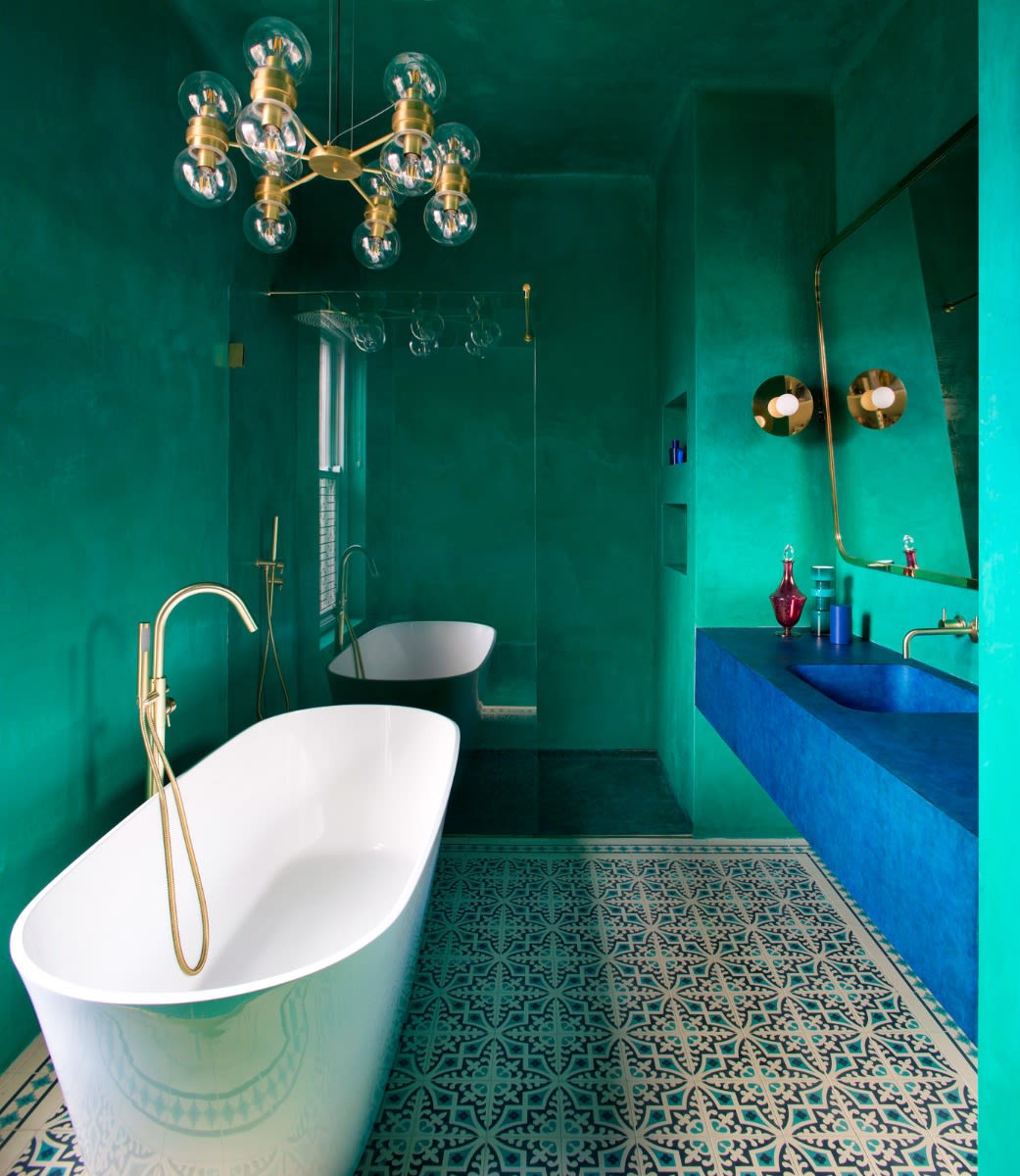 'Eske' chandelier in a private residence, Dublin by Kingston Lafferty Design. Photo credit: Barbara Corsico.
3. Vanity Lighting
The vanity area is a sacred zone in the bathroom, particularly for the ladies (and some men) who spend hours beautifying themselves in this spot!
The main function of task lighting is to brighten the area around the mirror to help you perform your daily tasks. Avoid placing ceiling fixtures directly above and in front of the mirror area to reduce the casting of shadows.
A popular option is to place wall lights either side of the mirror at eye level. If space is limited, running lights linear above the mirror is also a functionable alternative. This will allow for an even dispersion of light, optimising the illumination for your selfie lighting!
Spending time on perfecting your vanity lighting can help transform this space into a luscious spa like retreat, boosting your mood first thing in the morning and helping you unwind late at night.
Our Kai, Jordan and Cairo lights are great wall sconce options to help create a highly efficient yet stylishly chic bathroom sink space.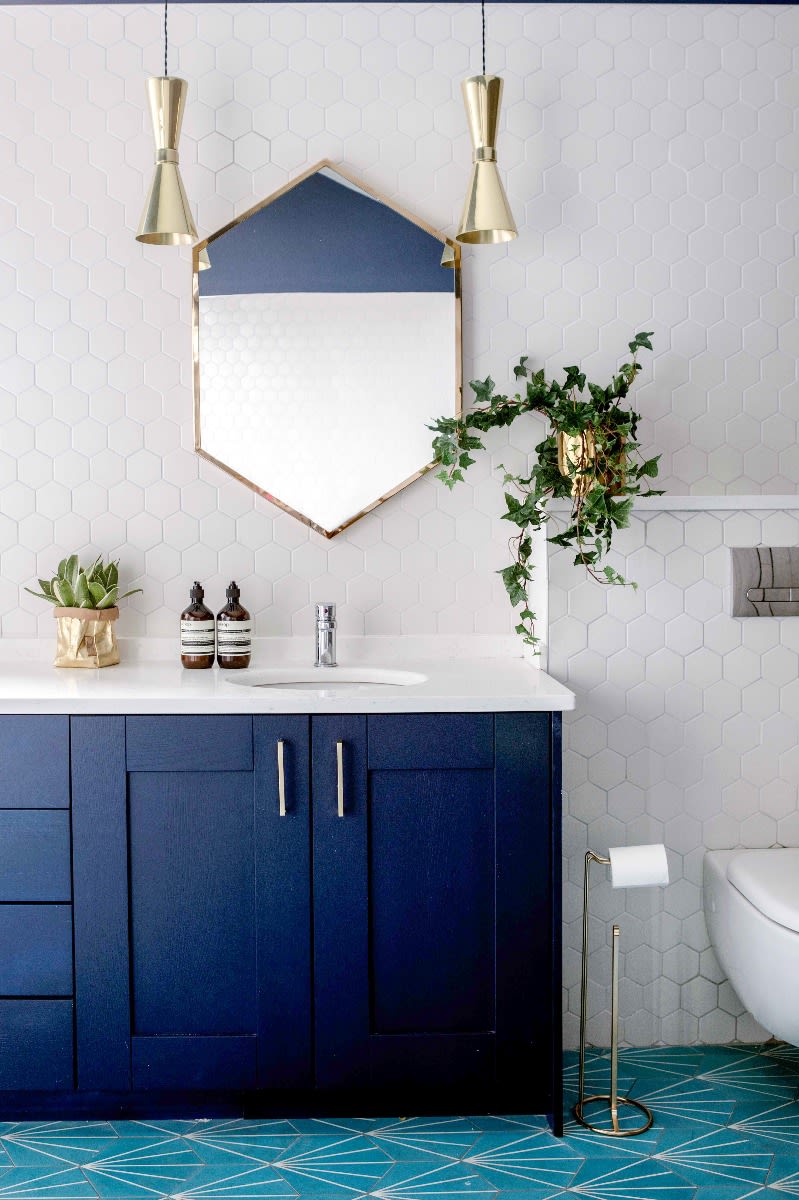 'Cairo' pendant light in a private residence, Kildare by Dust Dublin . Photo credit: Ruth Maria Murphy.
4. Lighting Safety
Electricity and water don't generally go hand-in-hand. It is important to be aware of the danger zones in the bathroom with regard to lighting and electricity. It is important to follow all safety regulations when installing bathroom light fittings.
The Ingress Protection (IP) rating determines where a light fixture can be installed with reference to its closest environment. The higher the IP rating, the greater protection a light fixture offers against dust, moisture and water ingress.
Knowing and understanding the different zones in your bathroom will assist in selecting suitable light fixtures.
Zone 0: This is the area inside the bath or shower tray. Lights inside this area need to be low voltage and have a minimum rating of IP67.
Zone 1: This is the area directly above the bath or shower to a height of 2.25 metres from the floor. You should choose a light with a minimum rating of IP44. An IP44 rated light is protected against water spray from any direction.
Zone 2: This covers the area 60cm outside the bath's perimeter and to a height of 2.25 metres from the floor. You should choose a light with a minimum rating of IP44 for this area.
Outside zones: This cover areas that are outside of zone 0, 1 and 2 and have no contact with water. No minimum IP rating is required for this area.
We offer a wide range of IP-rated bathroom light fixtures that are suitable for installation in your wet room.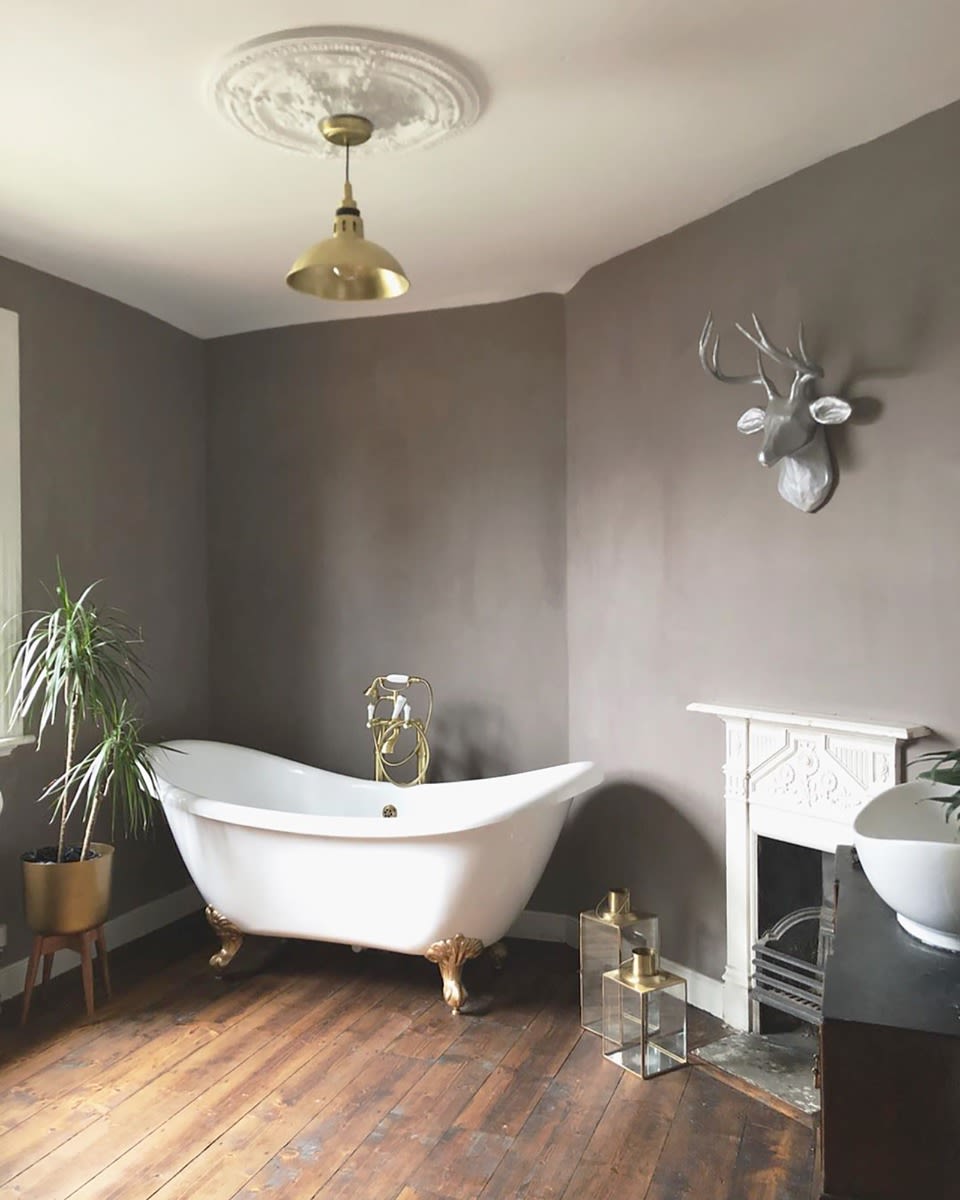 'Paris' pendant light in a private residence, Dublin by Chupi Sweetman . Photo credit: Chupi Sweetman.
5. Colour Temperature
Colour temperature is measured in Kelvin (K), and it's used to describe the colour of the light that a light bulb or light fixture provides.
A combination of both warm and bright lighting options is important to include in the bathroom area.
To create a bright, energizing atmosphere in your bathroom - for carrying out tasks such as early morning routines - we recommend using cool white lights with a colour temperature of around 4,000k. Ideally these would be included in the vanity and wash areas for performance optimisation.
To achieve a warm, relaxing ambient light projection for unwinding in the tub, we recommend warm white lights with a colour temperature between 3,000-3,500k. Ideally, this is suited to pendant fittings.
An ideal combination of both lighting moods is highly desirable and is often achieved through the inclusion of dimmers.
You can learn more about colour temperature in our supporting blog post.
'Bragan' globe wall light in a private residence, Cork by Vintage Hill Cork . Photo credit: Aisling Nugent.
It is important to create bathroom lighting that is both task oriented and alluring at the same time. Whether you're adding to your current washroom or starting from scratch, here are a few take away thoughts you should consider:
Do you want mood bathroom lighting?
Which features do you want to enhance?
Where will you need task lighting to see really clearly?
The clever use of bathroom lighting can change the look and feel of the space at the flick of a switch.
Enjoy these useful lighting support guides