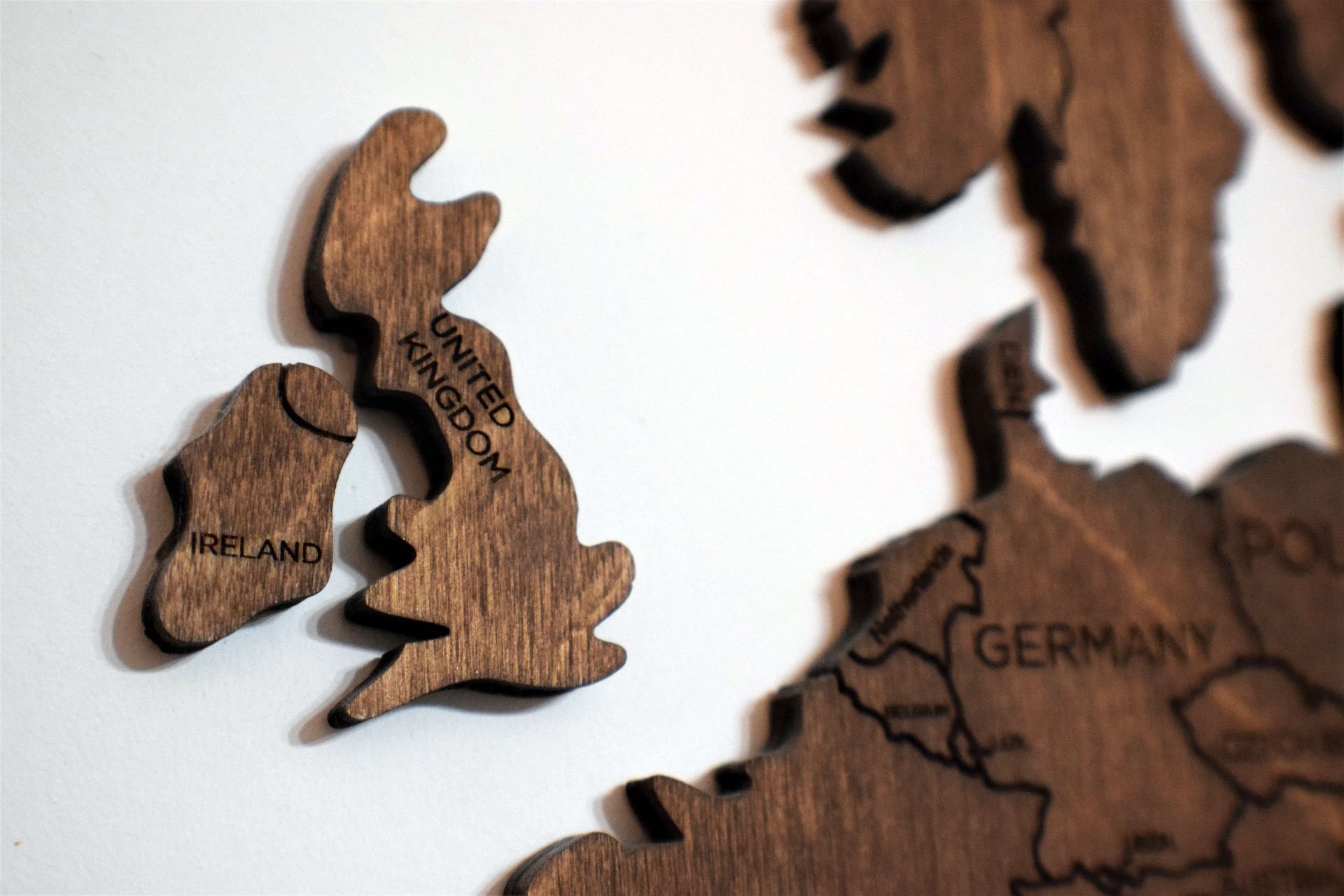 Brexit: How It Affects Our Customers in the UK
February 9, 2021 By Darren McCarra
On December 31, 2020, the Brexit transition period ended. As a result, the United Kingdom is no longer part of the customs union or single market. Unfortunately, that means trade between ourselves in Ireland and our customers in the United Kingdom now has an added layer of complexity.
For those living in the United Kingdom, we try to explain the changes that you'll experience when ordering from Mullan Lighting.
The new rules may sound complex but they're fairly straightforward when you break them down.
The rules differ depending on what part of the United Kingdom you live in.
I live in Northern Ireland
Firstly, if you're receiving goods to Northern Ireland, nothing has changed. It's business as usual essentially. As an individual customer, you'll continue to pay Irish VAT (21% at the time of writing). The rules for companies in Northern Ireland with valid VAT numbers also remain the same. There is no additional customs duty or brokerage fees to be paid.
I live in England, Scotland or Wales
If you're living in Great Britain (i.e., England, Scotland, Wales and surrounding islands) the rules have changed because of Brexit. Whether you're an individual or a company, you will no longer pay Irish VAT at the point of sale (again, 21% at the time of writing).
So, when and how do you pay VAT? Instead of paying VAT at the point of sale, VAT (and some additional charges that we'll explain shortly) is collected by the courier - on behalf of the British government - on or before goods are delivered. You'll pay the British VAT rate of 20%.
The British government also collects customs duty on imported goods. The rates vary for different product categories. All of the products that we manufacture here in Ireland have an import duty of 2%. In fact, 97% of the products that we sell will have an import duty of just 2%. Our LED bulbs have 0% duty while our hygience sneeze guards carry the highest duty across our product categoeies at 6%. Again, this is collected by the courier on or before delivery and paid to the British government.
For the trouble of administering and collecting customs duty and VAT, all courier companies and postal services charge a flat brokerage fee of somewhere between £8.00 - £11.50 (no matter how big or small your order is).
Example Order
In this example for an individual customer (not a company), we illustrate how the additional charges are applied and how this differs from orders that were made before Brexit.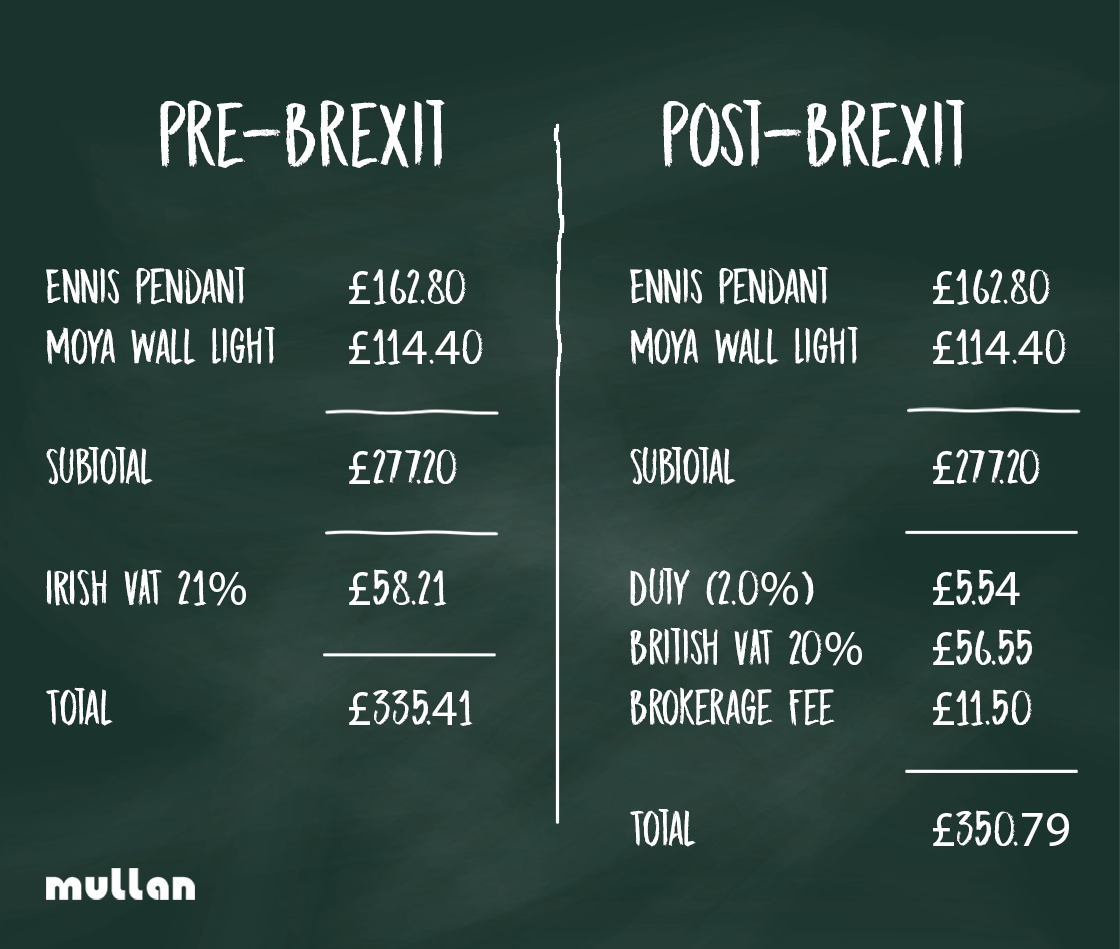 Example charges on typical Mullan Lighting order delivered to an individual in Great Britain, before and after Brexit.
As you can see, in this particular post-Brexit example, the subtotal of £277.20 is paid at point of sale. The additional £73.59 in customs duty, VAT and brokerage fees is collected by the courier on or before delivery. This particular example is £15.38 (or just under 5%) more expensive than it typically would have been before Brexit.
This is just one example for illustration purposes. The actual fees collected by the courier may differ slightly.
There's One Exception
There's always one! If the value of goods being delivered to Great Britain is under £135 and the purchaser does not have a valid VAT number, we're obligated to collect 20% VAT on behalf of the British government. This will appear as 'HMRC VAT Import Charge' on our website and invoices. When VAT is collected by us in this instance, VAT does not have to be paid to the courier prior to delivery. Customs duty and brokerage fees will still apply, however.
What About Delivery Delays?
Brexit represents a massive change for courier services in the United Kingdom. There were significant delays at the start of January 2021 as courier companies adjusted to the changes. Some even temporarily suspended services to Great Britain.
With the additional administration, we expect 1-2 days to be added to all delivery times to Great Britain. This may improve as everyone adjusts to the changes that Brexit has brought about.
What About Returns?
We'll continue to honour returns from the United Kingdom as we always have. If you'd like to return an item please notify us within 24 hours of receiving the goods. The products must then be returned within 30 days.
You can notify us of a return by completing the returns form on our website. We'll then email you a special customs form that you'll need to fill out and display in a clear plastic pouch on the outside of the package being returned. It's important that this form is clearly visible on the outside of the box or packaging. This helps avoid issues with customs (and customs charges) that would delay the goods from being returned to us, or in some cases, the goods being returned back to you.
Going Forward
Brexit is challenging and may take some time for everyone to adjust to the changes. We're committed to serving our customers and clients in the United Kingdom and will do everything that we can to make this transition as smooth as we can. If you have any queries or concerns about Brexit, please get in touch and we'll assist as much as we can.