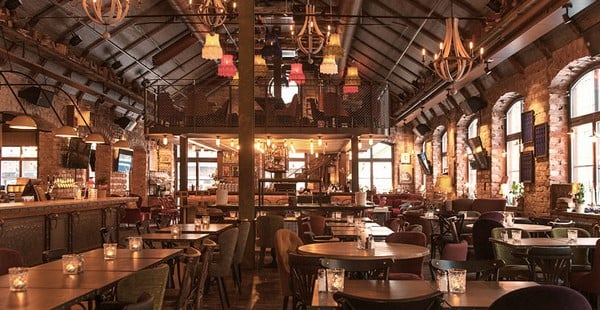 Our lights help create a homely atmosphere at The Public Grill & Bar
December 8, 2015 By Edel Treanor
The Public Grill & Bar in Sundyberg is located in the neighbourhood Signal factory. Millimeter Architects created a homely design for the interior of this restaurant and used our lights to achieve this vision.Kudos to the fantastic Millimeter Arkitekter from Sweden on the warm welcoming interior design of the wonderful
The Public Grill & Bar Sundbyberg
Sweden.
Our light fixtures help to create a warm and welcoming glow at The Public Grill & Bar, Sweden The Public Grill & Bar in Sundbyberg is located in the neighborhood Signal factory that was previously a telegraph office and printing unit.
Millimeter Architects
 are renowned
interior designers
for concepts that distinguishes The Public - "Your home, away from home".
The bar area of The Public Grill & Bar Sundbyberg is subtly illuminated by our Oregan Cage
ceiling lights.
Mullan Lighting were delighted to be chosen to manufacture the decorative feature window, bar and library room light fittings.
Millimeter Architects designed the exquisite interior for this bar and restaurant